There are several fundamental events that's driving Ethereum price. First, while there are some who are of the view that the second most valuable asset is pumping on the last energy reserves and a cataclysmic fall in epic proportions is on the card. On the other hand, there are those of the divergent view. The optimists.
While the contrarian theory may also strike and wipe clean what's on these optimists' plate, it is only fair to base any prognosis going forward on hard statistics. At the moment, indications are that the Ethereum price may soar to over $500 by the end of the year.
Given how malleable the crypto market scene is, rising and falling in unprecedented fashion, the spice in all this positive forecast stems from the demand of DeFi. Fact is, more BTC is flowing to Ethereum. The objective is to be tokenized and then used for income diversification.
Yield Farmers and Uniswap Effects
At the time of writing, over $6.2 billion worth of ETH had been locked by these open finance dApps for different ends.
For the typical yield farmer, taking advantage of arbitrage for his profiting, this is welcomed since the more demand there is, the more differentials and thus more money to line up his/her pocket.
On the other, fanning ETH demand is the rise of an alternative crowdfunding means that purely decentralized and leveraging on the current decentralized, open source infrastructure offered by Uniswap and competing platforms like Bounce Finance for instance.
Uniswap fees are settled in ETH and in recent times its volumes have been rising further helping pump ETH to new 2020 highs.
Ethereum Price Analysis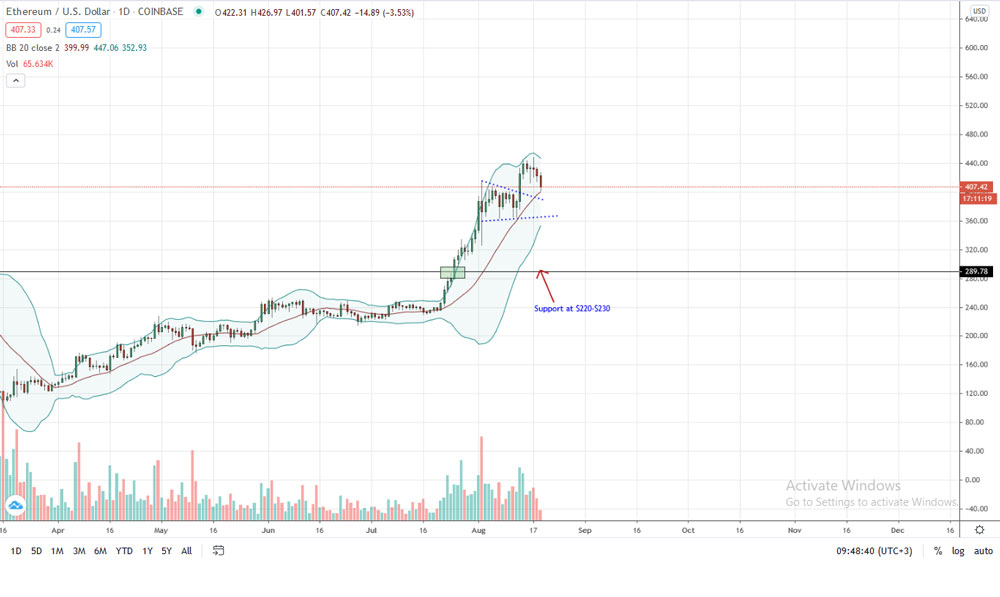 At the time of writing, the Ethereum price was trading at $407, down five percent in the last day. Despite its rally over the weekend, the coin is down seven percent against the USD. It has also down versus the BTC, losing five percent in the same period.
From the daily chart, ETH prices are largely consolidating with caps at Aug 14 highs. Visible, ETH bulls seem exhausted and prices are stuck inside a tight $30 range with caps at $450.
As long as prices don't fall below Aug 14 highs in a retest towards the bull flag and the middle BB, buyers are in control. Because of this, every low should technically be a buying opportunity with targets at $500 more so if there is a high-volume break and close above $450.
On the flip side, a break below $400 with high trading volumes exceeding Aug 13's may trigger losses towards $350—and lower, in a correction.
Chart courtesy of Trading View
Disclaimer: Views and opinions expressed are those of the author. This is not investment advice. Do your research.
---
If you found this article interesting, here you can find more Ethereum News