Latest Ethereum [ETH] News
The general idea around Ethereum is to build a reliable, high throughput network that is inherently scalable without point of weakness. On reliability and decentralization, the dApp launching platform, has excellent scores. Even so, the major pain point is around throughput which technically makes the network scalable.
There are several steps being done to improve on that including the Ethereum 2.0 which introduces Sharding and other scalability enhancing solutions. It's still in the making but there is more to it than it meets the eye.
According to Justin Jake, a researcher with the Ethereum Foundation, Beacon Chain of which its Phase Zero whose test net will launch in a tentative date in early 2020, will pave way for a possible ETH issuance reduction once the network transit from a proof-of-work to a proof-of-stake consensus algorithm.
This, in the long term, is massive for ETH holders who also have the EIP 1234 to thanks as the implementation drastically slash the total ETH rewards for miners from three to two. Depending on the amount of ETH stake, the total issuance could see the total coins in circulation shrink by 10X:
"Here's a possible timeline (dates likely totally wrong!) highlighting the key milestones: January 2020: beacon chain launch. June 2020: eth2 light clients production-ready. November 2020: eth1 fork #1 to have its fork choice rule honor eth2 finality (conservatively, no issuance reduced). March 2021: eth1 fork #2 to reduce issuance by 10x."
ETH/USD Price Analysis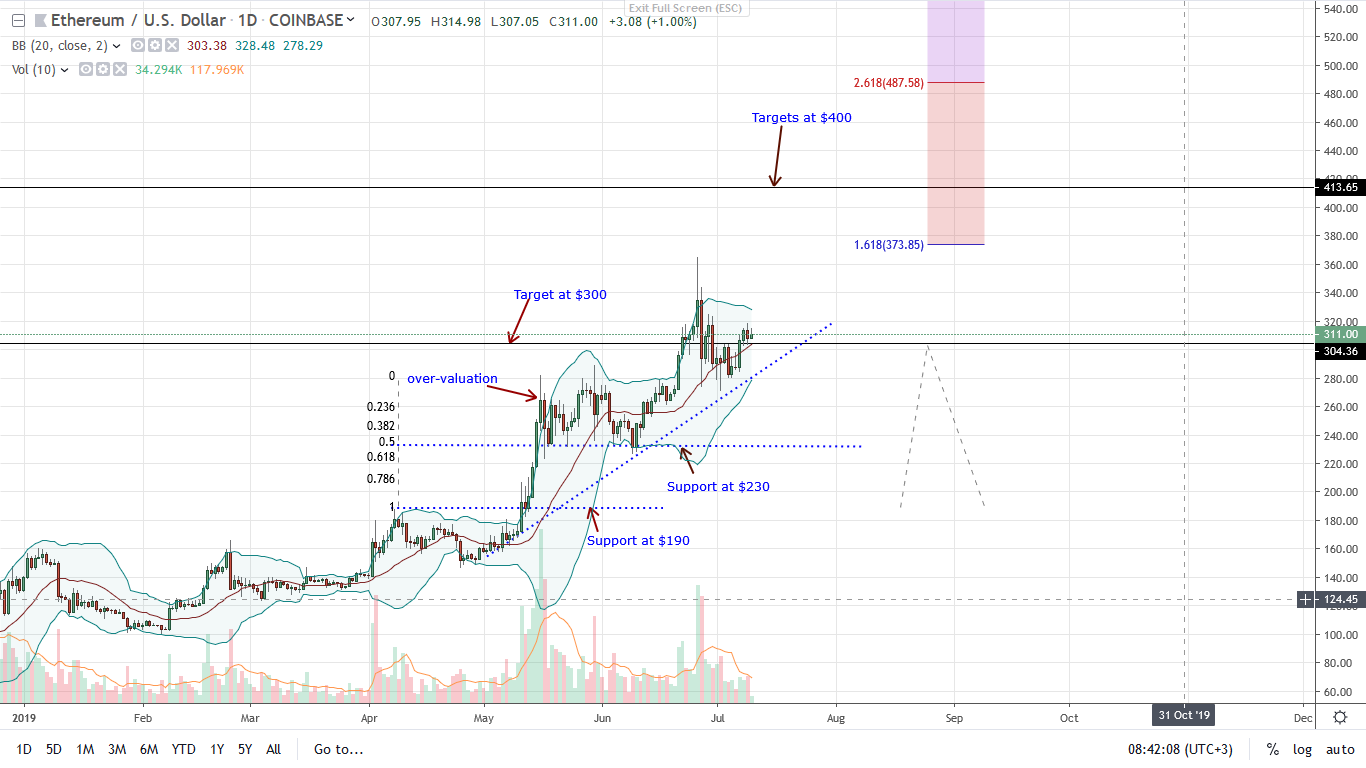 At the time of press, Ethereum is up 6.9 percent week-to-date. Besides, the liquid asset is trading above $300, a psychological level. If anything, this is a mark of bulls and a sure sign that buyers are still in control with the uptrend firm.
Moving on, the best way to trade ETH more so for aggressive traders is to load the dips with targets at $400 and later $500. However, this trade plan is valid as long as prices are trading above April 2019 high and main support line at $270. Note that ETH is within a bullish breakout pattern against the USD.
On a more conservative trading style, participants can wait for a clear break and close above June 2019 high before initiating longs with same targets. The only sure sign and an insurance for traders is whether the breakout bar will be with high trading volumes exceeding 554k of June 26. If that is the case, odds are ETH, propelled by supporting fundamentals, will easily soar past $400 to $500 by the close of the year.
Chart courtesy of TradingView—Coinbase
Disclaimer: Views and opinions expressed are those of the author and aren't investment advice. Trading of any form involves risk and so do your due diligence before making a trading decision.