The Ethereum price, like the rest of the crypto market, has been put under the sword. It's simply a blood bath, a flow of red with double digit losses in the last week of trading.
ETH Flipping Bitcoin?
Even so, proponents of the second most valuable digital asset are pointing to the network's value proposition.
This subject is more about how Ether, in the years to come, would displace BTC at the top of the valuation mantle.
Behind this optimism is the spread of DeFi and how innovation around open finance would ultimately build demand for ETH and its token.
The Rise of ETH and ERC-20 Tokens
Already, there is wave indicative of the extent of the network's utility and how ingenious dApps launching on the platform have been in recent times.
While Ethereum cements its position as the pioneer smart contracting platform, dApps like ChainLink—for instance, is already the world's sought after decentralized oracle.
Cumulatively, in late July, and early Aug, the total valuation of Ethereum-based projects exceeded the total market capitalization of Ethereum highlighting how special a project Ethereum is.
Eth2 and yETH vault will be an ETH Sink
Therefore, even as ETH slide to spot level, analysts are positive and expect prices to bounce back in the short and medium term, to perhaps a new three-year high.
DeFi will fuel this spark. And it is timely enough now that Eth 2.0, Mainnet launch will likely launch late this year or early next year setting the base of staking.
Also expected to wipe ETH circulation supply is the rise of automated yield farming DeFi dApps like the yETH vault which if it pick up, and thanks in part to its high yields, will support ETH prices.
Ethereum Price Analysis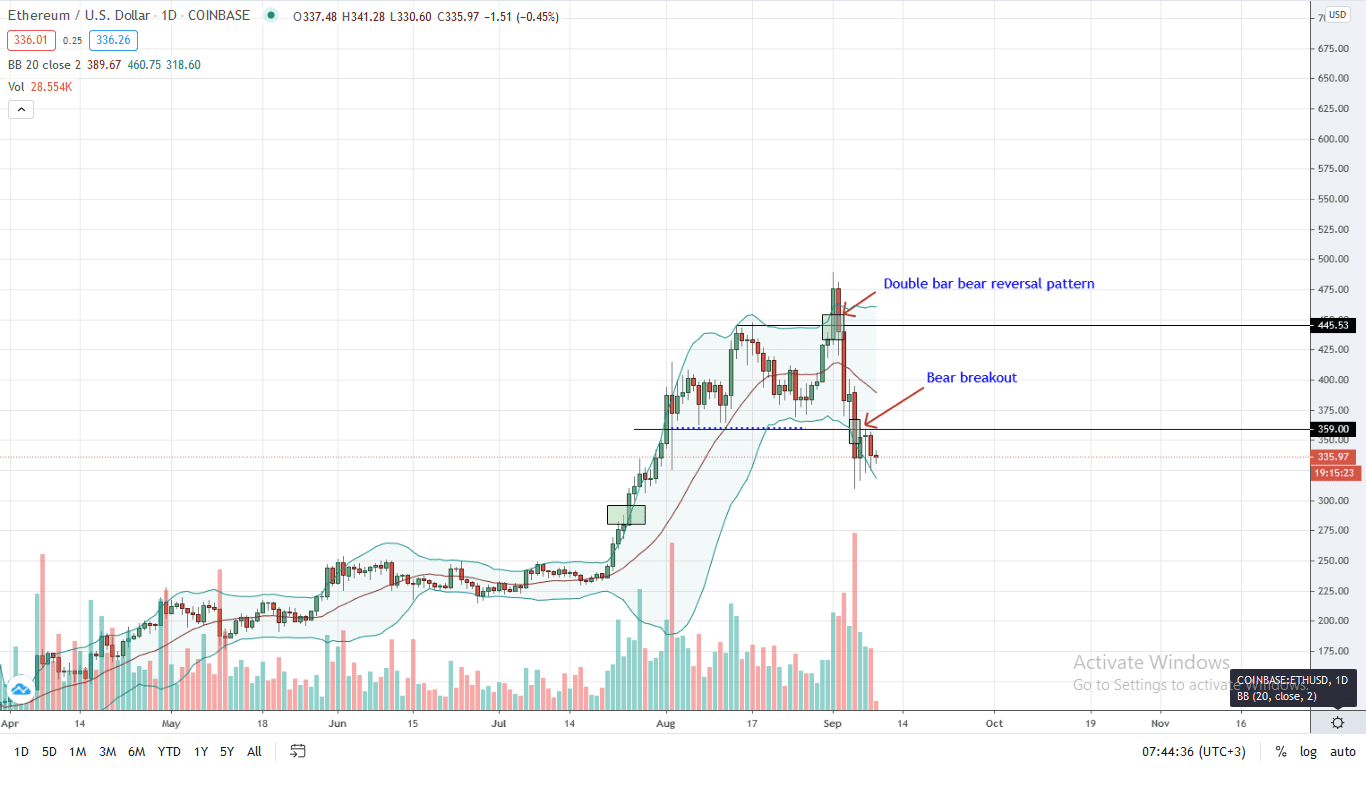 At the time of writing, the Ethereum price is down 29 percent against the USD, trailing the BTC price by a massive 16 percent in the last week of trading.
Judging from developments in the daily chart, ETH bears are in control. As candlestick arrangements point to weakness and a likelihood of further depreciation building on Sep 5, the path of least resistance is southwards. Already, bear candlesticks are beginning to band along the lower BB as BB diverge hinting of a possible correction in a retest.
Technically—considering the above, every pullback is highly likely a shorting opportunity. However, ideally, a slump will only happen especially if sellers push prices below the current consolidation and Sep 5 lows of around $310. Any drop below $310 will trigger a selloff towards $250 in a deep correction ahead of Eth2.
On the reverse side, a pullback above $360 and more importantly $400, could trigger a rally to $500—or Aug 2020 highs in the immediate term.
Chart courtesy of Trading View
Disclaimer: Views and opinions expressed are those of the author. This is not investment advice. Do your research.
---
If you found this article interesting, here you can find more Ethereum News