Joseph Lubin, the co-founder of Ethereum and the head of ConsenSys is upbeat about ETH. Despite losses, he views the number of projects building their application on Ethereum blockchain as positive.
Latest Ethereum [ETH] News
Smart contracts—the trustless, self executing, autonomous contracts was lauded as revolutionary during launch. It shall continue to be and even as ETH, the native coin oiling the Ethereum ecosystem drop in fiat terms, more businesses are moving their applications and launching them on a secure, distributed and community trusted blockchain.
While price and ETH are up in multiples three years after launch, many are forgetting what really matters: adoption. The measure of adoption is the number of transactions done on chain and it's on the rise.
According to a new study released by SFOX, the use of smart contracts varies but a stand out in all this is that most smart contracts were executed by exchanges—decentralized and centralized, contributing 50 percent of all the 30 million transactions analyzed. 40 percent of all transactions went to ICOs while the rest, 10 percent were used to secure crypto-collectible transactions.
This break down hints of something else: that smart contracts are not used for revolutionary purposes other than shifting ETH and similar tokens from one address to another. In fact, the study goes on and further point decentralized exchanges as Etherdelta as the main users of smart contracts and that's understandable considering smart contracts is the only security in these systems. In case of losses there is no repatriation like in centralized exchanges.
ETH/USD Price Analysis
Weekly Chart – ETH/USD Price prediction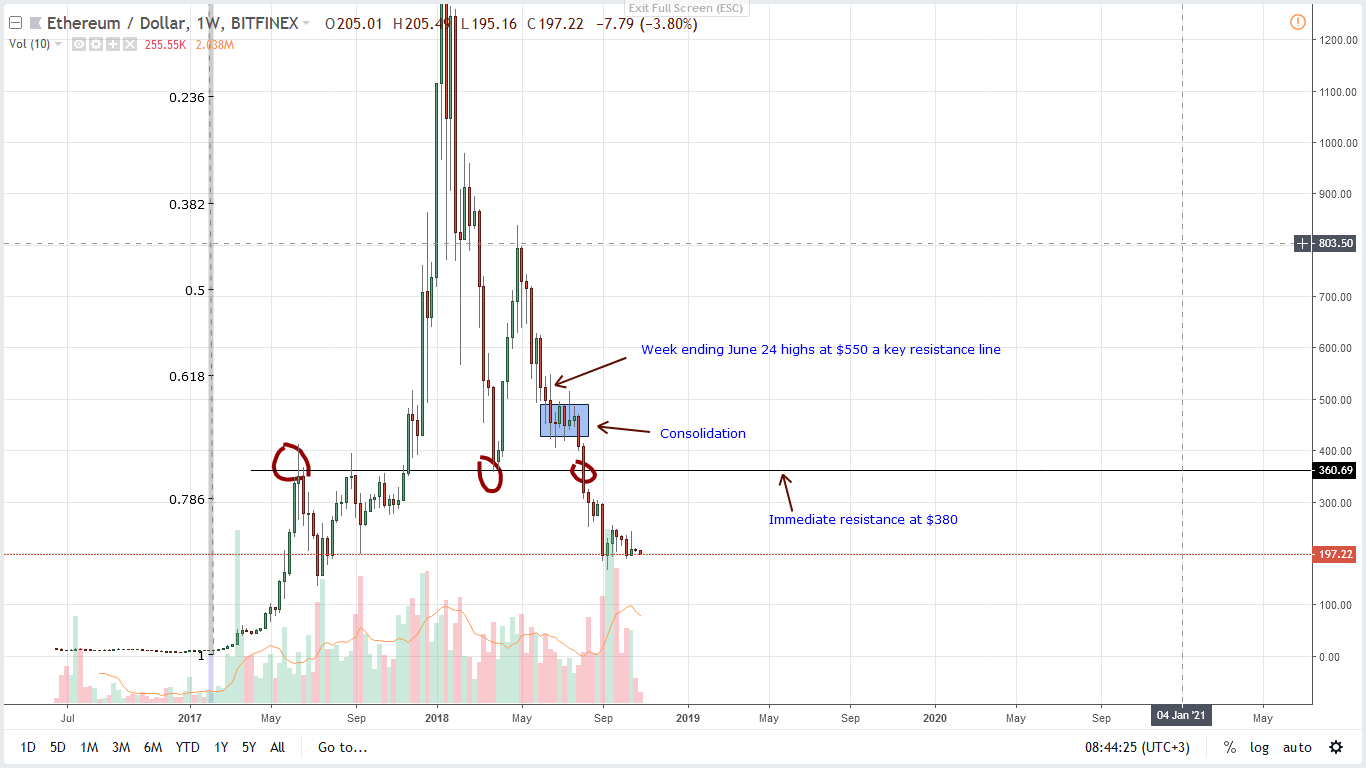 Technically, ETH/USD is bearish and trading in line with earlier August break below $300. And founding our stands are events of the last few weeks. Notice that though the market sentiment continued to shift from bearish to bullish following events around USDT debacle, their outlook didn't affect prices and in fact prices edged lower that week and continues to damp this week.
Therefore, like before, we shall retain a conservative forecast advocating a neutral stand as long as prices are trending within $160 and $250 trade range. These two levels are important in our analysis and at the moment, odds are prices will pull back and ease off from the $200 psychological level now that ETH/USD is down +80 percent from 2017 highs.
Daily Chart – ETH/USD Price prediction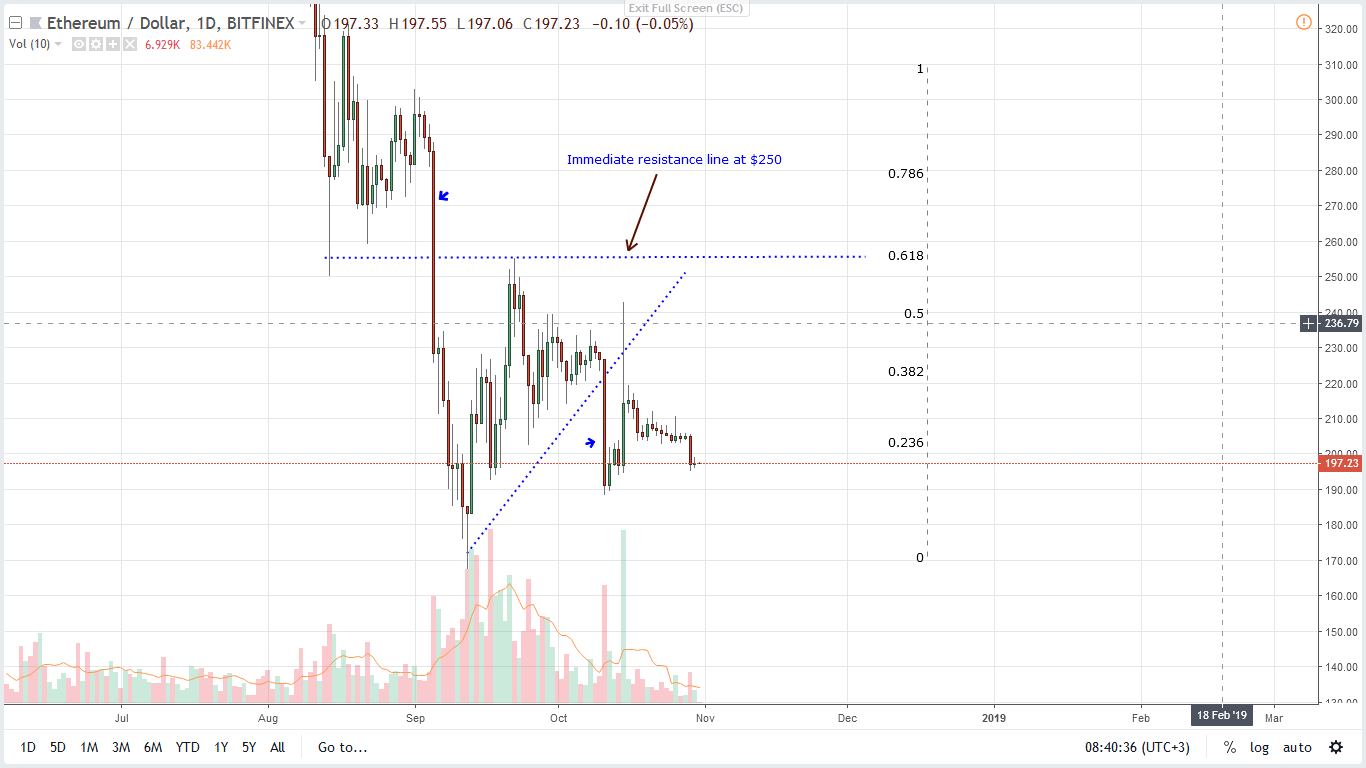 Back to the daily chart and ETH/USD is sliding in line with Oct 11 losses. While Oct 29 triggers remain unknown, their meltdown saw prices drop below the psychological $200 mark and further losses below Sep lows at $190 could trigger the next wave of bears driving prices to $150—our ideal first target.
As such, we shall take a wait-and-see approach and the moment it prints, aggressive trader should begin loading up on dips with stops at around $210. However, since we are technically bullish given this year's losses, any snap back buoying prices causing Oct 29 reversal should be interpreted as bullish.
Disclaimer: Views and opinions expressed are those of the author and aren't investment advice. Trading of any form involves risk and so do your due diligence before making a trading decision.