Latest Ethereum [ETH] News
The main advantage of open source projects–of which most are bank rolled via ICOs thanks to the smart contracting capabilities of Ethereum–is that they are communal and though speculators reaped big benefits from last year's super rally many are still trying to advance their mission vision statements in spite of falling prices.
ETH prices are down >85 percent from 2017 peaks and even as dropping prices force some projects to abandon their road maps, Ethereum creators are in the forefront vouching for the project and researching for fitting solutions that will once and for all deal with scalability.
Scalability like we have seen is a major obstacle for proof of work based platforms. Bitcoin went the off chain route with Lightning Network while Vitalik Buterin has put forth the possibility of zk-SNARKs. It's a mixture of privacy and on chain scalability that eliminate the need of off-chain implementation as Plasma, Casper or Raiden.
On paper it might be easy and even ideal but factoring in the level of deliberations done before consensus was reached on Constantinople implementation, it might be a hard nut to crack come next year when most of these solutions are expected to come to force.
Nonetheless, we remain positive because either way, Ethereum's road map must be adhered to and before Serenity, zk-SNARKs and PoS, hard choices must be made.
Ethereum [ETH] Price Analysis
Daily Chart – ETH/USD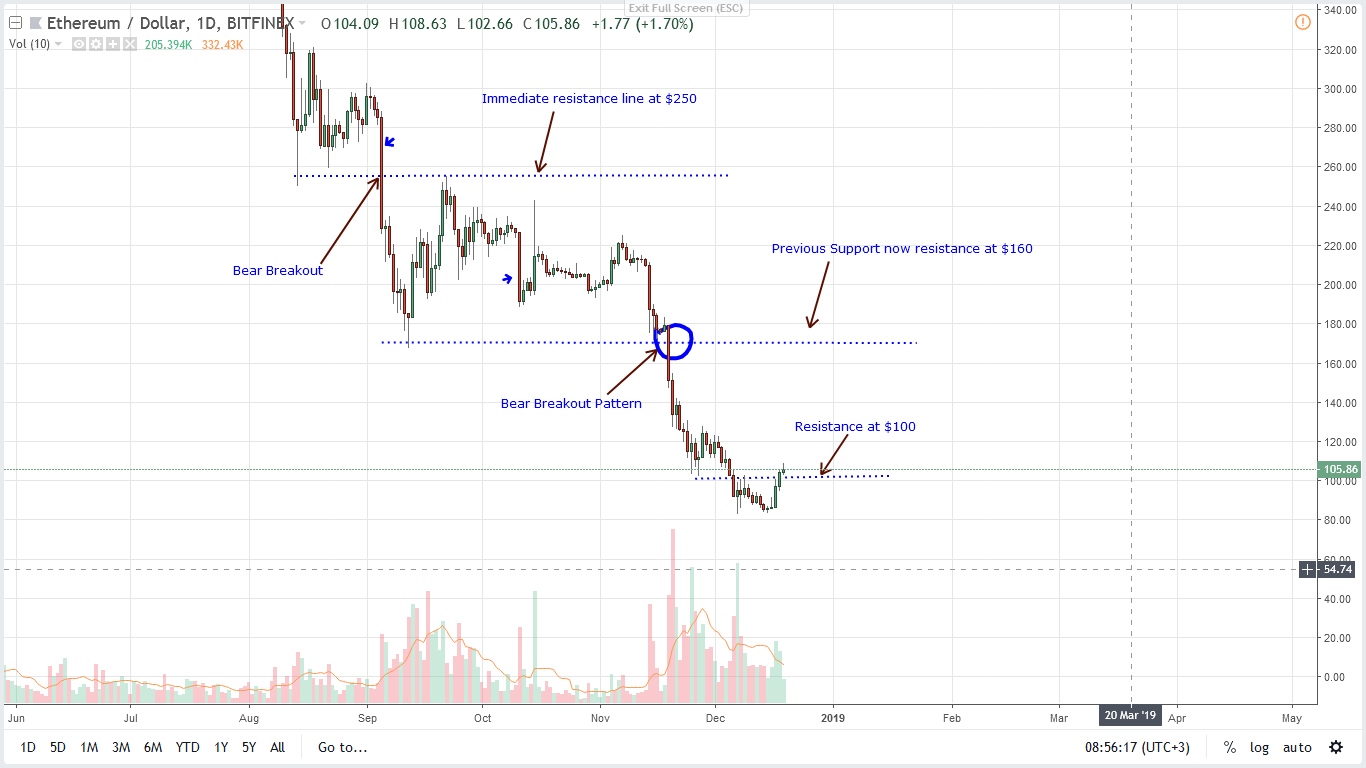 No doubt, the altcoin market is registering some nice gains. It's back to green after 11 months of turmoil, an upheaval that saw several ICOs liquidate their ETH holdings to avoid folding.
From the charts, ETH is stable in the last after posting impressive days—up 12 percent by Dec 17 but we expect every lower low to be another loading opportunity. Needless to say, our last ETH/USD trade plan is valid and our trading conditions have been met.
At spot prices, there has been a bull breakout above the previous $17 zone capped at $100. As such, we every low should technically be a loading zone with first targets at $130 and later $160 as reiterated in previous ETH/USD analysis.
4HR Chart – ETH/USD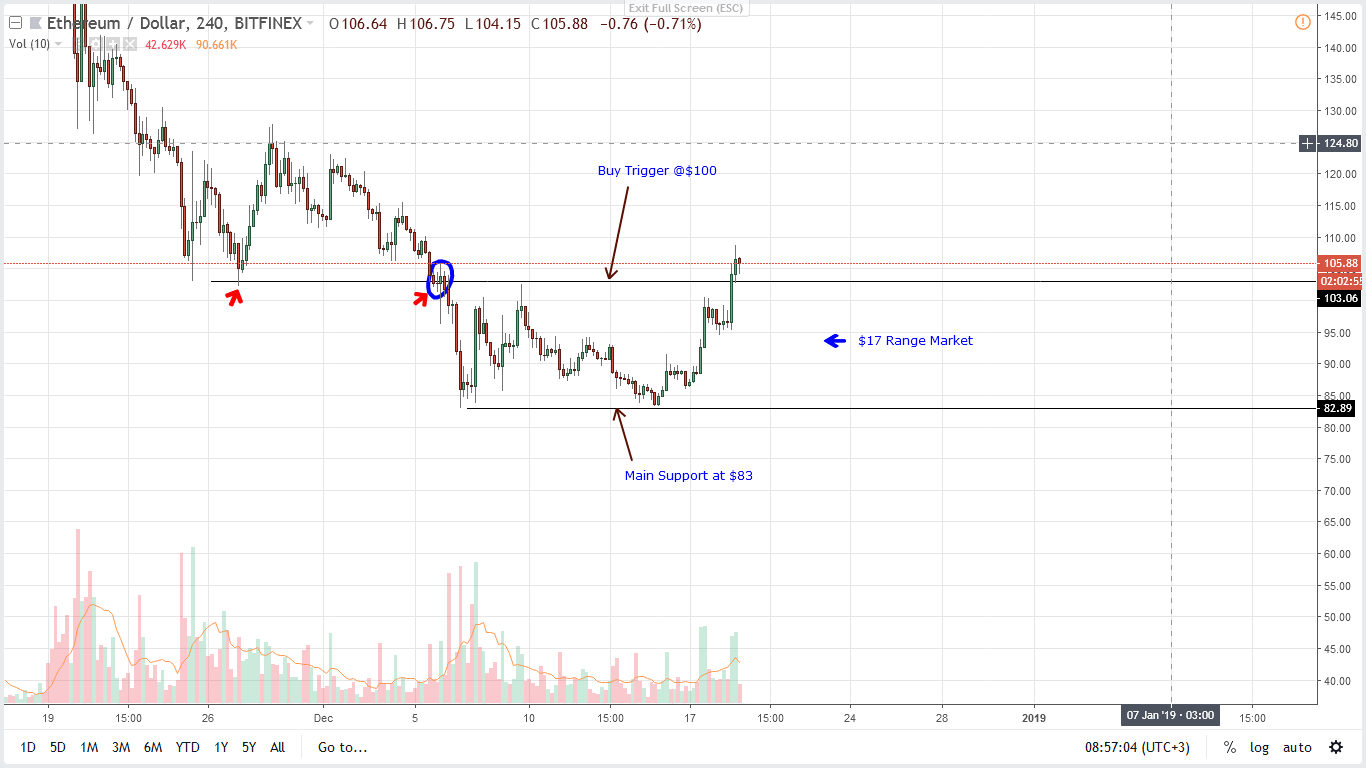 Notice that the surge above $100 was at the back of above average volumes. Dec 18 2300 HRs and a solid bar above $100 on Dec 19, 0300HRs bull bars had above average volumes—roughly $150k versus 92k average. It met the conditions of our ideal trade plan and as such we expect further gains in days to come. Therefore, our short to medium term ETH/USD trade plan will be as follows:
Buy: Spot price, $130
Stop: $90, $110
First Targets: $130, $160, $250
All Charts Courtesy of Tradingview
Disclaimer: Views and opinions expressed are those of the author and aren't investment advice. Trading of any form involves risk and so do your due diligence before making a trading decision.