Though the US SEC involvement is a big stamp of approval of ICOs, ETH/USD is technically bearish. Attempts of higher highs are overshadowed by Sep 5 bears and unless otherwise prices race above $250, conservative types of traders are better off watching from the sidelines as aggressive types buy at spot.
Latest Ethereum [ETH] News
Thing is, the gap between XRP and Ethereum market cap is very narrow. At $100 million, it is likely that a simple 10 percent expansion of the former will result in a flappening as ETH is replaced as the second most valuable coin in the space.
Unfortunately, considering the magnification effect of XRP whenever BTC print higher, that is bound to happen sooner or later Ripple team make a surprise announcement or the SEC announce their stand, classifying XRP as utility.
In the meantime, the US SEC—executing their mandate of protecting all type of US investors, is already working towards publishing a guide for developers in need of issuing coins. With the guide, they can easily know whether their coins are securities or utilities. Should tokens be securities then interested investors would be advised to further probe as SEC rules shall apply.
This recent announcement by William Hinman, SEC Director of Corporate Finance is a step in the right direction towards streamlining of ICO related activities as the government intervene.
While it will be perfect for investors—remember doubtful investors that need more clarification would at anytime reach out to the SEC FinHub for prompt feedbacks relating to any securities and securities related activities, smart contracting platforms will also draw utilities projects drawing demand of ETH lifting them higher as a result. After all, government are utilizing the platform and with stringent ICO rules applied by governments, this development is no doubt bullish for ETH.
ETH/USD Price Analysis
Weekly Chart – ETH/USD Price prediction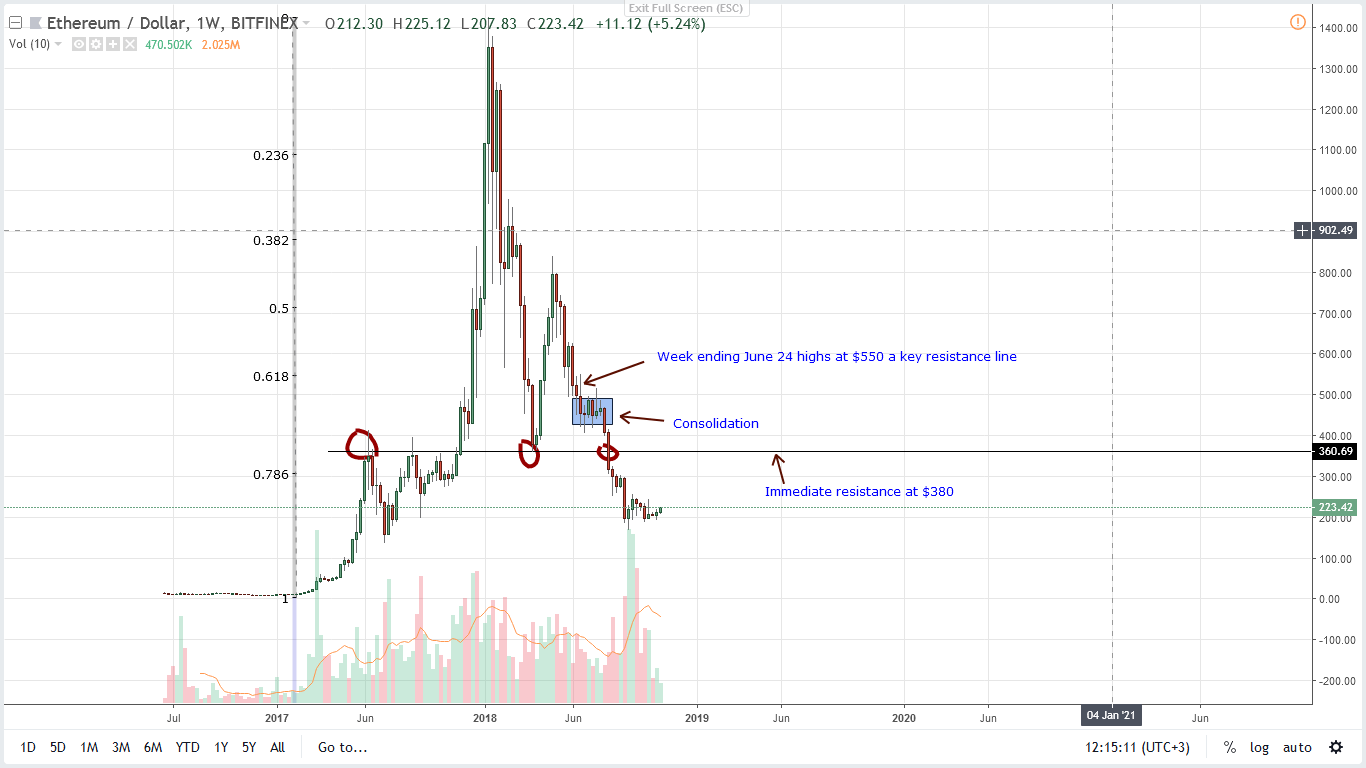 Despite upbeat development and whatnots, ETH/USD is trading within a bear break out pattern. Then again, recent price movements are pretty tight as they oscillate within a $50 range with clear resistance at $250–$300 zone and support at Sep lows at $160.
From previous ETH/USD trade plans, bulls must first gather enough momentum from the $200 psychological level and race above $250—the lower limit of our resistance zone.
This way, not only will bulls to printing above Oct highs but momentum will be building as traders aim at reversing week ending Sep 9 losses.
Anyhow, the fact that ETH/USD found support at $200 is indicative of a bottoming market and is just but the necessary catalyst for higher highs as aggressive traders ride with market wide optimism.
Daily Chart – ETH/USD Price prediction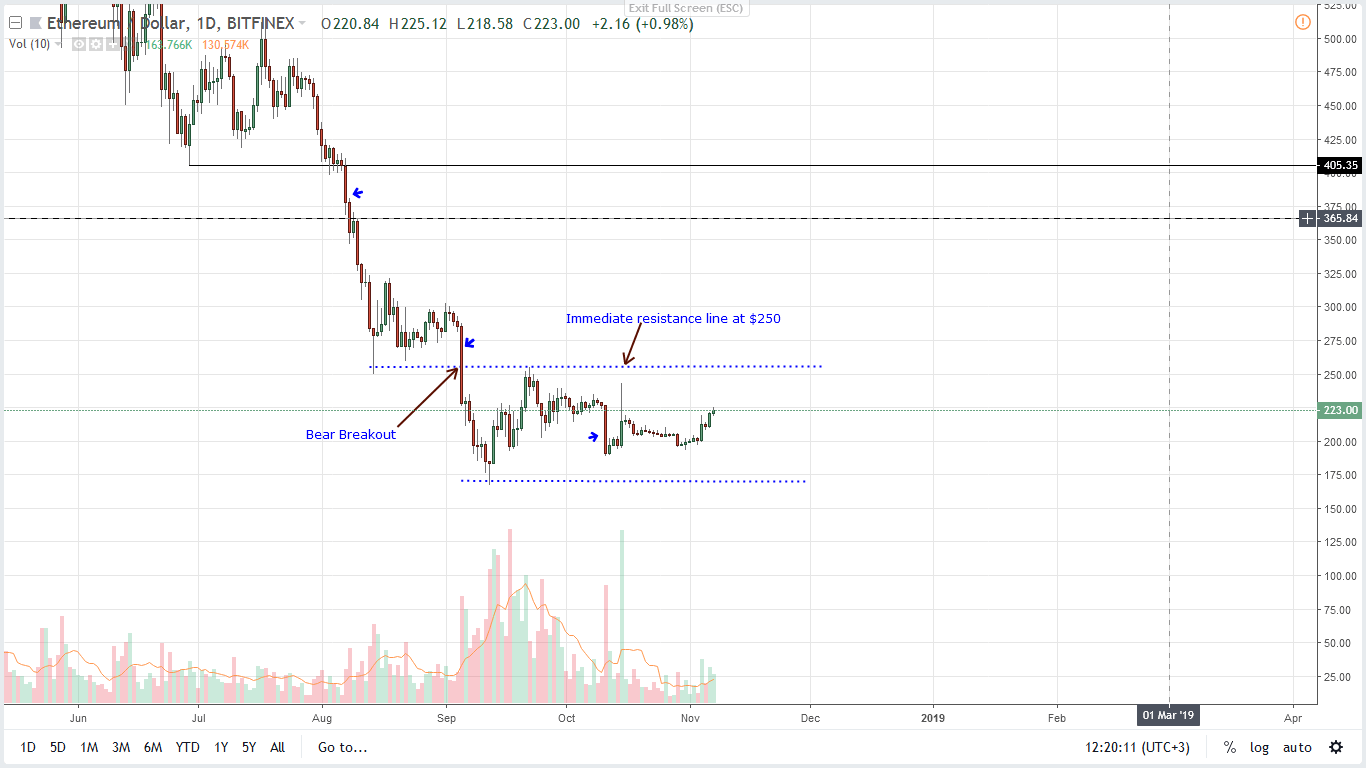 The ranging market of the last two months is clear and so is the bear break out move of Sep 5. Because of the high trading volumes and wide trade range accompanying the move, ETH/USD is technically bearish as long as prices are trading inside the horizontal trade range below $250.
Regardless, since the market is recovering after losing +75 percent from 2017 peaks, aggressive traders can buy at spot with stops at $200. First target is $250 and later $300 assuming ETH/USD rally.
Disclaimer: Views and opinions expressed are those of the author and aren't investment advice. Trading of any form involves risk and so do your due diligence before making a trading decision.