Latest Ethereum [ETH] News
All of a sudden, the cryptocurrency world has been flipped. Cryptocurrencies, irrespective of initial vision mission statements, have been labeled a threat to the US national security, and worse based on "thin air".
While analysts and even the general public agree that the idea of digital assets riding on top of the distributed internet, or web 2.0, is a new concept that requires time, recent comments from Donald Trump and US Secretary to the Treasury, Steven Mnuchin is both negative and positive.
For the concerned, it is bearish in that it thrust cryptocurrencies to the limelight, further spreading FUD for those with limited understanding of what the underlying technology is capable of. On the other hand, comments from President Trump particularly legitimize Bitcoin and related digital assets.
In the short to medium term, any depreciation of Bitcoin, given the direct correlation with most crypto assets, will have a negative effect on Ethereum and its token. That is despite the positive development as the team drive towards actualization of Ethereum 2.0. With Phase Zero of the Beacon Chain scheduled for the early days of January, the eventual roll out in 2021 will be bullish for ETH on more than one plane.
Not only does in introduce speed and strike a perfect balance as far as the blockchain trillemma is concerned but according to an Ethereum researcher, proof-of-stake related attacks will be finally handled with grace. In a recent AMA, the researcher, Carl Beek, said:
"One of the beautiful things about PoS is that these attacks can be handled with grace. The community can hard-fork out the malicious actors so they have no more voting power. The malicious actors just burnt a lot of money to temporally halt a network"
ETH/USD Price Analysis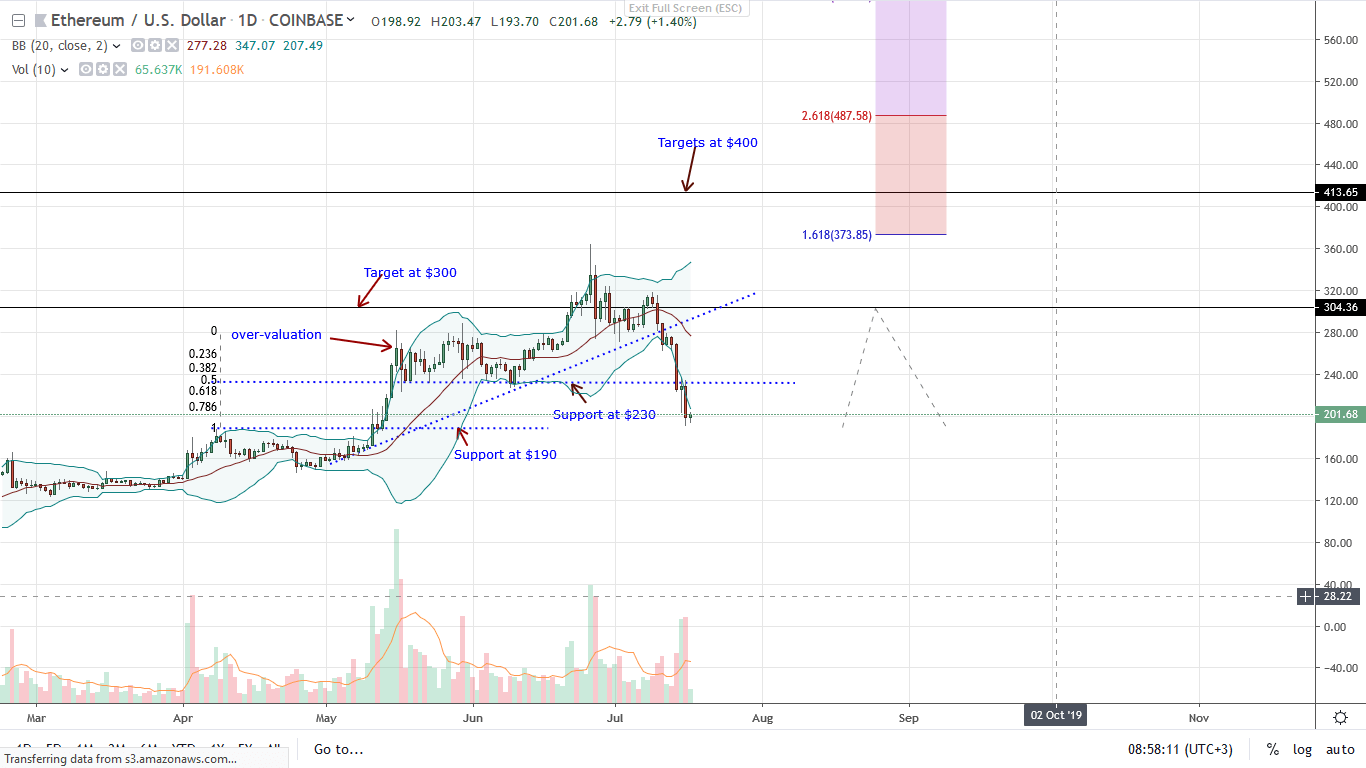 At present time, the path of least resistance is well defined. From a top down perspective, bulls are weakening and in a correction, sellers are in the driving seat. To quantify, ETH prices are down 34 percent in the last week and a massive 11.6 percent in 24 hours.
As such, sellers are firm in their position as evident from the strong bear momentum forcing extensive bear candlesticks to band along the lower Bollinger Band.
In line with previous ETH/USD trade plan, the best course of action for traders is to unload on pullback thanks to yesterday's breach and close below the main support line of $230. Encouragingly for bears, the close below was at the back of increasing trade volumes.
Because of the past few days' rapidity, it is likely that ETH prices will tumble to $190 in a deep retest or back to $150 as bear rewind gains of Q2 2019.
Chart courtesy of TradingView—Coinbase
Disclaimer: Views and opinions expressed are those of the author and is not investment advice. Trading of any form involves risk. Do your research.