Latest Ethereum [ETH] News
There is consensus that blockchains, regardless of how global and autonomous they are, cannot work in isolation. Since they operate from a world of regulations, governments play a crucial role in streamlining the space.
It is part of the blockchain law argued by Vlad Zamfir, one of the main developers of the Ethereum Foundation. Reiterating the same, Vitalik Buterin, the co-founder of Ethereum, in a recent interview emphasized on the importance of governments and how that will be crucial for Ethereum's governance and overall adoption:
"Governments do have a role and one of the roles in regulation. The usual concerns are about cryptocurrency exchanges where the basic idea is to do fundraising for a new project by directly selling tokens on the blockchains. There are debates whether specific kinds of ICOs [initial coin offerings] are legally categorized as securities."
The crypto millionaire also touched on the growing scalability concern which is not only an obstacle for enterprise adoption but a case which pushes up the cost of transacting within the platform. Even though the cost of gas is pretty low given the inactivity and dropping asset prices in recent weeks, public chains including Ethereum are struggling to address this issue. Vitalik said:
"If you're a bigger organization, the calculus is that if we join, it will not only be fuller but we will be competing with everyone for transaction space. It's already expensive and it will be even five times more expensive because of us. There is pressure keeping people from joining, but improvements in scalability can do a lot in improving that."
ETH/USD Price Analysis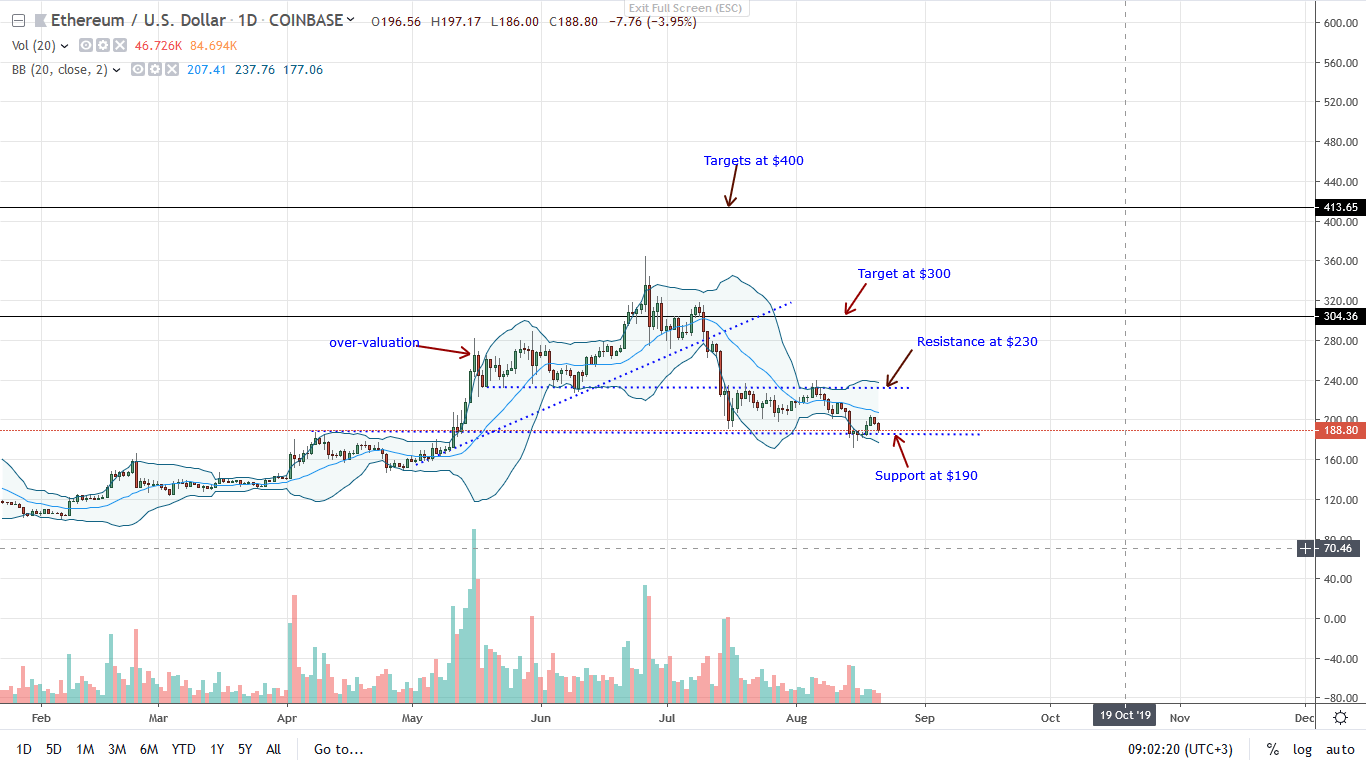 From the charts, its back to read and ETH is being pummeled. Down 9.8 percent in the last week, sellers are in the driving seat. This is was the expectation now that ETH was trading against a bearish breakout pattern against the USD following the high volume close below the main support trend line in early July.
Moving on, the current oscillation can turn out to be distribution if and only if there is a sharp close below the immediate support of $190 with increasing volumes exceeding 405k of July 16. On the flip side, gains above $230 with similar participation could see ETH prices float to $300 in a retest of the resistance trend line.
Considering that prices are mainly consolidating within the July 16 candlestick which is bearish meaning sellers have the upper hand from an effort versus result point of view, ETH prices will likely edge lower in reflection of mid-July 2019 losses. However, before then, risk-averse traders should wait for a leading breakout in either direction.
Chart courtesy of TradingView—Bitfinex
Disclaimer: Views and opinions expressed are those of the author and is not investment advice. Trading of any form involves risk.  Do your research.