The Ethereum price is one of the top performers in the last week of trading. In only days, ETH prices soared, cleared important resistance zones, and is now perched comfortably at second.
Changing hands at over $320 at the time of writing, there are several fundamentals supportive of the second-most valuable protocol.
DeFi and Tokenization needs Eth2
Eventually, and in a futurist's perspective, every assets and corporation will consider tokenizing. The growth of DeFi won't slow down, and more users will prefer to secure their data—even monetize it.
Towards that end, several DeFi projects are aligning themselves towards this ideal end. But the user experience won't be smooth if Ethereum remains at it is. Ethereum has scalability troubles. This is widely known.
There are complementing platforms like the Matic Network seeking to resolve this nagging concern through interoperability. However, the Ethereum development team has other things in mind.
Chief is the realization of Eth2, and the rollout of a Proof-of-Stake (POS) consensus algorithm. Steps have already been made and milestones hit.
The most noteworthy is the recent announcement of the multi-client network for August 4, 2020 launch. With this, it will ideally take another 3-4 months before the launch of the Beacon Chain mainnet.
Eth2 Validator Launchpad Test Network
But there is more. Yesterday, the Eth2 validator launchpad (testnet version) was released after "months of hard work from the research team" by Consensys and DeepWork Studio.
The testnet complements the upcoming Medalla Multi-client test network enabling one to deposit and monitor the network.
Most importantly, the Validator launchpad is to make the process of becoming an Eth2 validator easy all without compromising security and education.
Ethereum price analysis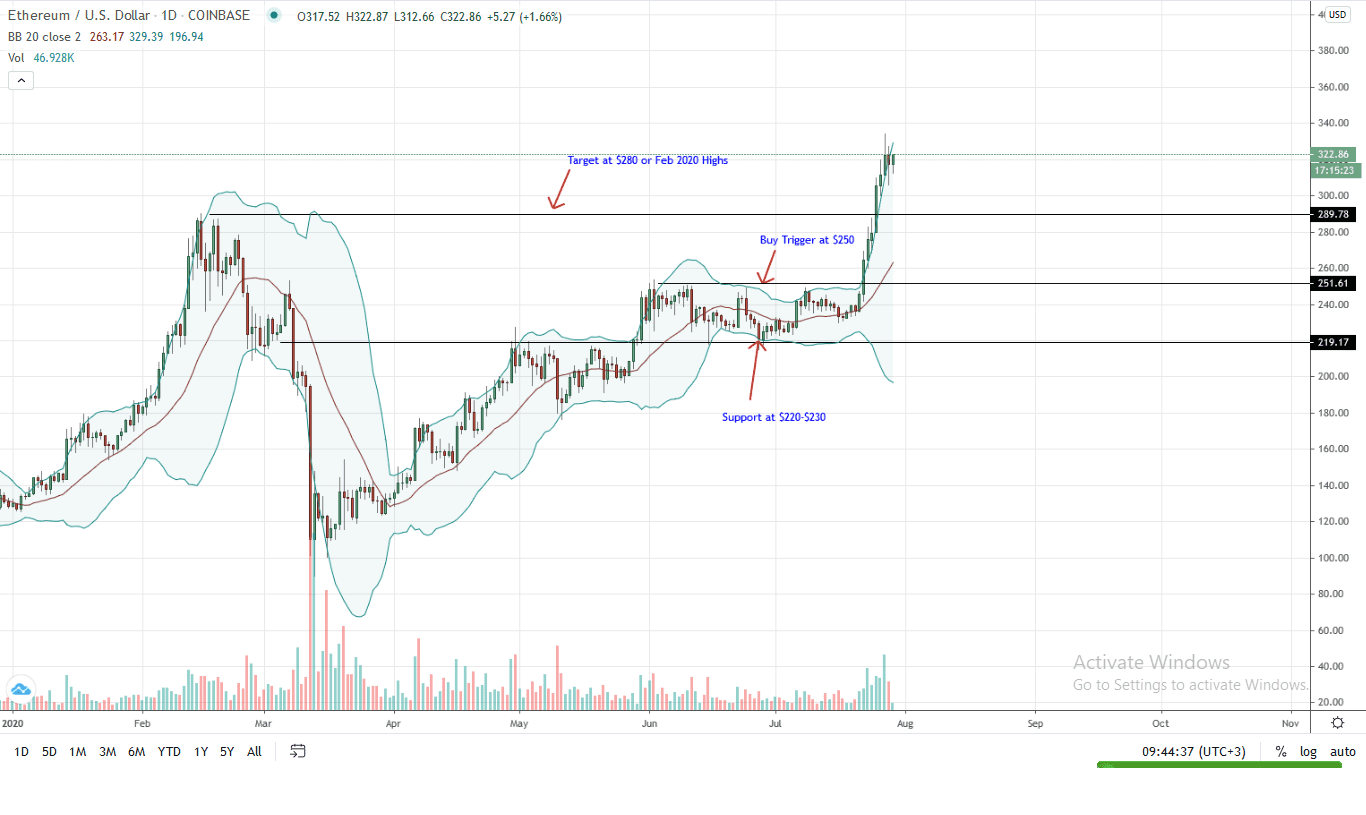 At the time of press, the Ethereum price is one of the top performers. Adding 32 percent in the last week versus the greenback, and outperforming Bitcoin (up 11 percent) within the same period, ETH prices are trending in new 2020 highs.
From the daily chart, not only has participation increased (trading volumes spiked) feeding buyers, but momentum is up.
Notably, candlesticks (after breaking above $280 and $300) are banding along the upper BB. The divergence of the upper BB away from the middle BB (immediate resistance) points to volatility.
Even though ETH may cool down going forward, every dip—given the rapidity of price action, is technically a buying opportunity. Immediate support will be the $280-$300 zone—marking February 2020 highs in a possible retest before a resumption that may lift ETH towards June 2019 highs of $365.
Chart courtesy of Trading View
Disclaimer: Views and opinions expressed are those of the author. This is not investment advice. Do your research
---
If you found this article interesting, here you can find more Ethereum News