According to the technical price analysis of Ethereum (ETH) of our analyst, all things constant, Ethereum prices are underperforming more so after their week over week four percent loss. Though prices are often reliant on BTC, there is a divergence in progress now that ETH is ranging as BTC head higher. Either way, we are net short ETH influenced mainly by on chain developments and community decisions.
Ethereum (ETH) Fundamentals
Undoubtedly, there is always a special slot reserved for pioneers. Bitcoin did illuminate and cut the tape for blockchain technology making it mainstream.
Soon, Vitalik and early creators of Ethereum followed suit creating a Turing complete smart contracting platform making it possible to tokenize and move assets freely in a secure—immutable, err mutable manner. Uniquely though, Ethereum continues to court attention and in recent times, the argument of whether to implement a couple of contentious EIPs drew heat from miners, developers and investors.
Aside from the second stage of Metropolis hard fork, Ethereum is facing some headwinds and this all due to investors tightening their ETH wallets and regulators breathing down on tokens or security issuers. It's obvious that the demand of ETH—through payment of GAS which is domiciled by ETH and ICOs, is an innovative new age fund raising model.
However, since the beginning of the year, the demand has been waning and even if companies try to crowd fund, their targets are strikingly low unlike last year. According to D2 Capital, this is not at all helping Ether prices and investors' hopes of a morale boosting recovery.
In fact recent reports link the collapse of ETH prices from the $1400 peaks to a "massive sell-off" by often financially experienced project fund managers quick to exit the market for fiat. Could this be the beginning of the end of ETH? After all, Jeremy Lubin—the technical advisor of Stellar platform believes ETH shall drop to zero once on-chain dApps begin paying miners in tokens other than ETH.
Technical Analysis Ethereum (Weekly)
Weekly Chart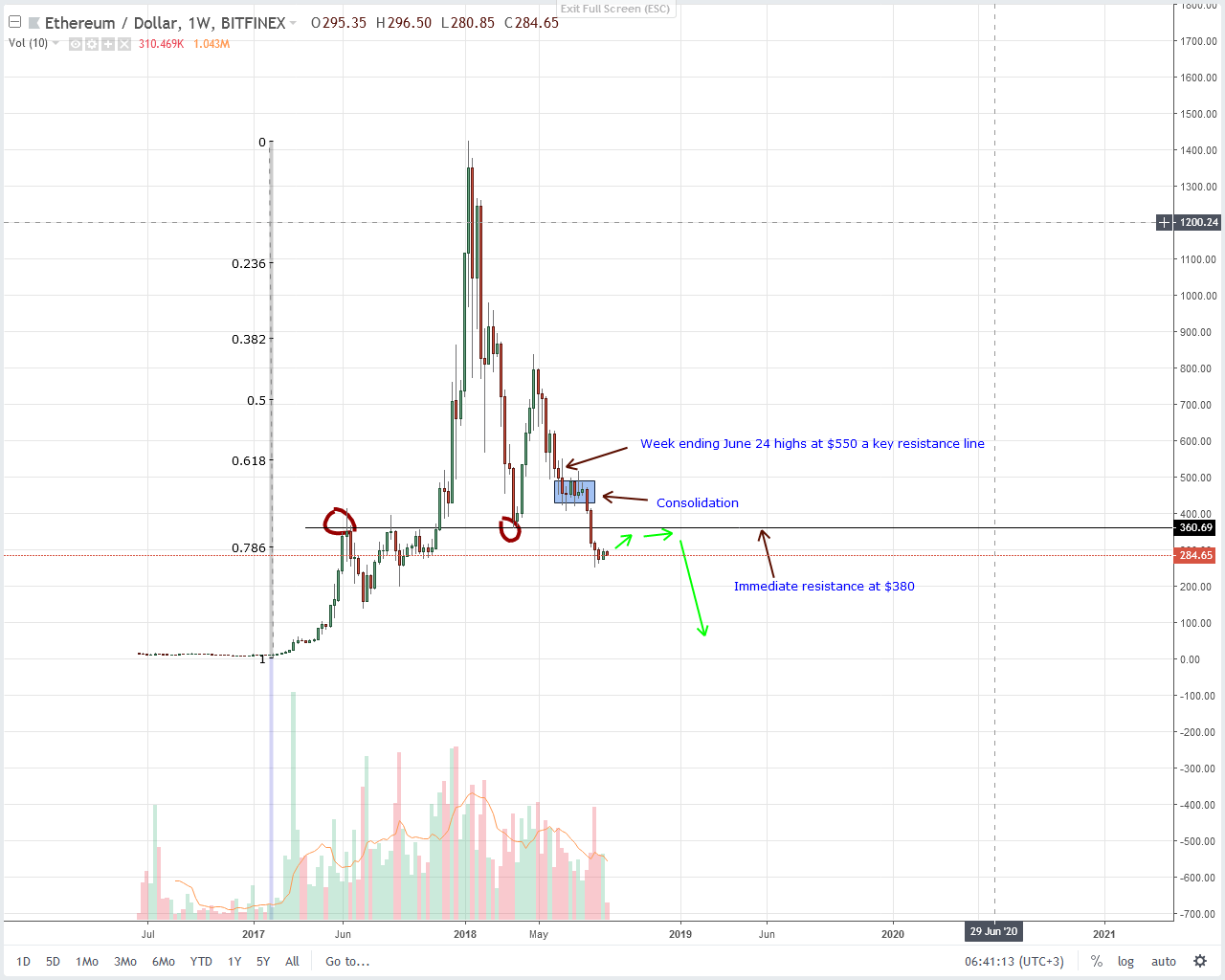 By all counts, ETH prices are pretty much unchanged from last week's movement. Though there were hints of higher highs in the midst of heavy short sellers as demonstrated by the last eight month bear trend, it's a cliff hanger for ETH bulls. It's easy to prove why:
First, notice that ETH prices are towing and trading along the direction set by week ending Aug 12 bear candlestick which broke below $400 and $350. These two were strong support zones meaning strong sellers are aiding this meltdown—check the range and the AWR during that period.
Secondly, what we are witnessing now is a classic effort versus result situation. After three weeks of consolidation, bulls are yet to recoup week ending Aug 12 losses and what's more, bulls volume are low.
The combination of these chart specific factors mean it's a tall order for bulls and as such, we retain a bearish outlook unless otherwise.
Daily Chart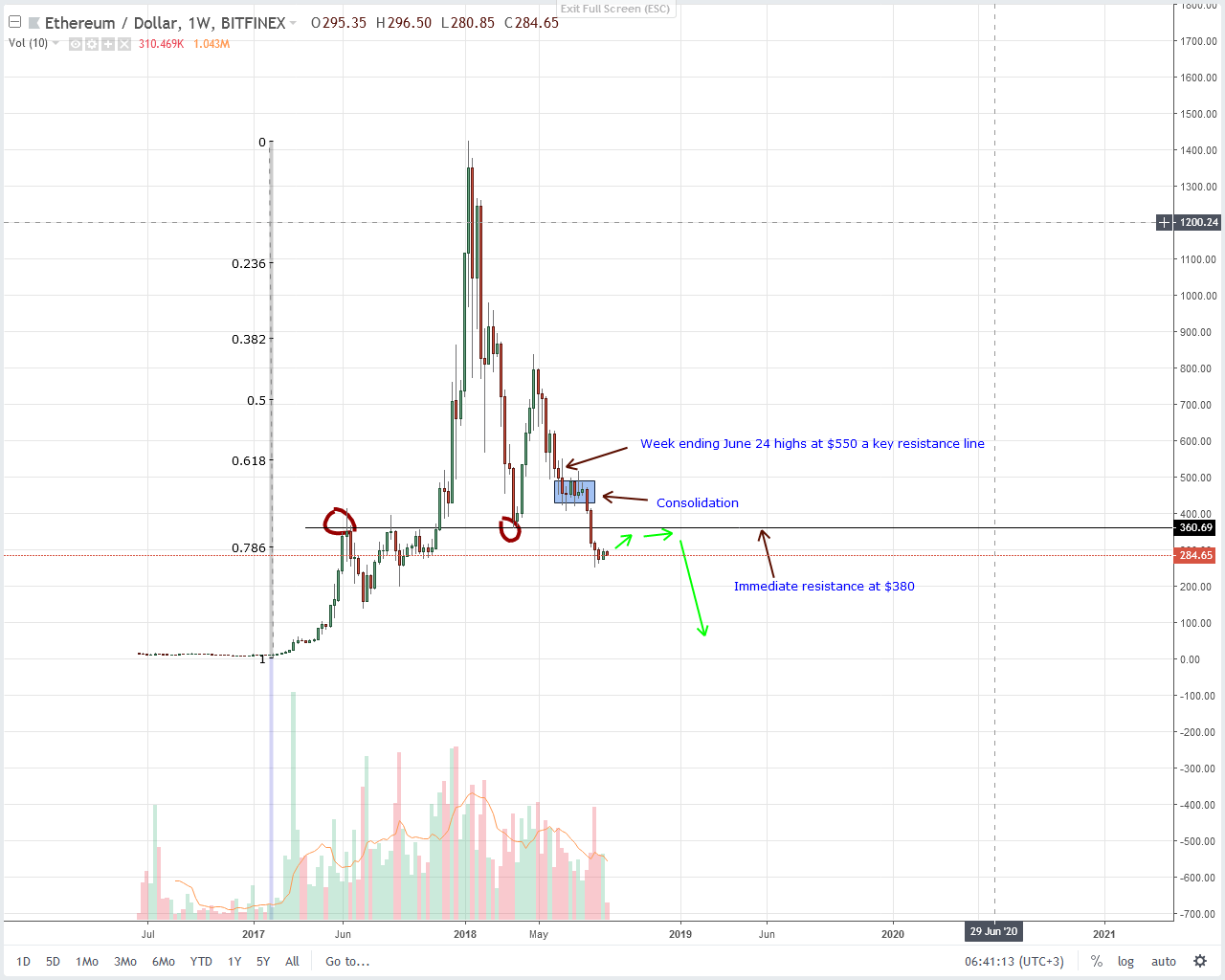 What stands out is the velocity of ETH depreciation more so following that break below $350 on Aug 8.
That move triggered sellers after confirmation of a bear break out pattern initially set in motion by June 10 high volume bear candlestick.
So, while the market was upbeat expecting gains, our analysis pointed to a retest before trend resumption.
As we have seen in this time frame, ETH bulls are week and instead of confirming Aug 17 bullish efforts, prices are accumulating or distributing horizontally meaning swing traders can pause their trading until after a break out happens.
Odds are prices might dip below $250 and once they do, ETH sellers should initiate trades with first targets at $150. On the reverse side, any move above $330 could jolt prices back to $350 and later $400 meaning buyers can fade the trend as they ramp up on dips.
Disclaimer: This is not investment advice and views represent those of the author. Do your own Due Diligence before making investment decisions.