Ethereum [ETH] is far from cooling down. The first week of October has been quite bullish for the broader crypto market and ETH appeared to be right on track. The network miners have also flipped bullish and have no intention of selling their coins.
As a matter of fact, the amount of ETH that is currently being held by the miners has climbed record levels. According to data provided by the popular crypto-analytics platform Santiment, the balance held by Ether miners has surged extensively and was at the highest level. In terms of the US Dollar, it is at an all-time high of $1.85 billion.
Ethereum's recovery has just started and there could be more in the offing. Here's why-
Ethereum Miners Hodling their position
The data revealed that miners held 532,750 ETH, the largest since the 13th of July, 2016. The amount is reflective of 0.45% of Ethereum's total circulating supply which was currently sitting at 117.8 million ETH. Its tweet regarding the same read,
"Ethereum is up to $3,480, the coin's highest price in 16 days. Notably, miner balances have continued to skyrocket. 532.75k ETH is the largest balance held by miners since July 13, 2016. The value of these coins is $1.85B, easily an AllTimeHigh."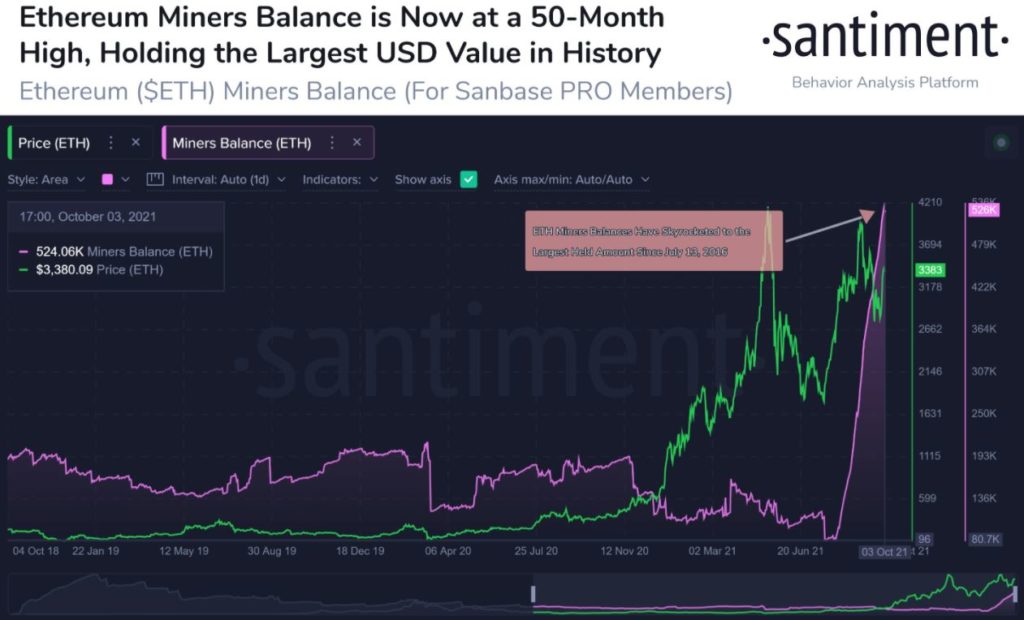 It is important to note that, this cohort of network participants usually sell the cryptocurrency rather frequently to bear the cost of electricity and hardware expenditures. Hodling the asset signals that miners are anticipating a further increase in Ether's price action in the coming days.
What does Ethereum's [ETH] Fractal position depict?
At the time of writing, Ethereum was trading at $3,636 after surging by 16.36% over the past week. However, it is the latest fractal formation that has captured the imagination of many. 
For the uninitiated, fractals help in determining critical reversal points in the market. If observed correctly, fractals can be used to decipher the price direction that is set to unfold. One such analyst, under the pseudonym 'Jaydee_757' pointed out an Ethereum fractal and revealed that 2017 and 2021 have very similar market structures. There is a high chance for an astonishing run-up in Ether's price.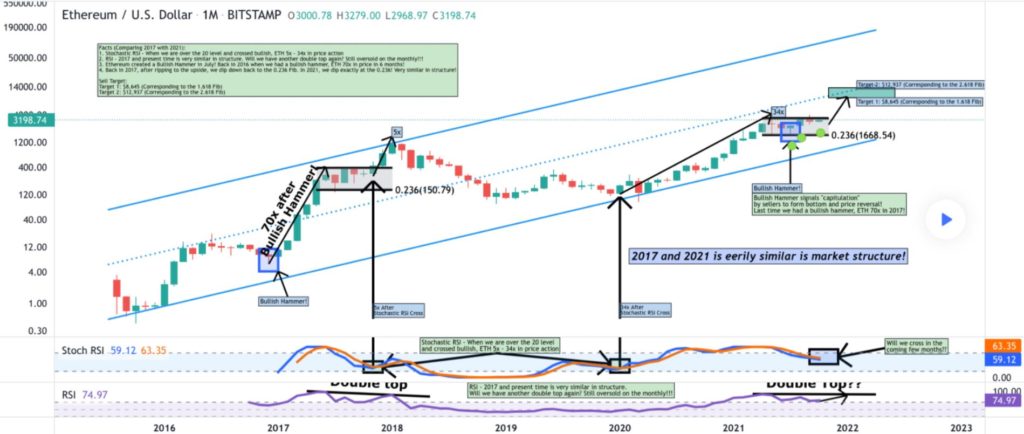 The above-mentioned fractal, which involved at least four technical patterns, that played a crucial role in pushing the price to ATH back in 2017 and ultimately led to 7,000% gains for ETH has appeared again in 2021.
And if history repeats itself, Ether could see a rally to $13,000 in the next six months.