Ethereum [ETH] price has fallen more than 85% this year and the biggest casualties have been ICO projects that were a particular hit for the better part of 2018. Last year ICOs raised billions in terms of dollar amounts but that cash hoard has dropped according to Diar from $3 billion at the start of 2018 to the current $350 million.
Diar is a market research firm focused on cryptocurrency industry. In its latest report, Diar reports on the state of the ICO treasuries.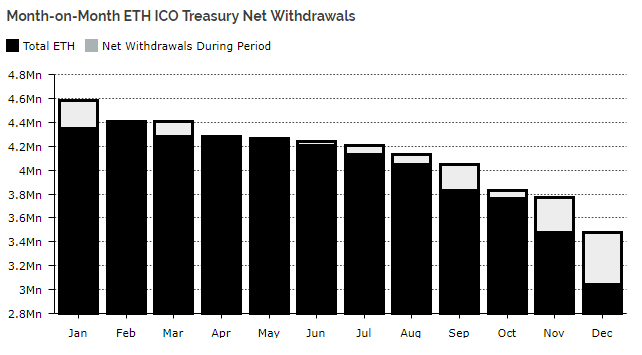 Starting the year the projects had an accumulated 4,623,148 ETH, a figure that has been dwindling over the course of the year to 3,041,592 ETH. December 2018 has seen the largest withdrawals of any month after some projects liquidated their holdings amounting to 12.5% of total holdings.
That is about 434,379 ETH withdrawn in the first three weeks of December alone. November figures aren't far off either as Diar reports that 290,000 ETH was withdrawn. Over the year, withdrawals have averaged about 2.45% but November and December withdrawals diverged from this figures following the market slump that precipitated from the Bitcoin Cash [BCH] hash wars in November.
In the month of November, Tezos recorded the largest withdrawal at 85,000 ETH. This month Filecoin liquidated its wallet which had 216,906 ETH, an amount that represents close to half of this month's withdrawals. Aragon, another leading project with a fat treasury account, moved its ETH holdings to the Ethereum stablecoin Dai to avoid the Ethereum volatility.
Overall, according to Diar, close to one quarter (24%) of the year's starting balances have been moved either to stablecoin holdings or entirely liquidated to fiat avoid the crypto volatility. Diar was assessing only 100 projects, therefore these figures only relate to these 100 projects.
Other projects that withdrew notable amounts in the month of December include Substratum which liquidated 8,931 ETH and Kyber which withdrew 66,454 ETH. Kyber now has about 3,000 ETH in its treasury.
It is, however, of interest to note that these projects have chosen to liquidate most of their holdings in November and December when Ethereum has seen yearly lows. Ethereum touched its yearly low of about $80 in mid-December.