On-chain market intelligence platform, Glassnode revealed that Ethereum (ETH) 2.0 deposit contracts have witnessed exponential growth, reaching an all-time high (ATH) on April 30.
Ethereum (ETH) has managed to pique investor attention since its Shapella upgrade. Within the first four days of the upgrade, more than 1 million ETH, worth approximately $2.1 billion was withdrawn from the Beacon Chain. At the same time, the second-largest digital token also hit its 11-month highest of approximately $2,141 garnering tremendous interest from investors and traders.
Recent data revealed that following the Shapella upgrade, a notable 400,735 ETH, totaling $763.6 million in value, has been added to Ethereum's Liquid Staking Protocols, such as Lido Finance, Coinbase's Wrapped Staked Ether, Rocket Pool, Frax, Stakewise, Stakehound and Ankr, among others. According to 30-day statistics, six out of the top ten protocols, ranked by value locked, have experienced significant gains over the past month.
What Does It Mean For The Network?
On April 30, Glassnode took to Twitter to announce ETH 2.0 deposit contracts have been experiencing robust growth and recently reached a new all-time high. It can be said that higher deposit contracts reflect more confidence in the network. The surge also reflects the growing amount of ETH staked.
📈 #Ethereum $ETH Total Value in the ETH 2.0 Deposit Contract just reached an ATH of 18,868,062 ETH

View metric:https://t.co/SzbMPqvhlb pic.twitter.com/B9sqXP3t8s

— glassnode alerts (@glassnodealerts) April 30, 2023
The total value of ETH staked stood at slightly over 19 million ETH and was at a new all-time high ATH. The ascending numbers convey a surging confidence among investors and traders along with the news that more institutions are staking their ETH rewards. Although ETH staked and deposit contracts have reached new highs, Ethere's price action has not yet seen a major breakout.
Crypto Market Trades In Red
According to CoinMarketCap, Ethereum (ETH) dropped more than 3% in the last 24 hours to trade at $1,846.Meanwhile, over the past seven days, the digital token is up 0.56%. Experts anticipate the drop is due to Ethereum (ETH) whales trimming their balances, adding to the current selling pressure. This means the bulls may still not show off their strength until the whales cease selling and contribute to bullish volumes.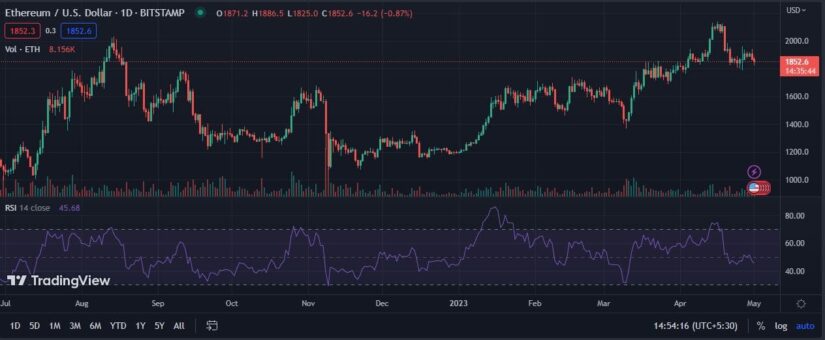 On the other hand, Bitcoin (BTC) tanked 2.41% over the past 24 hours to trade at $28,560. Despite trading lower, the flagship token has experienced tremendous growth since the beginning of the year. It is like the recent banking sector crisis has helped to re-establish Bitcoin's core use case as a decentralized and scarce digital asset. In tandem with the crypto heavyweights, the global crypto market cap along with most of the altcoins has also taken a hit.