Since the sharp drop in June 2022, when Ethereum hit a low of $880, ETH has undergone a notable transformation, taking the shape of an ascending triangle in the asset's accumulation direction.
This technical pattern of Triangulation in Ethereum, has been the compass that has guided this trajectory, leading it to reach a significant maximum in the week of April 10 to 17, 2023, around $2140-$2120.
This value stands as a crucial benchmark, especially after Ethereum broke the $2,500 range last year and went looking for lows.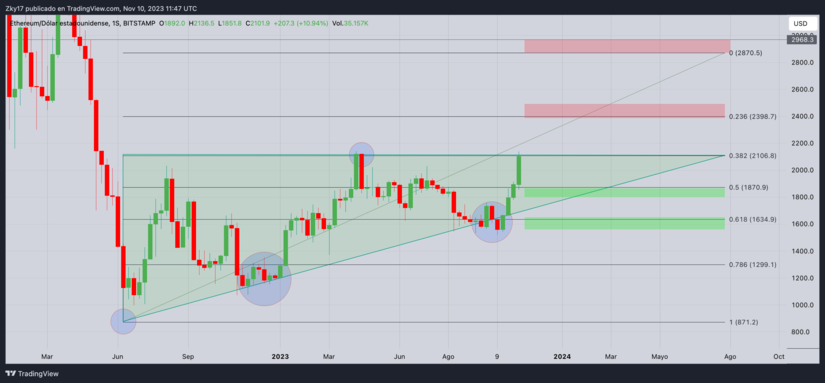 Technical analysis could point out that this breakout marked a change in price dynamics and defined a new paradigm for Ethereum.
Ethereum was not without other challenges, the crypto market in general had to face regulations and policies in different nations during this last period, in some cases having to adapt or disappear.
In the last weeks of September, beginning of October, of this year 2023, the price of Ethereum took investors to the limit, almost breaking the bullish pennant that had been forming after a long period.
Further analysis reveals that the zone around $1580 may have played a strategic role in protecting the pattern and possibly, acted as a contact with the 0.618 level based on the full extension drawn, with higher price targets. , guided by the highs of previous years.
This area was highlighted as critical to the stability of the technical pattern and as a possible reference point for future Ethereum price support and resistance levels.
From its volume levels in that price zone on the exchanges, the searches for "Buy Ethereum" on Google, and other metrics were positive for the crypto. Other factors such as possible doubts about the future regarding regulatory policies referring to the United States, they attracted new investors causing a certain level of renewal around the crypto market in general.
NEW RENEWAL FLOWS IN ETHEREUM
In the immense landscape of the cryptocurrency market, Ethereum stands out as a key player, ranking second on MarketCap, with a current total valuation reaching $252 billion.
The recent support from BlackRock, Grayscale, Invesco and large investment firms regarding adding crypto-related ETF products for their clients has injected a new dimension into the equation, generating palpable FOMO in the cryptocurrency market.
At the current time, Ethereum is trading around $2080.2, working on the top of the bullish pennant to define the next direction to go.
The next projected objectives; In case of breaking this upward triangulation strongly, they include prices of $2,390, followed by a mark of approximately $2,870 dollars, taking into account the levels in the analyzed Fibonacci extension.
In this exciting rally, possible corrections must also be taken into account. Support levels at $1,870 and $1,630 appear solid and consolidated, but a volatile area between $2,100 and $1,900 has formed within the ascending triangle.
Experienced investors and new investors alike await with caution and anticipation Ethereum's next moves in this fascinating chapter of its evolution.
---
Technical charts courtesy of TradingView.
Disclaimer: The opinions expressed do not constitute investment advice. If you are looking to make a purchase or investment, we recommend that you always do your research.
If you found this article interesting, here you can find more Ethereum news.