Ethereum prices are confined in a range, visible in the daily chart.
The coin is trading within a narrow gap with clear support at $1.55k on the lower end and $1.67k.
Per the arrangement in the daily chart, sellers still have the upper hand in the short term despite today's gains.
For a reversal, there must be a convincing close above $1.67k at the back of increasing volumes.
Accordingly, the coin may spring higher, edging towards February highs.
On the flip side, considering the Shanghai Upgrade that's around the corner, losses below last week's low may see more sell-off towards immediate support levels.
Shanghai is Close
ETH traders are keeping a close eye on Shanghai.
On the Sapolia Testnet, a successful simulation was completed yesterday. With no hitches in the Testnet, developers are confident the next important phase in Ethereum will be successful. The next test will be on the Goerli before the hard fork is executed on the mainnet.
Sepolia testnet has successfully upgraded to Shapella! 🌃

Some of the Prsym validators are offline due to the old geth version. They will come online in the next 10 mins!

Next stop: Goerli pic.twitter.com/pb43Gq7w9C

— terence.eth (@terencechain) February 28, 2023
After Shanghai, ETH stakers will be free to withdraw their coins. It is a move that has been received with varied opinions.
Some see this upgrade a net negative since some long-term holders might be keen to cash out.
However, optimists think the network would be more decentralized as liquidity staking protocols like Lido DAO will play a key role in attracting stakers.
Amid this positive development, Vitalik Buterin, in a blog post, said more needs to be done to address transaction fees which he thinks is high.
Ethereum Price Analysis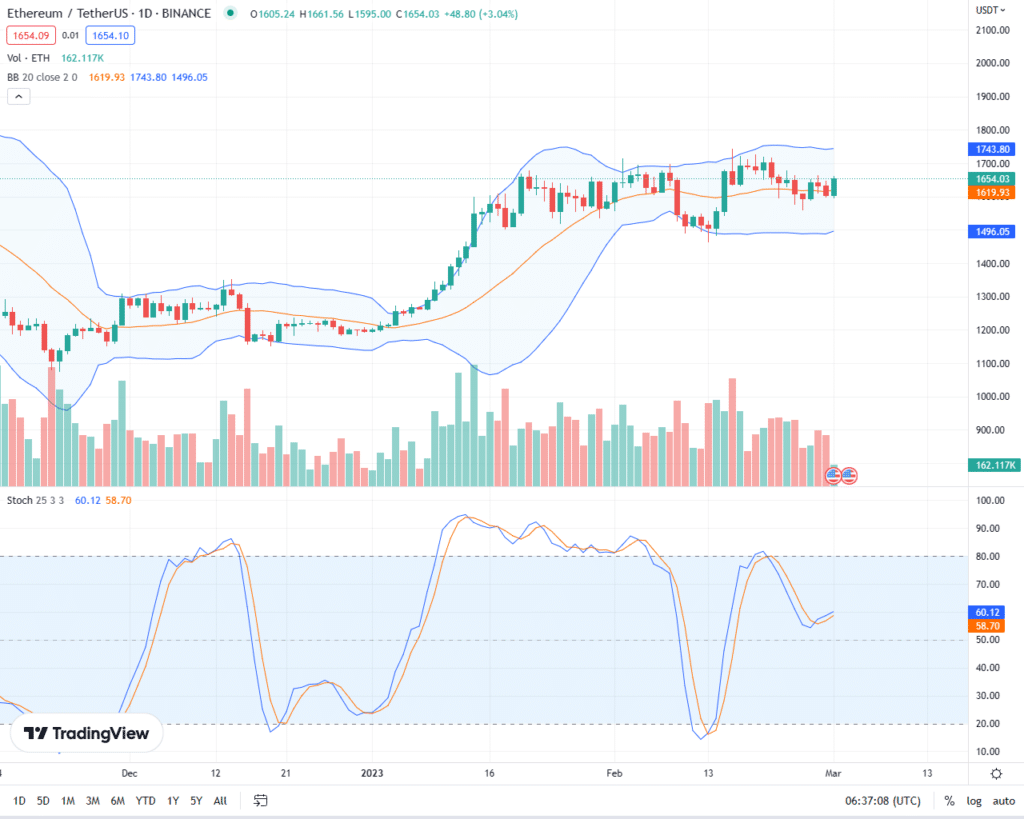 The immediate resistance line is at around $1.67k while support is $1.550k.
For the uptrend to take shape, prices must rise above February 26 highs, with rising volumes. In that case, ETH would sync with bulls of February 15 as traders angle for $1.73k.
A breakout above February highs would also set the foundation for another leg up to $2k as buyers from mid-December flow back, continuing the established trend.
Conversely, should there be a contraction below last week's lows, with rising participation levels, ETH may drop to $1.48k in a retest of February lows.
Technical charts courtesy of 
Trading View
Disclaimer: 
Opinions expressed are not investment advice. Do your research
.
---
If you found this article interesting, here you can find more Ethereum News.