The Ethereum (ETH) price action is uneventful, looking at the performance in the daily chart. Presently, prices are moving inside a tight range with caps at $1,560 on the lower end and around $1,630 on the upper end. 
Specifically, prices are inside the bearish September 21 bear candlestick. In the days ahead, how prices react at these two reaction levels could shape the near term. 
Notably, losses below the primary support may push ETH even lower in the days ahead. This will be especially the case should the draw-down be with expanding trading volumes pointing to participation. Overall, traders are looking at fundamental factors as possible triggers that may support prices.
Falling DeFi TVL And Activity, Blame The Fed?
The bear market has significantly affected activity, looking at total value locked (TVL) in decentralized finance (DeFi) and trading volume in non-fungible token (NFT) platforms. As it is, DeFi TVL is below $40 billion, dropping from $50 billion earlier this year. Meanwhile, NFT trading volumes are down 90%. Most of these platforms are in Ethereum. 
Traders and analysts point to high yields offered by the near risk-free US treasuries as contributing to falling TVL. Once interest rates begin falling, yields will likely fall, meaning some may opt to provide liquidity for higher yields in DeFi. 
Even so, how soon the US Federal Reserve (Fed) will begin lowering rates is yet to be seen, and also it has to consider any influence they might be preparing with their CBDC project and how it would change the picture. Jamie Dimon of JP Morgan and Chase recently said the Fed might continue hiking rates to the 7% zone.
Ethereum Price Analysis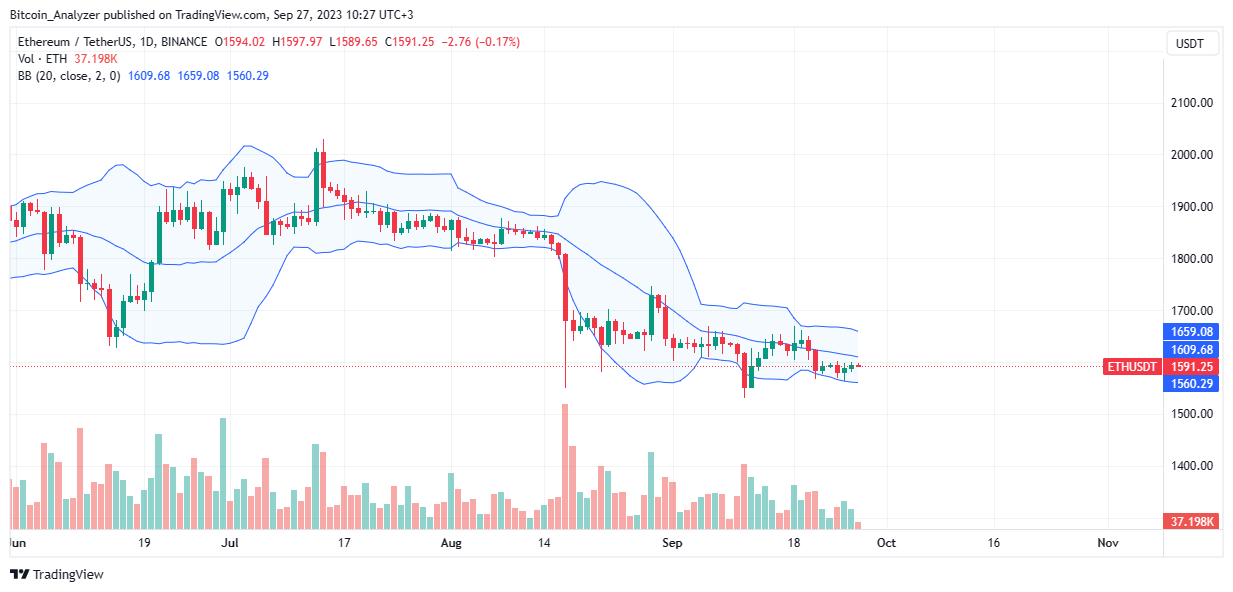 Technically, the path of least resistance is southwards. Bears are in a commanding position, looking at price action. Specifically, prices are inside the September 21 bear bar and, with lighter trading volumes, suggesting a lack of activity.
Since sellers are in control, aggressive traders can unload on every attempt below $1,630. Losses below $1,560 in the session ahead will confirm sellers of September 21, opening up the door for more draw-down.
If $1,560 is lost, ETH may drop to March 2023 lows of $1,400. On the other hand, a refreshing bounce above $1,630 with rising volumes may see ETH rally to $1,730 in a possible recovery. 
Technical charts courtesy of Trading View.
Disclaimer: The opinions expressed do not constitute investment advice. If you wish to make a purchase or investment we recommend that you always conduct your research.
---
If you found this article interesting, here you can find more Ethereum news.