Ethereum is higher when writing, retesting $1.35k, a critical resistance line in the daily chart.
Per the candlestick arrangement, bulls appear in control. Since the surge of December 13 is at the back of high trading volumes, and the bar is wide-ranging, breaking above the recent consolidation, ETH could tear higher in the days ahead.
Ethereum will recover in 2023
As it is, ETH prices are bottoming up after a suppressed year. The drop of the past few months dumped down activity, forcing users to withdraw capital from DeFi protocols. Besides, NFT trading volumes have been severely impacted and could take months for revival.
However, as it is, there are triggers of demand with developments that could support ETH in the weeks and months ahead.
The uptick in participation and trading volumes on December 13 aligns with analysts' assessment. Most believe the coin could turn the corner in 2023, spurred by fundamental factors.
JP Morgan analysts said the Ethereum Merge and Surge of this year will propel the project and ETH to new valuations next year. They opine that this Ethereum upgrade will increase use cases going forward.
"We believe that the Ethereum Merge and really the Ethereum Surge could be a big factor in terms of increasing the use-cases for blockchain into new areas, including financial services. We continue to see the Ethereum Surge as a catalyst for development in the cryptocurrency markets, which appears at least 6-12 months away."
Ethereum Price Analysis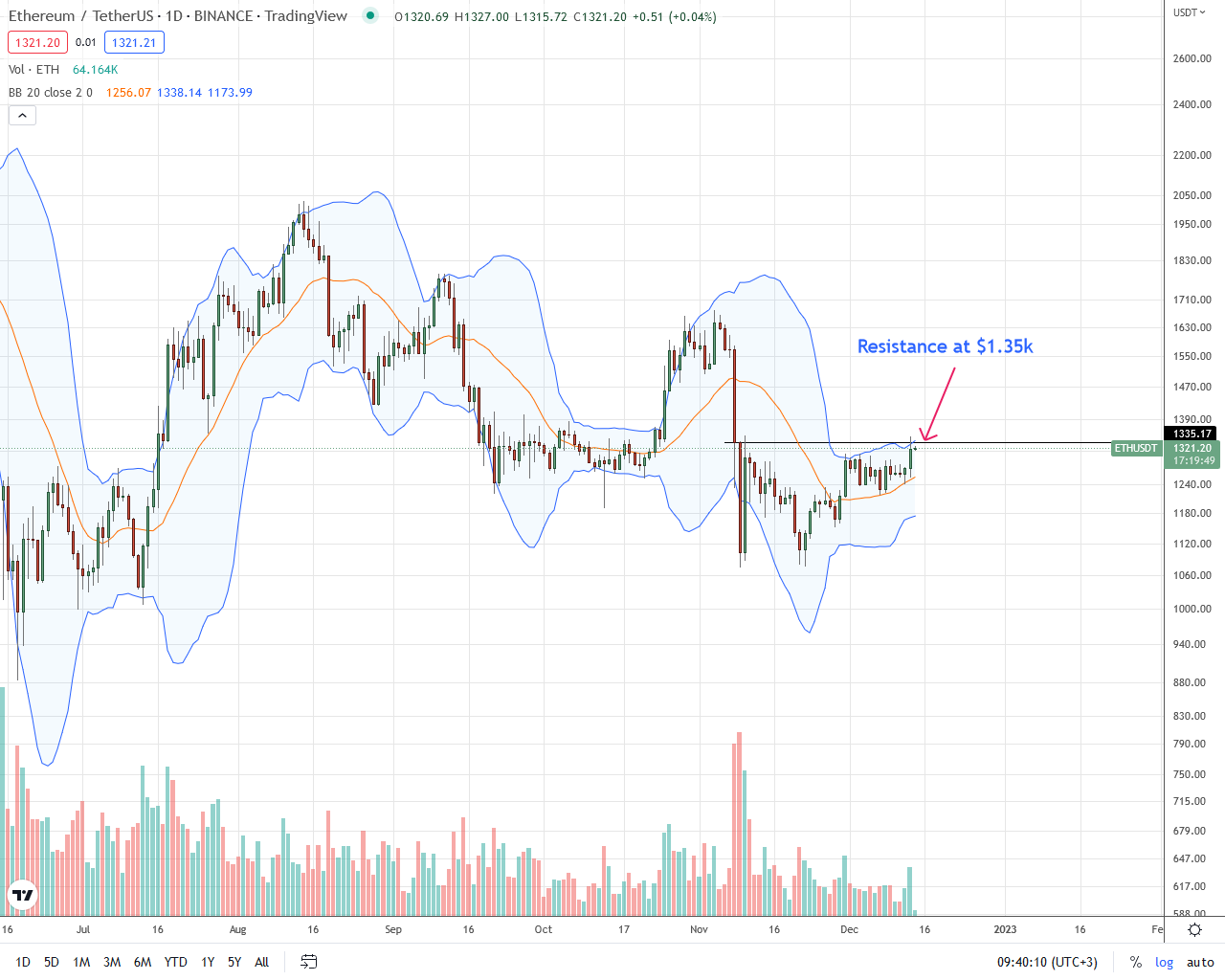 Ethereum prices are up four percent on the last trading day. It is likely to break the resistance level at $1.35k. ETH bulls have recovered November 9 losses at spot rates, placing buyers at the upper hand from an effort versus result perspective.
However, while buyers appear in control and ETHUSDT is within a bullish breakout formation, sellers are still in control. This is because ETH prices are bound within the November 8 bearish engulfing bar with higher volumes. Note that the current lift-off has relatively low participation levels, favoring sellers from a volume analysis perspective.
Still, the spike of December 13 pushed ETH above critical resistance levels, and volumes are relatively high. In the days ahead, ETH buyers can set their sights on $1.5k and $1.7k as they load the dips, aware that losses below $1.2k disqualify bulls.
Technical charts courtesy of Trading View
Disclaimer: Opinions expressed are not investment advice. Do your research.
---
If you found this article interesting, here you can find more Ethereum News.