Ethereum [ETH] has hit a crucial price level and the 30-day gains currently stood at around 25%. The latest price action was in response to the increasing optimism among investors in the cryptocurrency market. Several assets reversed considerable losses into gains as the cumulative valuation jumped to a whopping $1.52 trillion.
The world's largest altcoin, for one, saw a fresh bullish streak that pumped the token's price and catalyzed the growth. At a price of $2,343, Ethereum was extended its daily gains which was now at 9%, and has posted a three-week high. Over the past week, the coin was up by more than 25%. It has successfully juggled multiple layers of key resistance in an otherwise reluctant cryptocurrency market under tepid conditions.
With this, Ethereum once again outperformed Bitcoin [BTC] which registered weekly gains of almost 21% and was currently juggling resistance levels near $40k.
Ethereum [ETH] Daily Chart: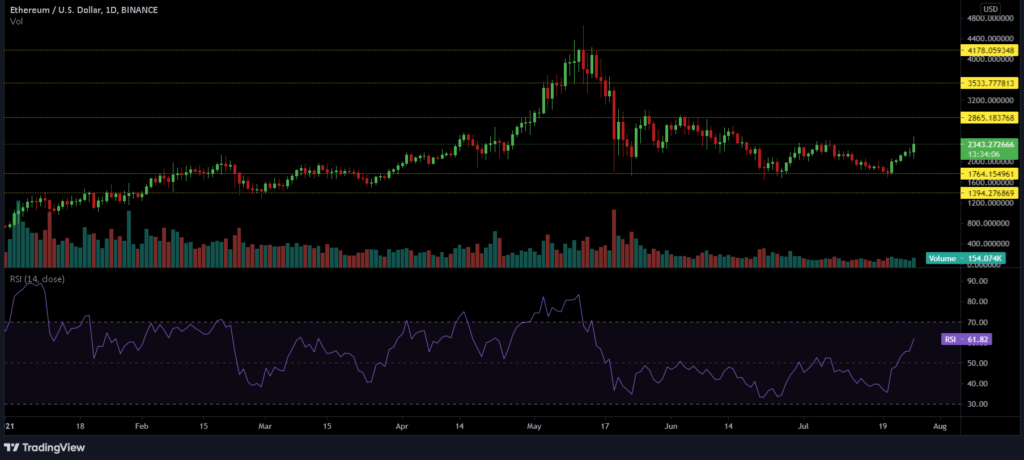 There are several factors as to why the crypto-asset suddenly surged. The long-debated B-word conference, which was actually to help understand Bitcoin and its impact, was undoubtedly the major driver that boosted Bitcoin's price.
Ethereum, on the other hand, received a significant uplift after Twitter CEO Jack Dorsey and Cathie Woods of ARK Invest along with Tesla 'Technoking,' Elon Musk vouched for decentralized finance [DeFi], a space that is largely hosted by Ethereum.
To top that, ETH has managed to pursue a bullish narrative due to the evacuation of the weak holders from the market. The moderate volume has been able to support the uptrend which depicted a strength behind the price of the asset.
Ethereum the 'Pied Piper of Crypto'
Several CNBC broadcast hosts have said good things about cryptocurrencies in the past. One such is Jim Cramer, the host of the "Mad Money." The stock analyst and crypto investor, Cramer was once an avid Bitcoin proponent.
However, things changed. He had recently moved his BTC position into ETH and claimed that the latter was more of a currency. While Cramer is still sticking to his ETH position, however, he wasn't stacking more coins especially when the accumulation levels are soaring.
🐳 #Ethereum's top 10 non-exchange whales are adding on to their holdings, as their 21.3M $ETH held this week established a new 5-year high. Meanwhile, top 10 exchange whales recently hit a low of 4.66M $ETH, the lowest since ETH's 2015 inauguration. https://t.co/EbZkHLvM7A pic.twitter.com/ahYenJcegW

— Santiment (@santimentfeed) July 25, 2021
Does he foresee lower prices in the coming days? That is definitely some food for thought. On a slightly different note, he did express his thoughts on Elon Musk's effect on the price of assets and was quoted saying,
"Musk is out there saying he buys Ethereum, and therefore Ethereum goes higher. It's a Pied Piper security."
---
If you found this article interesting, here you can find more Ethereum News