In these days of ICO's boom, one of the sectors that has seen the greatest activity of proposals is financial services. So this time we will talk about the Trade.io platform and its proposal based on blockchain, which is in full ICO time.
It is certainly observed that in the financial sector the trading platforms existing in the market today suffer from lack of transparency, are not verified by independent third parties and often suffer conflicts of interest. Due to the abuses, inefficiency and disappointment derived from this absence of reforms, traders and brokers thinking about the future look for a solution that can eliminate intermediaries and facilitate massive access to the status quo we have today: a revolutionary technology on which to build the next generation of trading platforms. The blockchain technology has meant the great possibility of making this things viable and thus achieve a total turnaround in the financial services sector.
Thanks to its inherent transparency, blockchain technology is now the only way to achieve authentic honesty and secure operations within the world of financial trading. Setting prices, hiding them, manipulating them or enriching yourself excessively with them is impossible in a blockchain network. At all times there is a total traceability of all transactions to their origin, and all the peers in the network have access to that record.
Trade.io people aware of the potential of blockchain seeks to democratize markets and save money to investors and companies, reducing and in some cases eliminating the high costs and inefficiencies that are normally associated with the trading of financial assets. In addition to trading on financial assets, the Trade.io platform presents a more efficient and safer method to quote assets in the digital economy, making use of the custody benefits of blockchain registrations.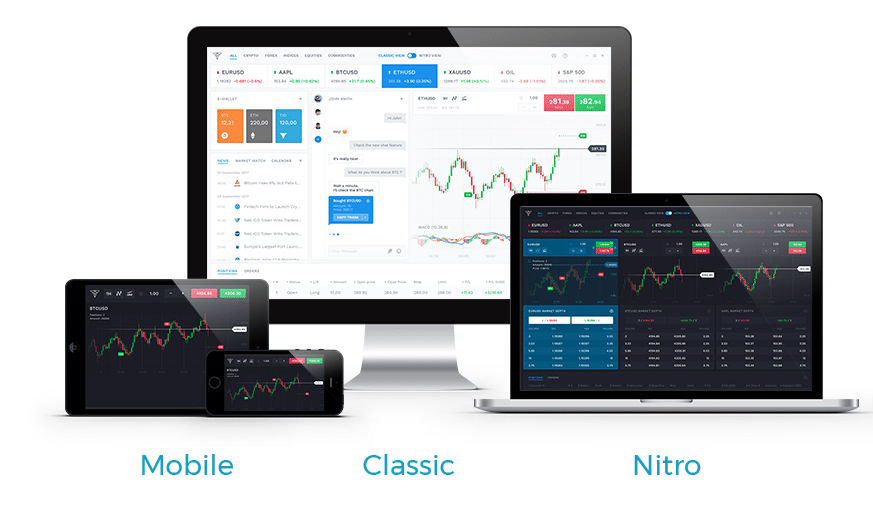 Trade.io seeks to be a trading and financing platform that will cover much more than crypto-assets. It will also offer Forex and CFD on precious metals, oil, commodities, indices and stocks, among others.
The Trade Token
The Trade Token is the native utilitarian token of the Trade.io platform acting at the same time as a means of exchange and as a reserve of value. They can be used to participate in the Trade.io shared liquidity fund and receive daily payments on the user's Trade.io wallet. The owners of Trade Tokens will enjoy all the advantages of other cryptocurrencies along with the advantages of Trade.io exchange.
Trade.io is currently in full ICO which began on December 7 and will end on January 4, covering the following stages:
Dec 7th – Dec 14th | 1 ETH = 900 Trade Tokens
Dec 14th – Dec 21st | 1 ETH = 800 Trade Tokens
Dec 21st – Dec 28th | 1 ETH = 700 Trade Tokens
Dec 28th – Jan 4th | 1 ETH = 600 Trade Tokens
They issued 500 million Trade Tokens, of which two thirds will be available for the crowdsale. The TradeToken contract is a standard ERC-20 contract.
Trade.io wants to become the leading platform to operate with multiple financial assets based on blockchain technology. You can know more details in their white paper.