Dubai-based Emaar Properties, developer of the world's tallest building, the Burj Khalifa, has started accepting Bitcoin and Ethereum cryptocurrencies as payment for their properties.
Emaar has several properties and clients across the world bringing in at least $6 Billion in annual revenues. With this development, part of this amount could be received in cryptocurrencies thanks to a partnership with crypto-payments service Bitcoin Suisse. Emaar Properties is yet to make this development public, however, the news went public after the company emailed its registered clients about the development.
In a tweet from 800Invest, one of its registered agents, the brokerage company wrote:
"Now you can buy #emaar #properties by #crypto #currencies such as #Bitcoin and #ethereum."
Seeking clarification, journalists reached out to representatives from 800Invest who then admitted to receiving communication from Emaar Properties. "Emaar is the one now accepting cryptocurrency," said a representative from 800Invest. "All registered agents (such as us) received an email from Emaar about the news," he added.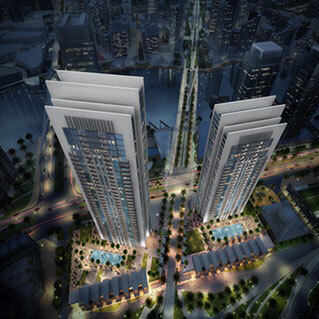 Part of the email reads that,
"We [Emaar] are pleased to announce now that all customers will be able to buy Emaar Properties using digital currencies (Bitcoin & Ethereum). The transaction will happen through one of the biggest brokers of digital currencies in the world 'Bitcoin Suisse' who are regulated and based in Switzerland."
An attachment sent together with the email goes into more details on the process of accepting cryptocurrencies for payments. Emaar does not in effect receive the cryptocurrencies but rather Bitcoin Suisse makes the conversion and delivers payments in fiat denominations.
Bitcoin Suisse also accepts Bitcoin Cash [BCH] and Bitcoin SV [BSV]. However, the email only references the two leading cryptocurrencies by market valuations. This news confirms the increasing adoption for cryptocurrencies especially the most valuable blockchains including Bitcoin and Ethereum. Other cryptocurrencies such as Stellar's Lumens [XLM] and Ripple's XRP are also gaining widespread adoption across the financial industry making the cryptocurrency flag fly higher.
Emaar Properties is one of the biggest real estate company, not just in the Middle East but internationally which means its step to accept cryptocurrency legitimizes crypto a little more in the eyes of the common public.