Polkadot (DOT) has accumulated more than 10% over the past seven days as the network becomes the industry's most active in terms of developer commits on GitHub.
According to market intelligence platform, Santiment, Polkadot network has clicnched the first position on the basis of development activity on GitHub, the leading code hosting platform, over the past month. GitHub activity essentially indicates the projects that are receiving attention from developers and are being diligently developed.
🧑‍💻 Top 10 #crypto asset development activity: notable #github commits, past 30 days:

1) #Polkadot $DOT
2) #Kusama $KSM
3) #Cardano $ADA
4) #InternetComputer $ICP
5) #Decentraland $MANA
6) #Ethereum $ETH
7) #Cosmos $ATOM
8) #Status $SNT
9) #VegaProtocol $VEGA
10) #Filecoin $FIL pic.twitter.com/QcnCwsnXDM

— Santiment (@santimentfeed) February 22, 2023
Developer Activity Propells Polkadot Price
Over the past month, Polkadot and its canary network, Kusama have reportedly recorded 558 commits, a figure relatively high than the rest of the crypto networks' GitHub commits. It has witnessed an exponential growth in the recent few months partnering with several high profile crypto projects along with crucial acheivements in terms of technical progress and massive adoption.
With this development, Polkadot, (DOT) price surged significantly. According to CoinMarketCap, DOT is up 3.39% in the last 24 hours to trade at $7.28. The token has gained more than 10% over the past seven days after tanking almost 87% from its November 2021 all-time high of just under $55.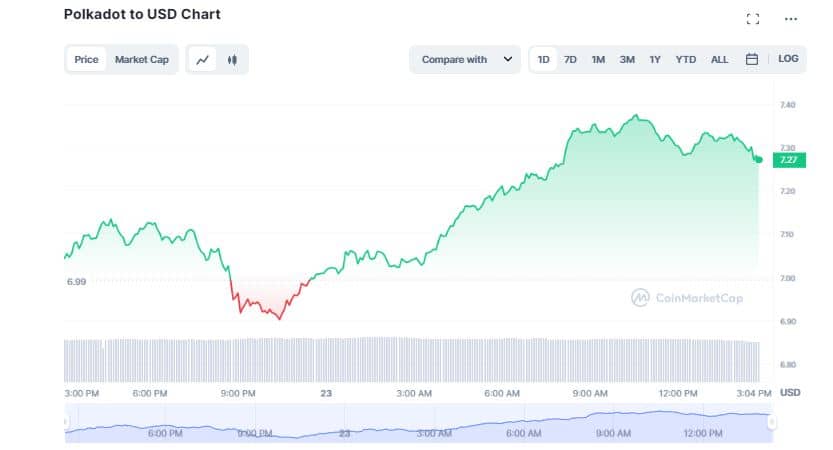 Polkadot Grows Due to its Unique Architecture
Launched in May 2020, Polkadot (DOT) was designed to increase inter-chain interoperability and a more seamless transacting experience through the use of a Relay Chain. The Relay Chain can be considered the backbone of Polkadot's network architecture, serving as the overarching mainnet reconciling all transactions into a distributed, immutable, ledger.
Moreover, the platform has gained a sizable following due to its unique architecture and popular parachain-based projects. Parachains are user-generated, fully customisable protocols built by developers using the network. In addition, the network has regulatory-compliant, user-focused utilities, which could help them avoid the wrath of regulators agencies amid increasing scrutiny of Crypto focused outfits.
Of late, the DOT network has implemented tighter security measure to protect the blockchain forming the Polkadot (DOT) Alliance. Additionally, the Web3 Foundation (W3F) is working primarily with Polkadot and Kusama to expand web3 adoption.
Today at 4pm CET, join @BillLaboon of Web3 Foundation in the discussion of the latest @ink_lang update, and what it means for the @Polkadot ecosystem.

To learn more and join the Twitter Space hosted by @Brushfam_io: https://t.co/opAvMkd4um

— Web3 Foundation (@Web3foundation) February 21, 2023
On February 21, the Foundation posted an update on the latest Ink! 4.0 release. Ink! is a programming language for smart contracts that is compatible with Substrate built blockchains such as Polkadot. Furthermore, the Polkadot-based Astar Network partnered with Sony Network Communications to launch a web3 incubator program, last week.