Dogecoin, a long-time favorite of billionaire Elon Musk, has gained more than 148% in the last seven days. It seems investors are heavily banking on rumors that the memecoin will benefit from Musk's purchase of Twitter. Let us dive in to understand the pumping of DOGE.
Dogecoin's (DOGE) rally comes as Musk completed his $44 billion acquisition of Twitter Inc. The Tesla CEO has expressed his support of the meme coin in the past via tweets like "Who let the Doge out" and his embrace of the nickname, "The Dogefather". The uptick of DOGE prices have caused the cryptocurrency's market cap to surpass Cardano (ADA) and Solana (SOL) moving up as the eighth-largest cryptocurrency in the world, with a $16.3 billion market cap.
DOGE to the Moon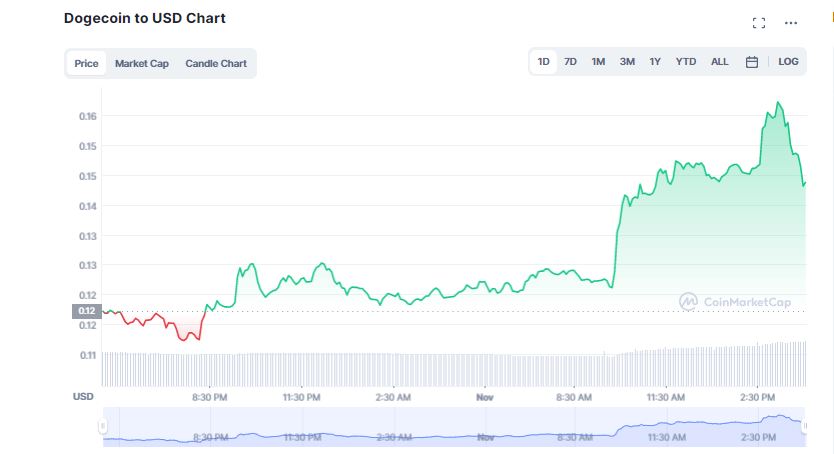 According to CoinMarketCap, Dogecoin has skyrocketed nearly 21 per cent in the last 24 hours, hovering around $0.1419. Over the past one week, DOGE has witnessed an astronomical gain of more than 149 per cent. Dogecoin price action has traded with strong bullish momentum over the past week after several week of consolidation.
As per reports, the number of addresses holding DOGE for more than a year has hit a new record high of 2.81 million. Additionally, the number of short-term investors who have held Dogecoin for less than a month has fallen to around 132,000. 
Several crypto experts have expressed a positive remark on the dramatic rally. A market anayst revealed Doge's bullish appearance, is due to an inverted head and shoulders pattern that has been in place for a year. An inverted head and shoulders pattern signals a bearish-to-bullish trend reversal. The crypto analyst tweeted about moving their Bitcoin (BTC) holdings into DOGE "for the next few months at least". 
In a statement, Edul Patel, CEO and co-founder of Mudrex, a crypto investing platform, said Dogecoin has been witnessing a bullish momentum in the past few days following the official takeover of Twitter by Elon Musk. He reiterated as Elon Musk has always been a huge supporter of DOGE, any move in favor of the token has resulted in a coin surge. Patel added,
"After the Twitter deal, the DOGE community is optimistic about making payments using DOGE on Twitter in the coming days. The memecoin has been able to break several resistance levels until now post the deal."
Is Dogecoin Coming to Twitter?
According to Cardano CEO and founder, Charles Hoskinson, Dogecoin could be coming to Twitter soon. In a recent interview, Hoskinson said there is a "real possibility" of Dogecoin integrating with Twitter. This would be a big move for crypto assets, which have recently gained popularity. Hoskinson went one step further by offering to migrate Dogecoin onto Cardano as a sidechain. This would give Dogecoin access to Cardano's smart contract functionality for free.
All in favor of the new Twitter logo 😂 #dogecoin pic.twitter.com/gVoQvaWS4Z

— SlumDOGE Millionaire (@ProTheDoge) November 1, 2022
Dogecoin Influencer, Matt Wallace, tweeted in a post that "DOGE has a secret weapon that is about to be unleashed". Christopher J. Benek, chief executive of CoCreators, took to Twitter to announce that he has increased his DOGE holding by grabbing more meme coins. Another user, SlumDOGE Millionaire posted a picture where the Twitter logo has been swapped with a DOGE logo. 
I bought more Doge.

— Rev. Dr. Doge Christopher Benek  (@benekcj) October 27, 2022