DOGE steals the spotlight yet again.
What a phenomenal right it has been for Dogecoin [DOGE]. Another day, another record-breaking price surge. And by the looks of it, there seems to be no resting for the DOGEs anytime soon.
The meme cryptocurrency, Dogecoin [DOGE] has witnessed an impressive run this week. And the bullish rally has continued to amplify even after the collective crypto market surge induced by the highly anticipated Coinbase listing on Nasdaq. Over the past seven days alone, DOGE has managed to amass gains of over 400%.
At the time of writing, it was being traded at $0.426 while holding a market cap of $47.5 billion and recording a 24-hour trading volume of $65.4 billion.
With the parabolic price action, the token has climbed to the eighth position on the leaderboard after surpassing DeFi asset Uniswap [UNI] and other crypto-assets such as Litecoin [LTC] and Chainlink [LINK].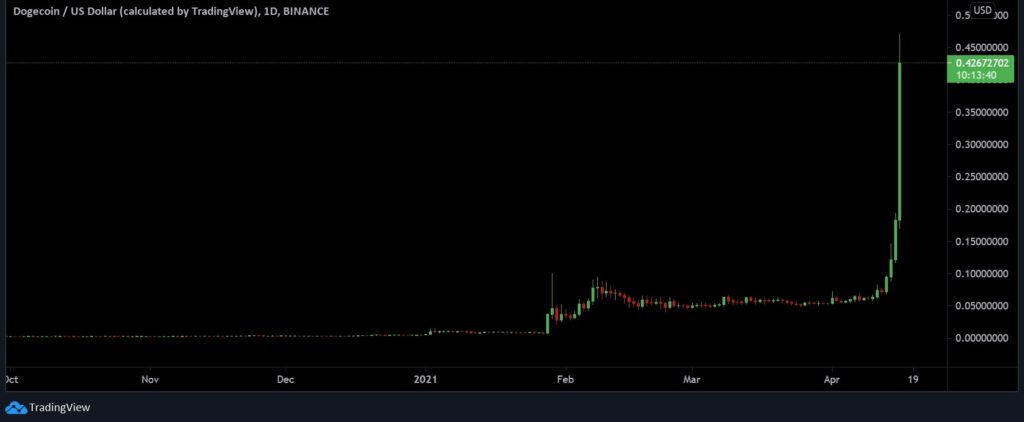 DOGE was created by software engineers Billy Markus and Jackson Palmer. Its main intention was to bet a "fun" alternative to the world's largest cryptocurrency, Bitcoin.
At the beginning of the year, the digital asset was less than a cent. It was only after the controversial GameStop and Dogecoin movements hit their stride, that the Shiba Inu-starring coin gained immense popularity.
It continued to trend after automobile behemoth, Tesla Chief, Elon Musk non-stop meme fest that prompted Dogecoin to climb highs thus making technical and fundamental indices irrelevant.
"Technoking of Tesla" Musk posted yet another meme with a tweet that read,
"Doge Barking at the Moon"
Doge Barking at the Moon pic.twitter.com/QFB81D7zOL

— Elon Musk (@elonmusk) April 15, 2021
Slim Jim x Dogecoin
On the 15th of April, Dogecoin received yet another shoutout. This time, it was from the American packaged foods company, Conagra Brands Inc's, Slim Jim, a smoked meat stick snack, whose Twitter engagement resulted in Dogecoin spiraling to a never-before-seen high.
GET READY TO GO TO THE MOON TOGETHER! 1 WEEK TO GO!!!

We launch #DogeSlimJim on 4/20–
Let's take Doing Only Good Everyday HIGHER 🚀#DOGE X SLIM JIM 👉 BENEFITTING WORLD CENTRAL KITCHEN‼️

LET'S GOOOOO #DOGEARMY #DoOnlyGoodEveryday @WCKitchen

R 🚀 S E & SPREAD THE WORD! pic.twitter.com/GdPAX6y3qt

— Slim Jim 🚀 MEATA (@SlimJim) April 13, 2021
Preceding this engagement on the micro-blogging site was  Sean Conolly's comment during an earnings call, in which the CEO of the firm reportedly acknowledged witnessing the market uptick in terms of audience interaction, which included direct engagement as well as advocacy from the person that created the meme coin.
It can be safely said that the cryptocurrency market has never been this hype-prone as it is today. What was supposed to be a ridiculous and goofy rip-off [though a cheaper] alt to Bitcoin, DOGE has managed to attract tweets from some of the world's greatest minds [Yes, we are talking about Musk] and now one of the US's most famous food-based company. The madness aside, slowly, but surely Dogecoin is bringing about more legitimacy to the ecosystem.
---