Shiba Inu token recorded another big price spike showing a +58% increase, but some factors show that investors should be careful. The charts show that hype around the SHIB coin has been high, and a big correction may happen soon.
Meme coins like SHIB strongly rely on community hypes, but new investors should be careful about them because of possible sell-outs that result in corrections. Santiment tweeted about the latest price rise and suggested investors be careful about corrections.
Being Careful About Meme Coins
The SHIB token is one of the high-profile coins in 2021. This token started as a meme coin that didn't have that much potential. It used the concept of the famous Dogecoin for introduction but has more to offer. Many tokens in the platforms and DEX (ShibaSwap) are some of the offerings that Shiba relies on as advantages.
The coin experienced considerable interest from investors and broke many records in the first weeks of trade. Many experts still believe that investors should not rely on these kinds of tokens because there may be pumps and dumps in their market. But many others have bought the token and made big profits.

Shiba Inu is still on the headlines, and the coin shows good capabilities even after big corrections of the first months. After the platform launched the DEX and related services, there were more hypes and price raises. But the SHIB token again experienced corrections that resulted in big losses for some investors. Now, a repeated pattern is visible in Shiba Inu charts that investors should be careful about them. After a big +58% jump, there may be corrections ahead. Santiment tweeted about these patterns:
"#ShibaInu has been on a tear on a busy Monday, jumping +58% in the past 24 hours. These highlighted arrows indicate moments when crowd hype is becoming a factor, and corrections that typically follow. Trade carefully!"
As the tweet says, the recent jump may be the result of another community hype around the token. Maybe new buyers are coming to the ecosystem, but big sell-offs may happen soon. These incidents have happened in the past and may happen again. Crowd hype is the word that Santiment uses for the current situation of the SHIB token.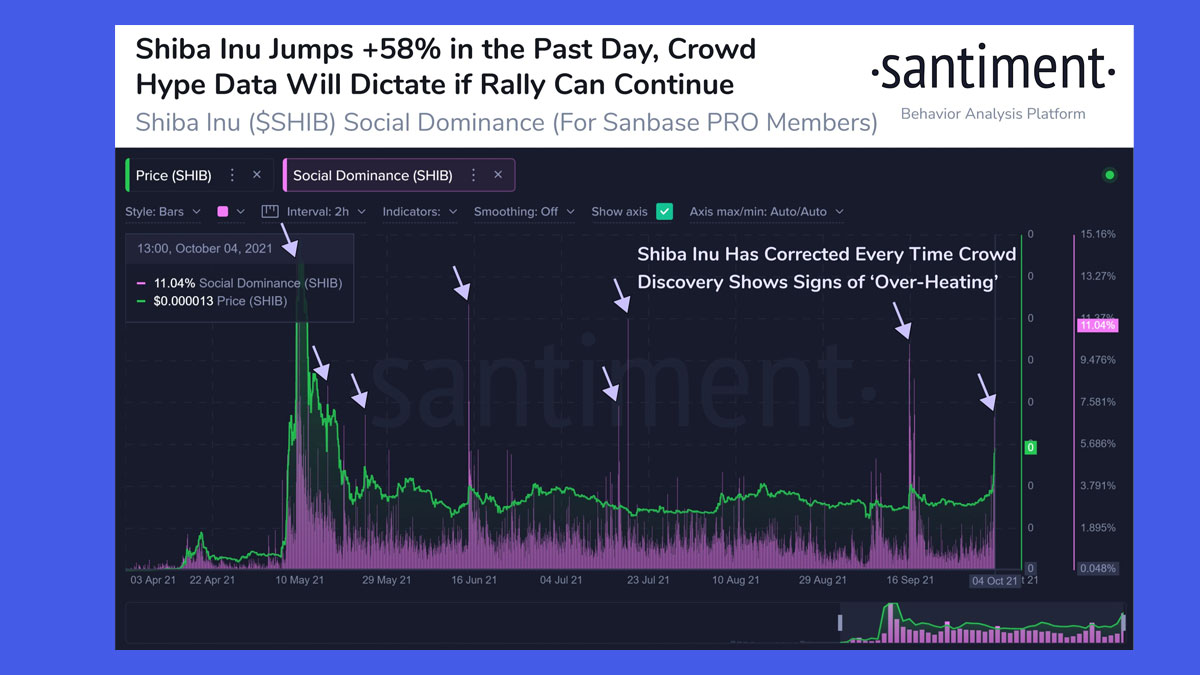 It means there is hype around this token from many buyers. It has resulted in a jump, but many old holders may start to sell their tokens that result in corrections. Anyway, patterns often don't lie in the trading systems. New investors should be careful about them, especially in trading meme coins like SHIB.
---
If you found this article interesting, here you can find more Blockchain and cryptocurrency news