Undoubtedly one of the sectors that has benefited most from the development of blockchain proposals in these times of boom of ICO's, is the financial services sector. A value proposition on that topic is what we will discuss here on this occasion, addressing the Dimensions Network project.
Dimensions Network is defined as the next generation of cryptocurrency trading platforms. This new platform will support standard currency pairs, options, futures contracts, exchange aggregator and much more.
This project is firmly in the spotlight as a more professional cryptocurrency trading platform, with a full range of services, from the trading of currency pairs to options, futures and other derivatives. It also seeks to establish itself as one of the main centralized and decentralized trading platforms within the crypto ecosystem with interconnected liquidity pools.
The trading engine of Dimensions Network is written in Erlang to allow maximum availability and scalability. "Erlang" is a programming language used to build soft and scalable real-time systems with high availability requirements, some of which are in telecommunications, banking, e-commerce, computer telephony and instant messaging. Erlang has built-in support for concurrency, distribution, and fault tolerance (see erlang.org) The trading engine consists of a matching engine for each financial instrument, where each matching engine is executed as a node under the exchange umbrella.
EXCHANGE AGGREGATOR
One of the most interesting features of the Dimensions Network platform is its so-called Exchange Aggregator. The purpose of this function is for the user to obtain the best price of any exchange in real time, taking into account the cheapest exchange price.
They are building the Exchange Liquidity Aggregator (ELA) to allow the users of the platform to buy and sell at the best possible price, from the best possible exchange at that moment. With the ELA feature, users can trade in other exchanges with the Dimensions Network platform, saving them time and effort to register in multiple exchanges.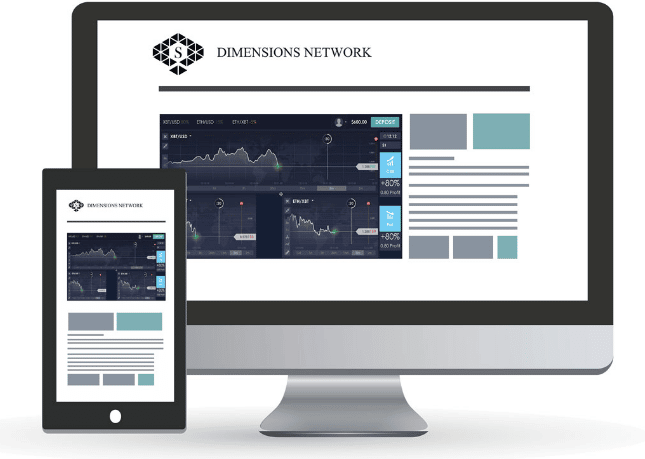 Dimensions Networks supports blockchain assets in multiple blockchains. They will have support for Bitcoin, Ethereum and USDT for Pair Coin Trading, options and futures. Likewise they will have support for the 10 main cryptocurrencies, and they will later incorporate the full spectrum of ERC-20 Tokens and other Altcoins.
The Token of Dimensions Network
Strike Coin (STC) is the native token issued by Dimensions Network to perform a series of functions. Initially, the token will be used to distribute rewards to token holders. A portion of the negotiation fees generated by Dimensions Network will be shared with these cardholders as a "reward." This policy of sharing the success of the platform is translated by assigning 15% of the negotiation fees generated in the platform. In addition to this, the token holders will receive an equivalent part of the new tokens generated for that currency in real time.
The StrikeCoin Token (STC) is currently available to buy with Ethereum.
To know more details about this platform, you can check their White paper.