The blockchain solution facilitation platforms are emerging for the good of the industry. With services that embrace access to a friendly blockchain, own tokenization capacity and good performance, these platforms contribute to the massification of blockchain as a technology applied to everyday life. This is the case of DigitalBits.
DigitalBits is created as an open source project, which promotes the adoption of blockchain technology in companies. This open source allows organizations or companies to tokenize assets in an articulated and decentralized block chain of DigitalBits, as well as transfer and market tokenized assets and execute fast payments and remittances.
DigitalBits is characterized by simplifying the entry to massive markets linked to blockchain technology.
DigitalBits Foundation, promoter organization of the mentioned technological project, guides its activities with the project in a compatible way, since it provides resources in infrastructure, development, education and events.
In order to respond to problems of security, portability, liquidity of digital assets, among them, rewards and loyalty programs, this foundation directs its efforts in the chain of blocks, in addition to giving an added value to consumers, business organizations and charitable causes.
Those interested in taking advantage of the benefits of the blockchain technology through DigitalBits will be able to create digital assets or 100% portable or transmissible tokens within the decentralized network. This platform will provide the opportunity to receive points or bonuses in the form of tokens, providing a significant economic incentive.
Users have transfers to exchange digital assets or digital tokens, that is, they can exchange an asset A for asset B, directly in the blockchain next to the native token of the network, the XDB token.
The decentralized network of DigitalBits also does not need centralized intermediaries that impose excessive fees for its use. In this network transfers are made in a matter of seconds and only demand a nominal fee.
DigitalBits not only supports micropayments and rapid remittances at low prices, but also organizations or companies that make use of this network will have the opportunity to change their assets in the blockchain.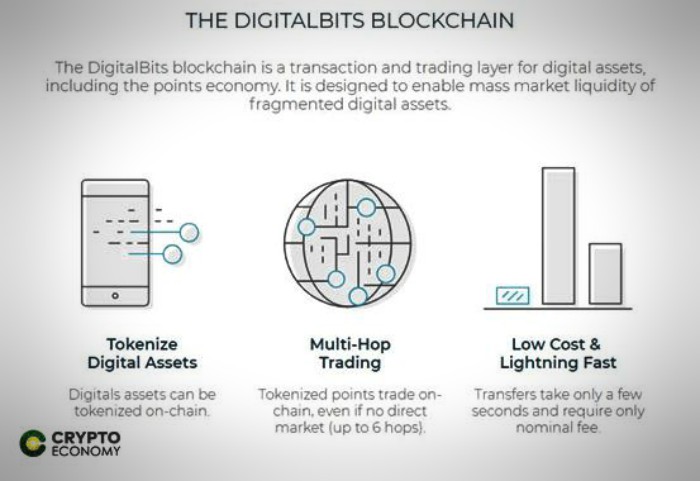 One of the uses in practice of the DigitalBits network is taking place in programs of loyalty points and related rewards. The block chain offered by DigitalBits is an excellent tool for digital asset transactions, without leaving out the points economy. It was designed to allow and access the liquidation of fragmented assets in the mass market.
To boost the growth and massive use of cryptocurrencies, DigitalBits relies on loyalty and rewards, digital asset categories immersed in DigitalBits blockchains.
Among the benefits of the DigitalBits network are:
Transfer of points and chain marketing, even if there is no direct market.
Increase in liquidity and perceived value.
Transactions without intermediaries or expensive fees.
DigitalBits has an interesting rewards program that we suggest you take advantage of. To request 500 XDB tokens you will only have to complete a few actions in social networks, send your name and email address, and answer some questions and collaborate to make DigitalBits a better technological project.
We recommend following them at their Telegram channel to keep up to date on the news of this platform.