Bullish sentiment might not be running high for XRP, but will the profit-taking slow down?
XRP has stalled at crucial support and settled near $1.08-level. As the weekend approached, the crypto-asset struggled to expand its recovery and posted weekly losses of 13.97%. Despite starting the day on a positive note and with a green candle, the expected bearish trend became a real possibility. But there's hope for revival.
Despite the crash, XRP hasn't experienced a damaging fall similar to its peers. But with Ripple and SEC's drama being far from over, what has helped XRP sustain its support level? For one, the world's 7th largest cryptocurrency has witnessed its address activity picking up steam.
XRP averts a crisis, but is that all?
For the past two weeks, XRP had been trading sideways as the volatility hit a slump. But after the shake-off earlier in the market, volatility appears to be making a comeback which could be behind the on-chain activity. 
On a similar note, the prominent crypto-analytic platform Santiment also observed,
"XRP just enjoyed another 10% burst, minor pullback, and now another leg up at the time of this writing. A continued great leading metric for $XRP is address activity. When unique addresses suddenly spike a price rise usually follows in the mid-term."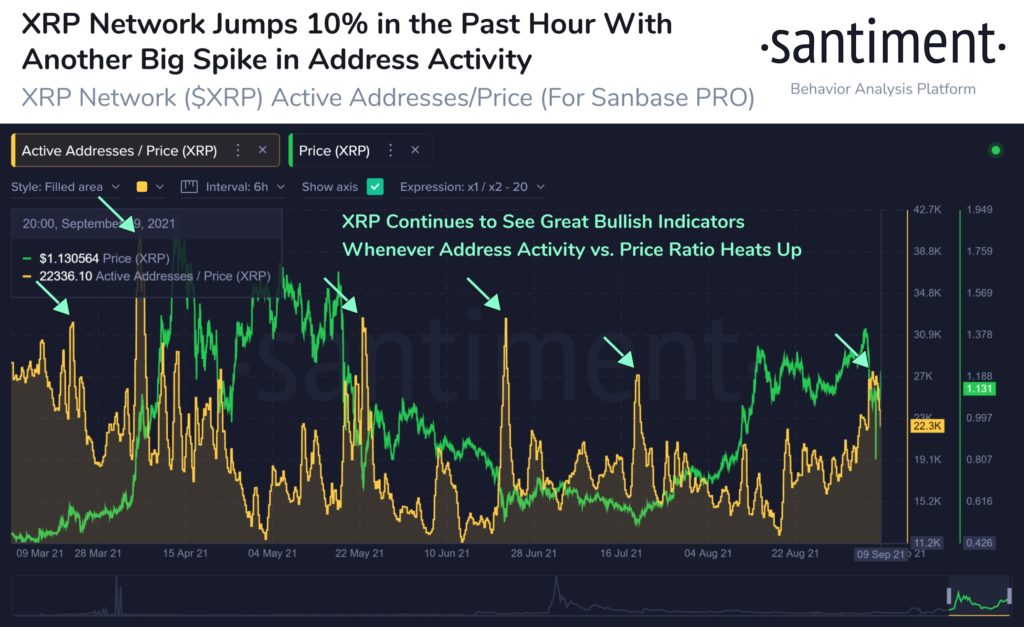 In a nutshell, an increase in address activity versus price ratio intensifying on the backdrop of rising volatility provides a bullish picture for XRP. To top that, a deeper dive into the daily chart suggested that despite some profit-taking, signs of reversal cannot be dismissed.
Is XRP's sell-off stabilizing?

The Simple Moving Averages are aligned below the XRP price candles and the correction hasn't been able to flip them over. The 100 SMA and the 200 SMA were moving in parallel to each other. A major upside indicator will be if the gauge between the two declines leading to a subsequent bullish crossover.
After more than a month-long tryst with the buyers', XRP is now experiencing heavy selling side pressure as it dropped below the 50-level for Relative Strength Index [RSI]. But the RSI formed a bullish wedge pattern which could imply a bounce back to the buying zone is still in the cards. 
Besides, the Stochastic RSI was also poised for a reversal.
In short, XRP needs to stay afloat above the support area of $1-$0.83. This will determine that the chances of a surge to previously established levels. A short-term consolidation may transpire in the next couple of trading sessions, but as the volatility picks up, price will potentially follow suit.