Latest Bitcoin [BTC] News
Perhaps the only blip this week had to be the Binance hack. The hack had some critics commenting on the security of the main chain posing rhetoric and other one-liners on why they are doubtful of all the talk on why Bitcoin is secure, immutable and a perfect settlement layer.
Even so, it must be clear that it was an expensive lesson for Changpeng Zhao, the CEO of the world's largest cryptocurrency exchange by adjusted volumes. But it was not the loss of the funds that triggered debate. It was Changpeng's proposal-after heeding Jeremy Lubin, the CTO of Stellar Foundation and other leading technical magnates in the space, that the best way to arrest fund distribution was through a controversial—and an economically infeasible—roll-back.
The roll-back is in essence a Bitcoin mainchain re-organization that is not only damaging to the credibility of the network but well, demanding in that at least Binance had to convince miners to support his idea as he seeks to control 75 percent of the network's hash rate, effectively redistributing these funds to miners.
Well, the idea "died" on arrival but still, the community thought Changpeng had overestimated his influence on the network, thinking he was "big" and above the network's laid down rules fronting immutability and responsibility through decentralization.
BTC/USD Price Analysis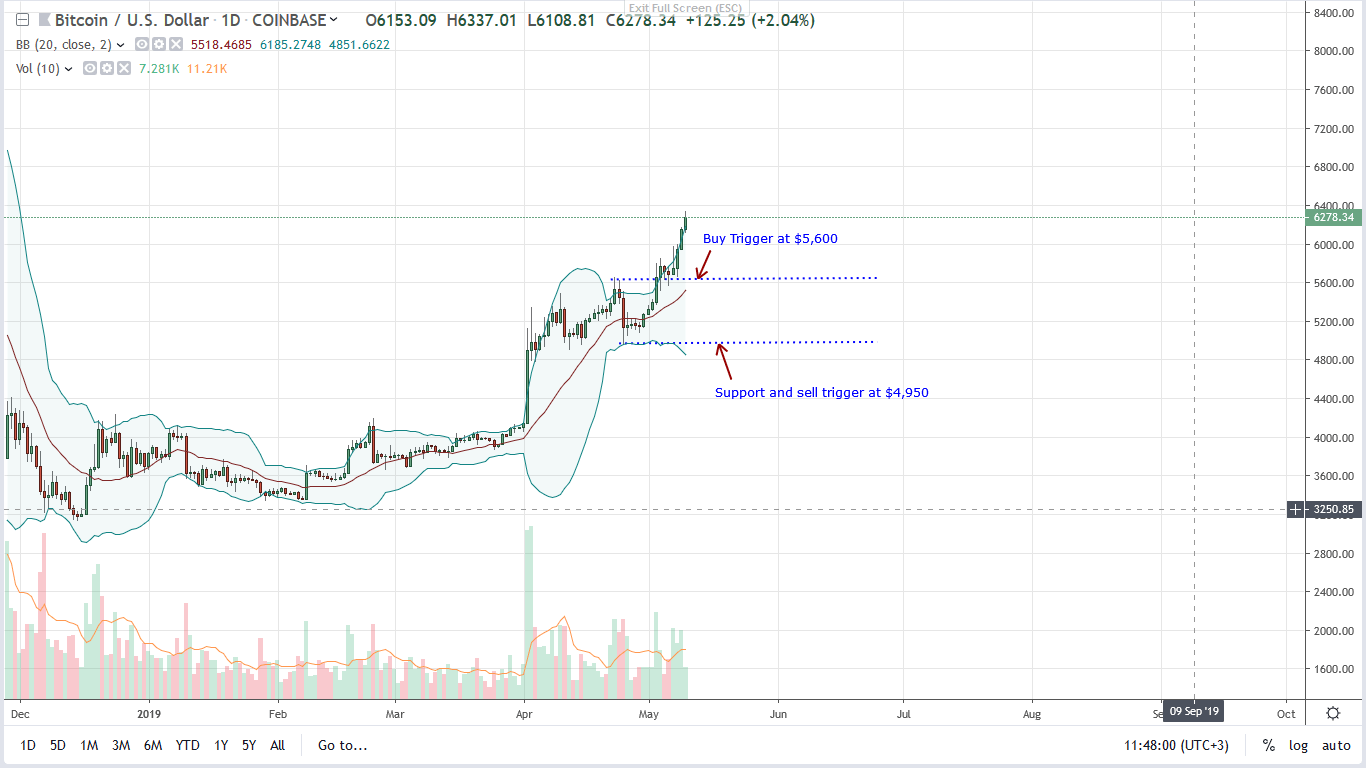 All the same, what's stunning is how Bitcoin (BTC) prices are bouncing back, reversing Apr-7 blips and most importantly rallying above $6,000, an important resistance level.
At the time of press, Bitcoin (BTC) is changing hands at $6,320 in most exchanges, up 3.9 percent and 16 percent in the last day and week. Because of this rally above $6,000, we note that losses of Q4 2018 or more specifically, losses of Nov 2018 bar no longer hold and, in that case, our trade plan, our assertion that bulls will only be in charge once there is a close above this "mother of resistance" at $6,000, is now valid.
As a result, every dip is technically another buying opportunity because there has been confirmation of Apr-2 bulls which closed above $4,500—another resistance level marking caps of Q1 2019. In both cases, the breakout is at the back of high transaction volumes as wide-ranging bull bars band along the upper BB hinting of strong underlying buyer demand. Since all of our trade plans are true, traders should fine tune entry in smaller time frame with targets at $7,000 and later $8,500.
Chart courtesy of TradingView—CoinBase
Disclaimer: Views and opinions expressed are those of the author and aren't investment advice. Trading of any form involves risk and so do your due diligence before making a trading decision.