The decentralized finance (DeFi) ecosystem has tanked with the amount of money locked, falling to its lowest level since early 2021. This comes amid a massive slump in the non-fungible token (NFT) space along with dwindling cryptocurrency prices.
According to analytics platform DeFiLlama, the total value locked (TVL) in DeFi has slumped to $37.5 billion, slipping below the previous post–bull market nadir of $38 billion set in late December 2022 following the collapse of FTX and when crypto markets were at their cycle low. DeFiLlama wrote,
"August 23rd marked a new low for TVL in DeFi at $37.51b. The previous low was on January 1st with $37.91b, following the ATH on November 9th, 2021."
August 23rd marked a new low for TVL in DeFi at $37.51b. The previous low was on January 1st with $37.91b, following the ATH on November 9th, 2021 pic.twitter.com/TTmdc83B6u

— DefiLlama.com (@DefiLlama) August 25, 2023
Several Factors Fuel DeFi Frenzy
In the recent past, numerous DeFi platforms have lost a huge chunk of their gains with several protocols dropping almost more than half of their locked value in the past month alone. Optimism-based decentralized exchange (DEX) Velodrome, has experienced a 58% decline in TVL. Balancer, one of the largest liquidity protocols, has seen its TVL drop by 35% to $641 million.
Meanwhile, Avalanche (AVAX) witnessed a decline of 4.92%, Chainlink (LINK) suffered a loss of 9.17%, Aave (AAVE) dipped by 10.21% along with the AlgoFi, a blockchain-based crypto lending platform built on Algorand, announced its upcoming closure due to the platform's unfeasibility.
It seems July's unprecedented wave of DeFi breaches, including Curve Finance's staggering $62 million exploit has pushed the decentralized finance landscape into a gloomy state. Adding to the turmoil, a string of other exploits, hacks, and scams on DeFi protocols have further exacerbated the suffering. 
US SEC Targets DeFI in the ongoing Crypto War
According to a study released by Web3 portfolio app De.Fi on June 27, hacks and frauds involving DeFi cost over $204 million in the second quarter of 2023. During the quarter, almost $208.5 million was initially lost, but $4.5 million was recovered thanks to legal actions, agreements with hackers, and other recovery strategies.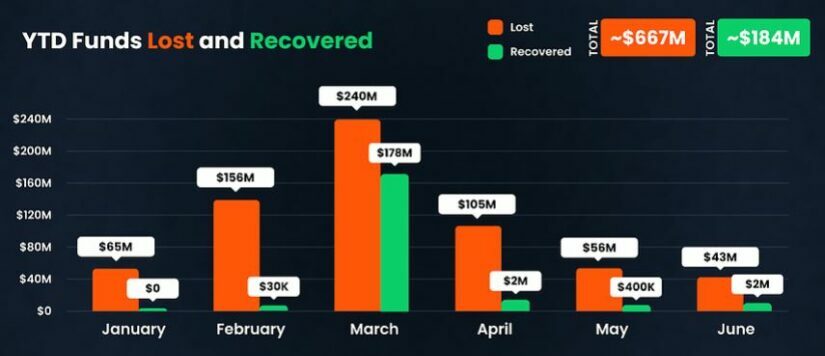 Moreover, it seems that the United States Securities and Exchange Commission (SEC) is stretching its tentacles beyond centralized crypto exchanges and digital assets in an effort to ramp up crypto-based regulatory tightening in the country. 
On July 7, BarnBridge Decentralized Autonomous Organization (DAO), a cross-platform risk management decentralized finance protocol that attempts to tackle inflation risk and interest rate volatility, was instructed to halt all project-related activities in the face of an investigation from the SEC.
In response, Berenberg, an investment bank, said the American regulatory agency's war on crypto could now engulf stablecoins and DeFi. It, further, claimed that the SEC is weakening the entire DeFi ecosystem with its blatant and irrelevant crypto policing. 
— BarnBridge (@Barn_Bridge) July 7, 2023
Entire Crypto Ecosystem Feels Market Jitters
The DeFi downturn comes amid spiraling NFT floor prices and a bearish digital asset market. As per a recent Nanse.ai report, some of the best-known "blue-chip" NFTs have seen their floor prices decline by more than 25% in the last month. Bored Ape Yacht Club (BAYC) collection's floor price plummeted over 27% while DeGods fell almost 55%. Similarly, Azuki, saw its floor prices drop by 36%.
The last 30 days haven't been kind on NFTs…

Many of the "Blue-Chip" NFTs have seen their floor price drop by more than 25%, with Azuki's continuing to decline since their Elementals launch

But it's not all bad, as some NFTs have been breaking the down-only trend… pic.twitter.com/2xeVu84uJs

— Nansen 🧭 (@nansen_ai) August 22, 2023
A similar bearish trend continues to float in the cryptocurrency market with Bitcoin (BTC) falling 1.76% to $26,099, whereas its largest peer, Ethereum (ETH), declined 0.78% hovering around the $1,654 level. Other major tokens also traded in red, enduring several headwinds last week, such as crumbling foreign currencies, Chinese economic worries, Elon Musk's SpaceX selling its entire BTC holdings of $373 million, and bond yields surging to multi-year highs.
Ashton Addison, founder and CEO of Crypto Coin Show asserted the recent DeFi TVL decrease is tied closely with the drop in the price of crypto assets. He explained that Etehreum's drop from almost $4,800 at its peak to $1,600 now, representing almost 70% loss of value alone, would drop the TVL of staked ETH without any assets even being unstacked.