It has been reported by DappRadar that 2023 will be the year when the crypto industry will make a comeback due to the recovery of NFTs and DeFi. As the NFT diversifies across a variety of marketplaces and blockchains, it continues to grow at a rapid pace.
An Era of Change
With a close look at the data, we notice that the DeFi sector is holding 37,039 dUAW, which is a decrease of 9.23%, which is similar to the decrease in the blockchain gaming sector, which is now holding 839,436 dUAW, a decrease of 0.89%. 
It can be said that the NFT market was the most promising segment in January. Saw a growth of 24.56% compared to the previous month, reaching 146,516 dUAW.
In January, WAX emerged as the most popular network after an analysis of on-chain activity. There was an average of 394,480 dUAW generated on the gaming and NFT blockchains in the past month, an increase of 3.39% over the previous month. The top two dApps on the WAX blockchain were Alien Worlds and Atomic Assets which are marketplaces for NFTs. 
There was a decrease of 27.69% in dUAW for the BNB Chain, coming in at 392,882 dUAW, compared to the previous month. The most popular Dapp on the BNB Chain in January was PancakeSwap, with 1.29 million unique users (UAW).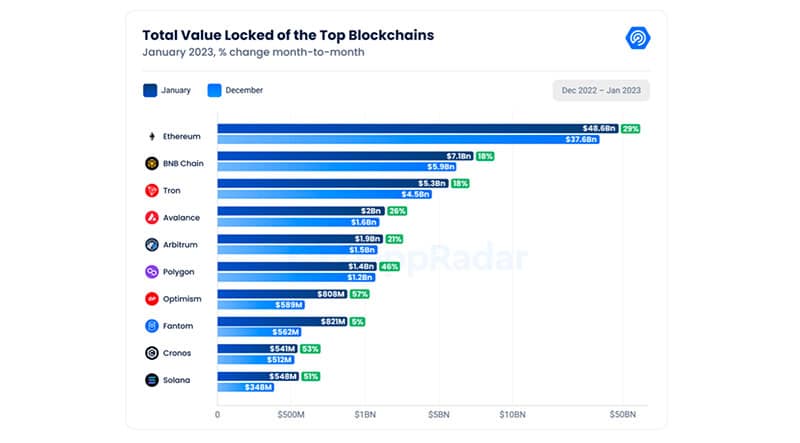 In January 2023, we can see that there were signs of life in the DeFi market as the Total Value Locked (TVL) increased by 26.82%, reaching $74.6 billion, a significant increase from the previous month. 
This is a very promising sign for the future. There is no doubt that this metric has been highly influenced by the rally in crypto prices, however, other on-chain indicators are showing a bullish trend as well.
As we looked at the top ten blockchains by TVL, we saw that all of them showed an increase in TVL over the last few months. Optimism was the top performer on the DeFi spectrum, reaching $808 million in TVL as a result of a 57.44% increase. 
Finally, it can be said that 2023 is off to a strong start. The DeFi and NFT markets have shown bullish on-chain metrics to start the year. I consider the decrease in the amount of money lost due to exploits this month, the lowest amount ever recorded in 2022, as a sign that blockchain security has increased significantly in recent months. 
We have reason to be optimistic about the future of the crypto market due to the upward trend of the NFT market and the growth of the DeFi platform market. It is expected that in the coming months, we will see continued growth and recovery as a result of these promising developments.