A new report by DappRadar on the adoption of blockchain technology and dApps in 2022 has been published, including numerous analytical data regarding the market and its evolution.
Progressive Industry
The report states that there has been a 50% growth in the total number of daily Unique Active Wallets in the Dapp industry since 2021, rising from 1.58 million daily UAW in 2021 to 2.37 million last year on average.
The popularity of Layer-2 (L2) solutions continued to grow in 2022, making this one of the most interesting trends to watch in the dApp market. There has been a significant increase in the integration of dApps into these networks, such as Optimism and Arbitrum, respectively, with a combined increase of 590.91% and 160.87%. 
A growing number of dApp developers and users are turning to layer-2 blockchains, as they provide faster and more affordable solutions compared to layer-1 blockchains, such as Ethereum, while still offering the same level of security as layer-1 blockchains.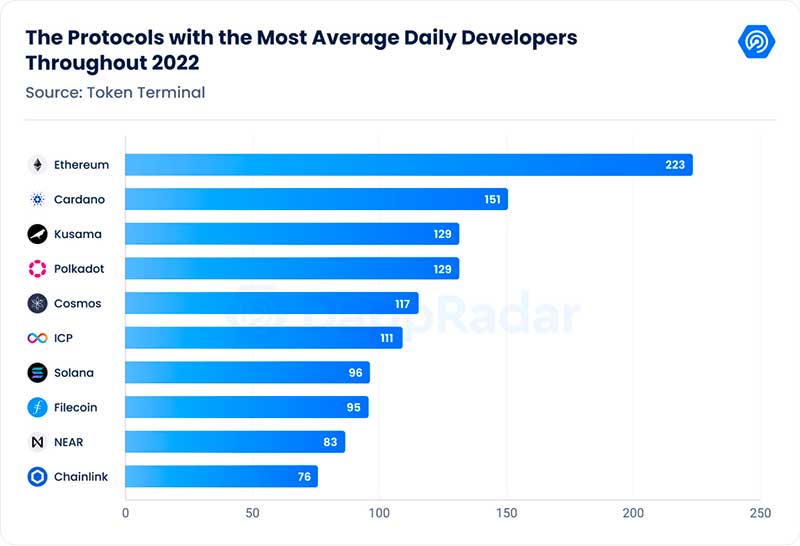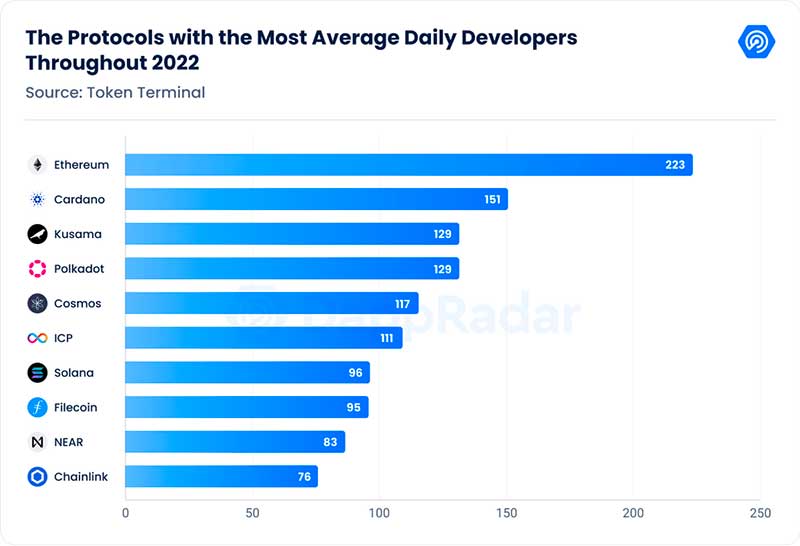 Regarding developer activity, Ethereum had the smallest decrease in the number of active developers among the blockchains, with its number of active developers dropping by 9.37% in the last quarter.
It should be noted that Ethereum remains the blockchain with the largest number of active developers, which in 2022 were 233 on a daily basis. Second place goes to Cardano, where an average of 151 developers are active every day, which means that this is an increase of 26.47% from 2021.
As a result of the strong growth in NFT sales count in 2022, the NFT market has seen a significant shift from the previous year, with an increase in the number of NFTs sold. The number of NFT sales in 2022 reached 101 million, an increase of 67.57% compared to the previous year.
As per DappRadar, Ethereum holds 21% of the NFT market share, with 21.2 million sales processed worldwide. Ethereum remains the top performer on the NFT market with a 21% market share. It should not come as any surprise, since Ethereum has the majority of the blue-chip collections on offer. 
Towards the end of the report, the authors mention how this year we have seen the emergence of new networks and application programming interfaces (DAPs), which are increasingly becoming a part of the blockchain ecosystem.
The biggest shift in user behavior has been from DeFi towards high-risk dApps and gaming. It is also interesting to note that the importance of NFTs has remained the same, indicating that this sector is expected to continue to grow.