In the agenda of ICO's that continues to grow for this Q1 of 2018 one of the most promising is the Current ecosystem that will pay you to use the media platforms that you like, all in one single viable way.
Current is creating a digital token that uniquely rewards a person's time, money spent and shared data during the media transmission experience. This token can be used to buy a wide range of products, services and advertising within the platform. Current is an incentivized and enabled blockchain transmission ecosystem that allows you to choose how to transmit and pay for your media.
Through the platform users will receive rewards for transmitting content from their favorite networks such as: Spotify, YouTube, SoundCloud and more. The platform combines behavioral data points that surround the types, times and topics that each person uses across multiple networks to offer better recommendations than any isolated network could do by its own.
The current protocol aligns the interests of all interested parties. By creating a new medium of exchange, consumers get more choices about how they pay for media.
The protocol interacts within the platform and introduces a new source of income and an effective incentive mechanism.
The native token of the platform is the CRNC. Winning CRNC is simple, just transmit your favorite content through the platform. A platform with an almost unlimited library of content that satisfies the demand for popular music, video, movies, audiobooks, podcasts, etc.
CRNC can be used immediately to reduce or eliminate the cost of premium subscriptions to popular content providers.
On the other hand, Current automatically creates a CRNC wallet for each user. In many cases, Current will be the first digital wallet that the general public will own.
In collaboration with independent media platforms, the current protocol will be expanded to the market share available and create sub-tokens for each media ecosystem. Each sub-token will have its own rules. To avoid negative impacts on the current ecosystem, the sub-tokens will have individual exchange rates.
The platform will provide a decentralized media infrastructure to host content on millions of devices instead of proprietary nodes. The current platform provides a more convenient and complete media search and discovery process by consolidating content sources in one place. In addition to reducing the number of applications needed to play music, videos, podcasts, etc., the platform has more data points available on the types of media, times and topics that a person experiences and can generate recommendations better than any other network.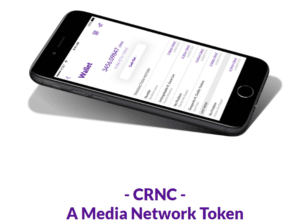 The blockchain allocation protocol of Current compensates accurately and transparently the contributions to the recommendation algorithm and the overall growth of the current ecosystem. A chip is "mined" when a user plays media within the platform. Each token that is extracted is divided between the creator, curator, consumer and potential reference.
The tokens will be implemented in the public blockchain of Ethereum as an ERC20 token.
One of the strongest attributes of CRNC is its accessibility and immediate impact for users. Current allows users to start earning CRNC tokens immediately without any entry barriers.
There will be a fixed token supply of 1 billion tokens.
The CRNC token pre-sale will begin on February 7, 2018 and will remain until February 21, 2018. The main public sale period will begin on March 14, 2018 and until April 4, 2018.
The referential price will be $ 0.24 <> 1 CRNC. The minimum transaction will be 0.03 ETH.
To know more details about this platform and participate in its ICO we suggest you follow them on their Telegram channel, as well as on Twitter.