After a decent rise in July, the crypto market struggled to extend gains this month. Bitcoin (BTC) plunged below the 23K mark with a drop of nearly 3 per cent on lower-than-average volume. Ethereum (ETH) along with major altcoins also signalled a slight downtrend.
Signs of economic slowdown in several countries along with fresh escalation in the geopolitical worries between the US and China seem to have dented market sentiments. Trading volumes in the broader financial market also remained light. The cryptocurrency market which traded in green after the recent hike in interest rate slumped yet again. However, the global crypto market cap today was above the $1 trillion mark, even as it was down more than 1.79 per cent in the last 24 hours at $1.05 trillion.
In the same time span, the total trading volume jumped about 8 per cent, close to $76.49 billion. According to a report by digital asset manager, CoinShares, despite choppy crypto markets, global digital asset funds logged net inflows totalling $474 million in July, the highest so far this year.

Will the Bears Drag Down BTC Further Down?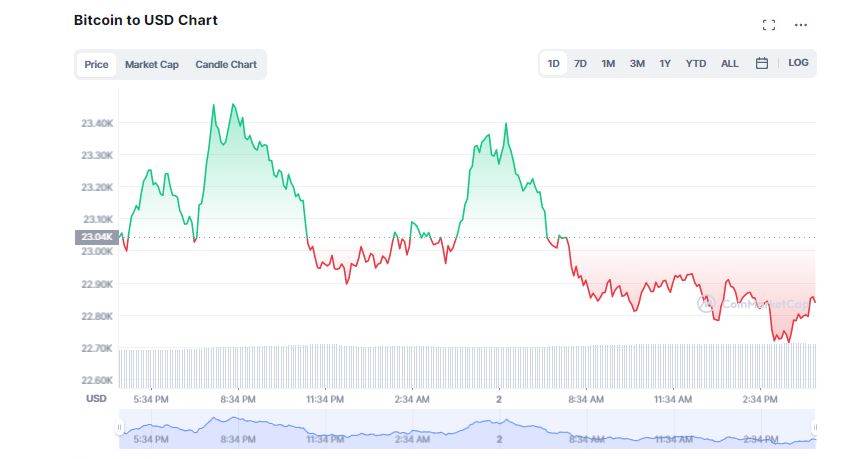 As per CoinMarketCap, Bitcoin (BTC) shrank over 2 per cent in the last 24 hours to currently trade at $22,807. In the crypto market, Bitcoin's dominance noted a decrease of 0.41 per cent over the past day to 41.50 per cent. However, the flagship token, gained 8.07 per cent in the last 7 days. BTC is down almost 51 per cent on the year to date spectrum.
The world's largest cryptocurrency is trading marginally lower with increased market volatility. The bearish sentiment appears to have started after bulls were unsuccessful in holding Bitcoin above the $23,000 level. Edul Patel, CEO at Murudex, anticipated,
"If bears do not seize below the current level, we may see BTC test the US$24,000 level in the next few days."
ETH Down After A Bullish Momentum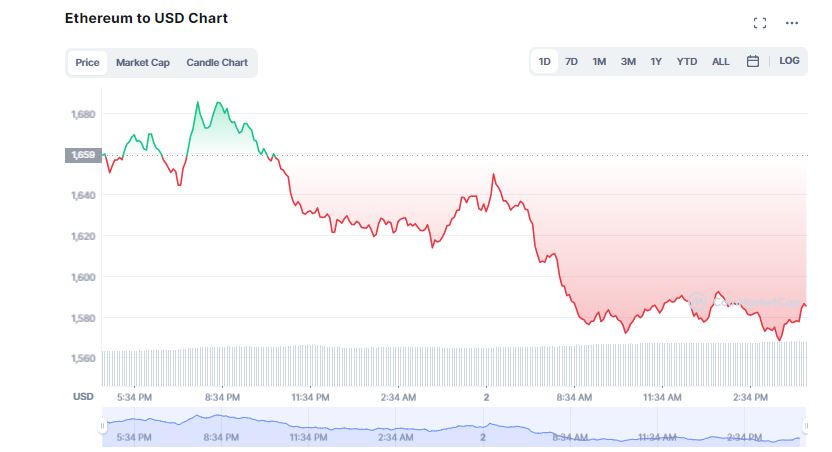 On the other hand, Ethereum (ETH), dipped 6.22 per cent in the last 24 hours to hover at $1,576. The fall followed a whopping 11.29 per cent surge over the past one week. Patel added,
"The second largest cryptocurrency, Ethereum, managed to break its resistance at US$1,700 but could not sustain it for long. It is likely that ETH may retest its support levels again before reclaiming the US$1,700 level."

Meanwhile, other major digital tokens, struggled, printing significant losses. Polkadot (DOT) tumbled more than 10.75 per cent in the last 24 hours to $7.76. Along the same timespan, Solana (SOL) and Avalanche (AVAX) tanked 6.89 and 5.89 per cent, respectively. Cardano (ADA) plummeted 4.38 per cent to $0.4938.