According to KPMG, a big four accounting firm, investors are predicted to slow for the rest of the year as venture capital firms poured $14.2 billion into crypto across 725 deals during the first half of 2022.
Market Conditions Affecting Investments
A KPMG report published on Tuesday indicated that the Trade Republic, a German-based cryptocurrency trading platform, invested 1.1 billion dollars in the first half of 2022. FTX, a crypto exchange, invested 500 million dollars, and ConsenSys invested 450 million dollars as a blockchain software company. Digital asset custody platform Fireblocks made a $50 million investment.
It has been noted that the investment figures for the first half of 2022 alone have already surpassed all previous years, as well as the breadth of technology and solutions that are attracting investment, as noted by the authors of the report, including Anton Ruddenklau, KPMG's global leader in fintech.
Ruddenklau was, however, of the opinion that overinvestment over the last few years and a looming potential recession, along with rising inflation, interest rates, and the Russia-Ukraine conflict in the first half of 2022, could cause a dip in investment this year.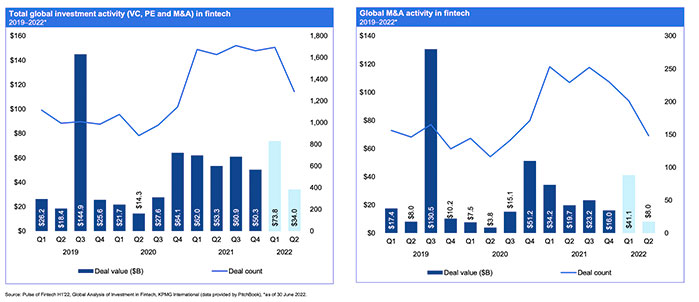 Among retail firms offering coins, tokens, and nonfungible tokens (NFTs), Ruddenklau expects the slowdown in interest and investment in crypto to be felt most acutely. It is also expected that KPMG will invest further in underdeveloped fintech markets, particularly in Africa, in the near future.
This has been the focus of efforts by Binance, the largest crypto exchange in the world, which recently entered into early-stage discussions with the Nigerian government about the creation of a crypto-friendly economic zone aimed at addressing long-term problems through digital innovation and generating long-term economic growth throughout Africa.
As a director of blockchain and crypto assets at KPMG France, Alexandre Stachtchenko noted in the report that well-managed cryptocurrency companies with a long-term outlook, a sound management strategy, and a strong cost and risk management approach will have the best chance of surviving the current bear market.
As Stachtchenko explained, financial institutions have been showing increasing interest in blockchain infrastructure solutions and stablecoins in order to take advantage of the operational advantages associated with distributed ledger applications.
The latest report shows that investment in the crypto industry is still alive, but the market conditions have had an effect on it surely. the situation may change if new uptrends start in the market and new opportunities emerge.