Cryptocurrency exploits are on a steep rise over the past few years with decentralized finance (DeFI) being the most vulnerable to such attacks. As per data analytics platform DefiLlama, DeFi platforms lost approximately $21 million to cyber criminals throughout February.
2022 proved to be a banner year for hackers all over the world looting a staggering $3.8 billion in cryptocurrency hacks. As per a recent Chainalysis survey, DeFi protocols have served as the biggest target for such explots. accounting for a whopping 82% in the crypto related attacks. It seems 2023 wont see an immediate decline in such hacks. Fraudsters are increasingly targetting DeFi platforms and using more sophisticated tools to carry out these exploits.
However, there is good news. Following the turbulent previous year that witnessed the collapse of several high profile crypto companies. the calls for stricter digital assets regulations has grown louder. which will eventually help in reducing these cyber crimes. DeFi protocols have also upped their security features to prevent such hacks.
This is the reason why DeFi protocols such as Astra Protocol are grabbing the headlines. Astra aims to become a pioneer on user privacy with several solutions allowing DeFi applications to easily comply with any increasing crypto regulations all across the world.
The platform plans to deploy an "on-chain dispute resolution system" by adding a legal assurance layer to blockchain-based smart contracts resulting in businesses, universities, governments, non-governmental organizations, and others to have safe access to DeFi.
DeFi Sees A Sharp Rise in Attacks
According to DeFiLlama various kind of attacks such as reentrancy, price oracle attacks and exploits across seven protocols caused the DeFi space to suffer losses worth $21 million in the month of February. It seems the number of attacks on decentralized platforms was significantly higher than in January.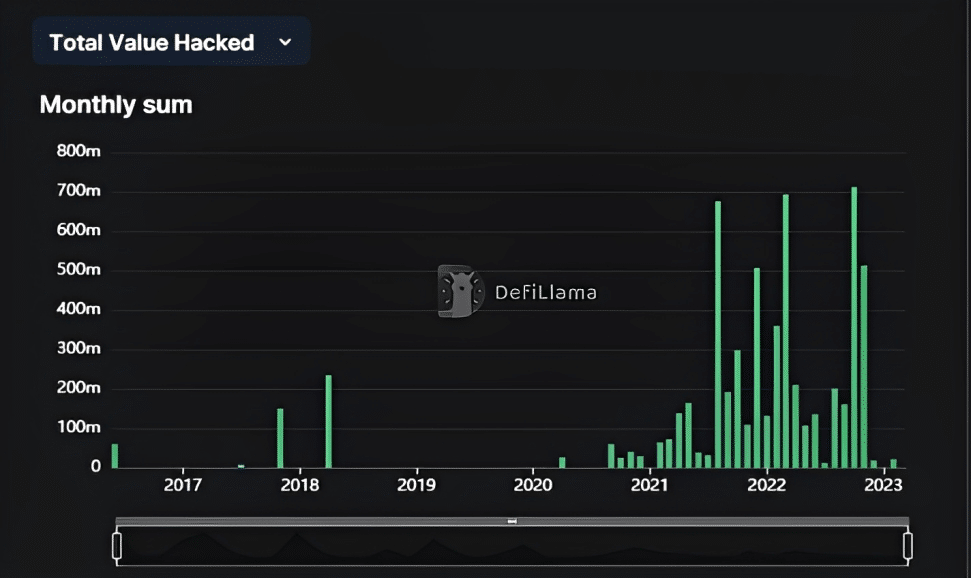 The explots started on February 1 with BonqDAO in a price oracle attack allowing the exploiter to manipulate the price of the AllianceBlock (ALBT) token cahich out nearly $1 million. The very next day, decentralized exchange (DEX) Orion Protocol was siphoned of almost $3 million through a reentrancy attack, where attackers used a malicious smart contract to drain funds from a target with repeated withdrawal orders.
On February 13, DeFi protocol dForce Network endured an attack resulting in a loss of over $3.65 million through another reentrancy attack. However, all funds were returned as the hacker turned out to be a whitehat hacker. Three days later, DeFi protocol Platypus Finance was drained of a massive $8.5 million in a flash loan attack.
Will it be Difficult to Get Rid of Scammers?
#CommunityAlert 🚨@hope_fin have announced the community has been scammed for ~$2m making this the largest #exitscam on Arbitrum in 2023.

$1.86m was transferred to @TornadoCash.

Hope_fin have posted steps for user's to withdraw their staked LPhttps://t.co/hJbFXiKujt

— CertiK Alert (@CertiKAlert) February 21, 2023
In addition, the platform also reported second and third incidents, which led to another $667,000 hacked, bringing total losses to around $9.1 million. On February 21, Hope Finance, an Arbitrum based decentralized finance (DeFi) project, fell prey to cyber criminals who drained nearly $2 million worth of user funds.
On February 17, multichain exchange aggregator Dexible was looted of $2 million worth of cryptocurrency when malicious entities targeted the app's selfSwap function. Lastly, on February 27, BNB Chain-based DeFi protocol LaunchZone was drained of an estimated $700,000 worth of funds due to an an unverified contract. In a statement, Dmitry Mishunin, CEO at crypto auditing firm HashEx, said,
"Hackers have gotten smarter, gained more experience, and learned how to look for bugs. The crypto industry is still relatively new, and everyone is growing with each other, so it's difficult to get too far ahead of bad actors."