Lebron James fans, who discovered the hidden QR code in the Big Game commercial were chosen to win one of the NFTs in the collection. The LeBron James Family Foundation receives royalties from secondary sales. This collection is airdropped by the Crypto.com platform.
Hidden Chances to Win NFTs
The Crypto.com commercial depicts a teenage LeBron James on the cusp of making the life-changing decision to forego college and enter the NBA, with the support of his older self, who advises him to always make his own decisions. And it evoked the correct emotions in both fans and industry insiders, resulting in one of the most well-received commercials of the 2022 Big Game.
Many viewers knew that Crypto.com's premiere brand film with Matt Damon had a secret QR code that led to an exclusive NFT drop, so they were on the lookout for Easter eggs in the advertisement.
In the brief reel, fans discovered various Easter eggs relating to crypto and LeBron James' life, including DYOR perfume, Savannah's mix, and a seed phrase on his wall. Most crucially, they focused on the QR code that appeared for a fleeting second behind little LeBron at roughly 0:10 seconds.
This directed followers to a hidden webpage where they could enter their email address for more information on how to enter for a chance to win a limited-edition NFT.
James' bedroom in Akron is the setting for this short video. At only 18 years old, he must make one of the most important decisions of his life: forego college and join the league. Only a few players, like Kobe Bryant and Kevin Garnett, made this difficult decision aside from LeBron James.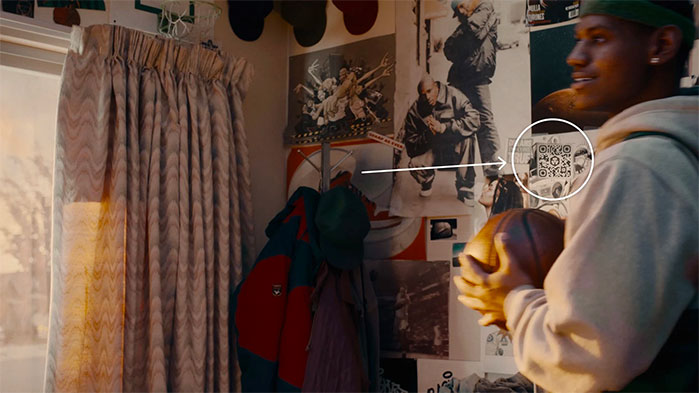 The NFTs document the making of the Super Bowl commercial. Their look is inspired by on-set quick photography.
Before cellphones, every scene's set-up and all of the actors' clothing were photographed by a specialized on-set photographer. This was done to maintain consistency, as scenes are frequently not completed in a single day and must be re-rolled out. The photographs assured that everything was in order.
These photos were intended solely for the staff and talent, not for the general public. Unofficially or in the form of a costly coffee table book, some would inevitably make their way into the world.
All NFTs were given away for free to the victors, and Crypto.com does not sell them. Some may emerge on the Crypto.com NFT platform for resale. The LeBron James Family Foundation will receive 5% of all sales as royalties.