ConsenSys raises $450 million is its latest funding round that has brought the company value to a staggering $7 billion. The amount raised will be used to upgrade company flagship product Metamask, hiring new employees, and bunch of other product upgrades.
In a press release on Tuesday, March 15, ConsenSys, on of the most important software development company in the Ethereum ecosystem, announced the close of $450 million Series D funding round led by Series C investor ParaFi Capital.
Today, ConsenSys announced the close of a $450 million USD financing round, bringing its valuation to $7 billion USD. https://t.co/e2huMcEyIZ

— ConsenSys (@ConsenSys) March 15, 2022
The notable new investor is Microsoft. Other new investors include Temasek, SoftBank Vision Fund 2, Anthos Capital, Sound Ventures, and C Ventures. Series C investors that includes Third Point, Marshall Wace, TRUE Capital Management, and UTA VC, United Talent Agency's venture fund also participated in this round.
ConsenSys Reaches $7 Billion Valuation
As Crypto Economy reported, the latest Series D funding round follows the $200 million Series C round in November 2021 that put the company's valuation to $3.2 billion. The latest round has brought the company valuation to $7 billion, more than double in four months.
According to ConsenSys, this growth can be attributed to the staggering growth of its flagship self-custodial wallet MetaMask, "which now supports more than 30 million Monthly Active Users (MAUs), growing by 42% in only four months."
The company has several plans to use the proceeds of the round. The announcement reveals that funds will be "converted to ETH to rebalance the ratio of ETH to USD–equivalents in line with ConsenSys' treasury strategy" to support company's "position in advance of Ethereum's upcoming merge to Proof of Stake."
The press release further reads:
"Funding will also support the rapid expansion of MetaMask with a major redesign scheduled for release later in 2022, as well as the roll out of a plug-in extensibility system that will allow integration with a wide variety of blockchain protocols and account security schemes."
Funds will also be directed towards the global adoption of its Infura's development tool suite as well as company's efforts to drive NFT adoption.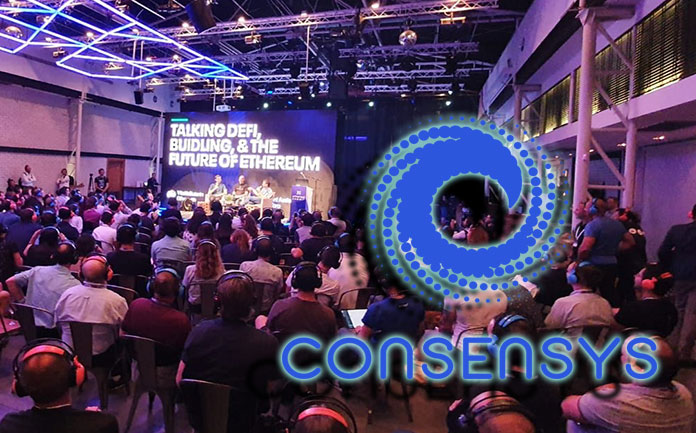 With nearly 700 full time employees at present, the fresh capital will also power the hiring of over 600 new employees globally as company has plans to scale to over 1,000 employees by the end of 2022.
ConsenSys Next Round will ETH Only
According to Joseph Lubin, Founder and CEO of ConsenSys, the company's next round will be "Series ETH" in which investors will only contribute ETH as a symbol of commitment to ConsenSys mission. He stated:
"This round takes in digital assets as well as fiat and converts immediately to ETH. Next round will be our 'Series ETH' where we will assist investors in getting fully crypto native to contribute ETH as a symbol of and commitment to the ongoing paradigm shift."