According to sources from a digital asset management firm executive, PayPal is not only integrating digital assets but plans to create its own asset as well. The news comes only a day after the largest digital payment platform revealed that it will support cryptocurrencies starting from 2021.
The Chief Security Officer at CoinShares, Meltem Demirors, stated yesterday that it would be a surprise the digital payments company did not reveal a token following the cryptocurrency support announcement. Demirors shared her views in an interview yesterday during CNBC's popular Fast Money segment. Demirors believes that PayPal's digital asset support will lay the foundation blocks for the launch of its own cryptocurrency.
Specifically, Demirors revealed that she wouldn't be surprised if PayPal launched a token in the next six to 12 months. According to the CSO, the token would be similar to modern 'digital dollars' that we see in modern payments companies.
It is most likely that PayPal decided to take this feat after leaving the Libra Association last year. As a reminder, numerous companies have left Facebook's Libra digital currency project in 2019 after severe backlash and regulatory pressure. At the time, PayPal noted that it does not wish Libra's pressure and scrutiny to 'bleed into their business.'
Moreover, the CEO of PayPal Dan Schulman commented after the event that compliance and regulation are extremely important for the company. He also shared that if PayPal decided to develop a crypto product, it would not try to compete with Libra.
Community discovers the extreme restrictiveness of PayPal's crypto service
A year later, the payment processor finally announced the news that users will be able to buy and sell cryptocurrencies on PayPal. These include Bitcoin, Ether, Litecoin, and Bitcoin Cash. This feature will only be available in the U.S. at the start but will be expanded to the rest of the world later on.
News of the PayPal crypto support heavily influenced the market. In only one day, Bitcoin managed to print a green candle worth $1,000. At the time of writing, the leading cryptocurrency plans to 'flip' $13,000 resistance into support. Despite the positive impact, however, the community is worried that PayPal's new feature is not all that great.
After reading the terms and conditions for PayPal's crypto services, users on Crypto Twitter soon discovered that the feature is inherently limiting. For example, one part notes that the user does not personally hold digital assets in their crypto-asset balance. Instead, custody and trading are managed by Paxos, the popular P2P trading platform.
Furthermore, the terms and conditions state that the user must provide the necessary KYC information, which also includes the taxpayer identification number for U.S. citizens. For most cryptocurrency traders, this is considered to be a dealbreaker as they mostly participate in platforms that require no identity information.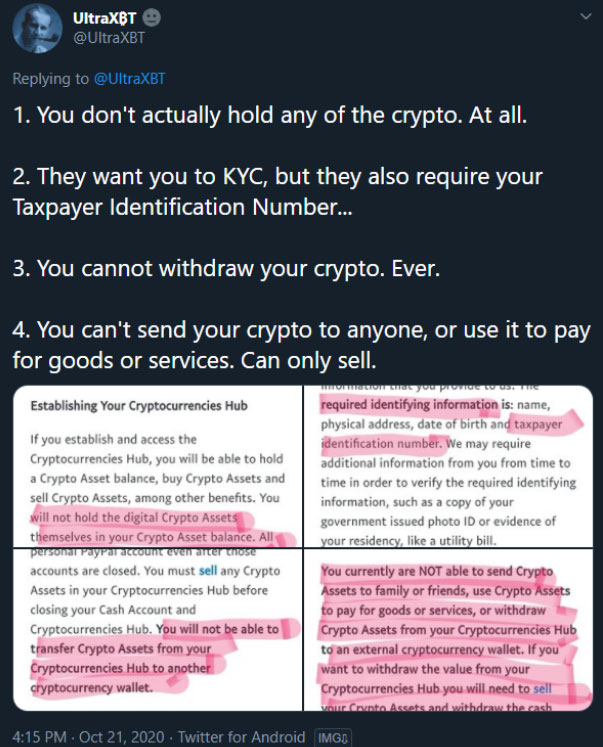 What is even more shocking is the fact that PayPal will not allow its users to send cryptocurrencies to family or friends. They cannot be used to pay for goods or services or be withdrawn to external crypto wallets.
Practically, the only thing a user can do is purchase and sell cryptocurrencies directly on PayPal. To withdraw the value of those assets, they would have to sell them for a fiat currency and then withdraw that money. With this set of increasingly restrictive options, it is highly likely that any existing investor will utilize PayPal's new services.
---
If you found this article interesting, here you can find more Blockchain and cryptocurrency news