CoinNA.com is an aggregator that provides the latest news, press releases and all kinds of publications related to cryptocurrencies and blockchain from media reference in the sector. The site provides the most reliable and up-to-date information to stay updated at all times in a constantly evolving sector.
The site not only provides easy access links to all topics about cryptocurrencies, but it is also very fast and easy to use. On the CoinNA website readers can share topics, which increases the exposure rate. The site also suggests headlines for readers according to their recent interests.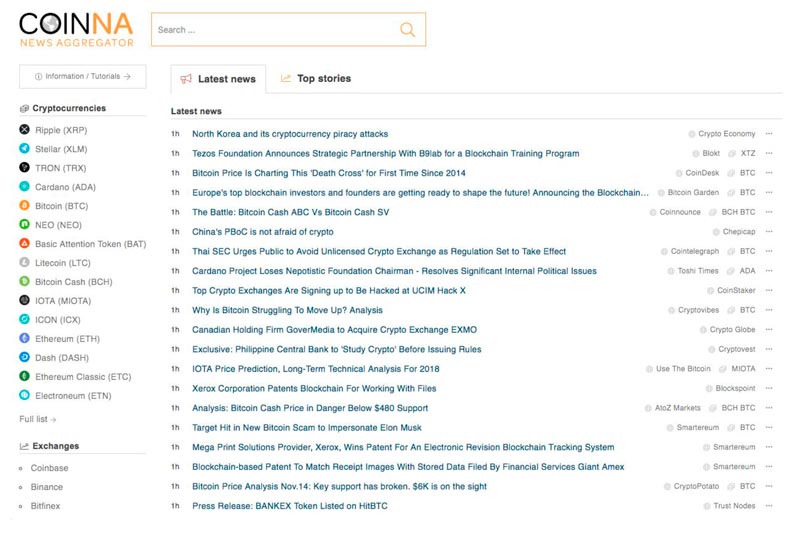 News displayed on CoinNA is automatically removed from the site after approximately 30 days, so the information displayed is always the most current. The site offers links through which readers and new visitors can learn everything about cryptocurrencies, from the basic introduction to the core of the ecosystem. These include information on all major crypto coins – Bitcoin, Monero, Dash, Stellar, NEM, Tron, Electroneum – the list is endless.
How CoinNA works
CoinNA also allows readers to report faulty or broken links. This program has had a great impact on the quality of news aggregated on this platform. This means that the site provides completely accurate news links selected from the main cryptographic news sites.
The platform is a free access website with zero restrictions. Readers do not need to register to access the site. All they need is an internet connection.
This is advantageous for users of such sites, as they do not have to visit such sites separately. Readers simply click on the link they want to read.
CoinNA offers price exchange rates for currencies such as BTC, USD and EUR, giving users a general idea of the situation in the cryptocurrency market. This is also good for novice investors looking for profitable currencies to invest at a particular time. They learn what the industry trend and market capitalization is, and make it very easy to evaluate which cryptocurrencies are right for them.
However, for new investors, there is a warning alert on the website that warns them to do more research and not to stop at the information aggregated on the site, since as a news aggregator, it does not have ownership or responsibility for the information provided.
Notable features
Related News
When we find a news item that is of our interest, you can consult the related news just by clicking on a button, this allows us to get a more general idea of everything related to the subject so that the information we receive is as complete and accurate as possible.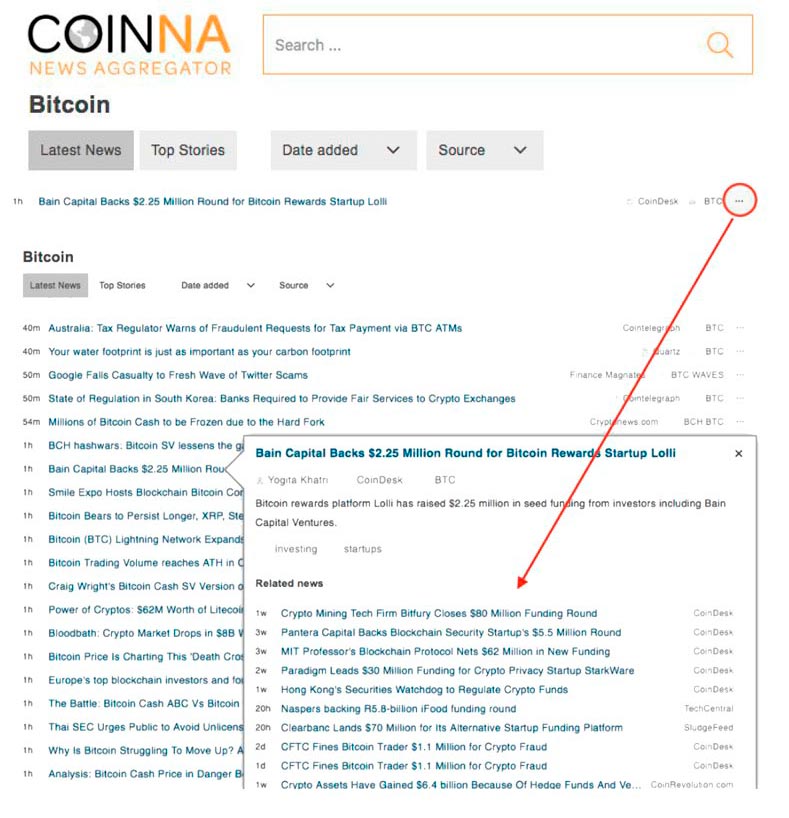 Share information with the community
Thanks to its simple interface, we can share an article on our social networks or send it by email. In this way we will be participating in the blockchain revolution.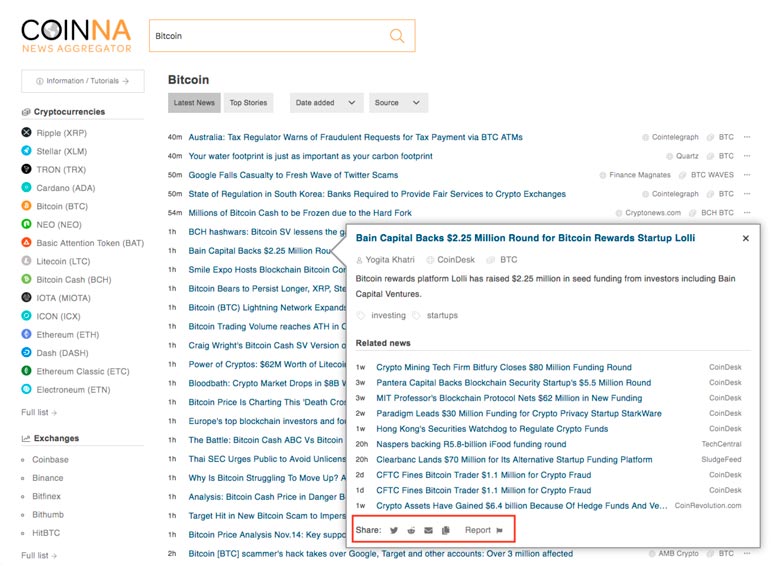 Select the information you are interested in
From its side panel you can select a cryptocurrency, an exchange or a label to filter the results and to adjust them to our needs at all times.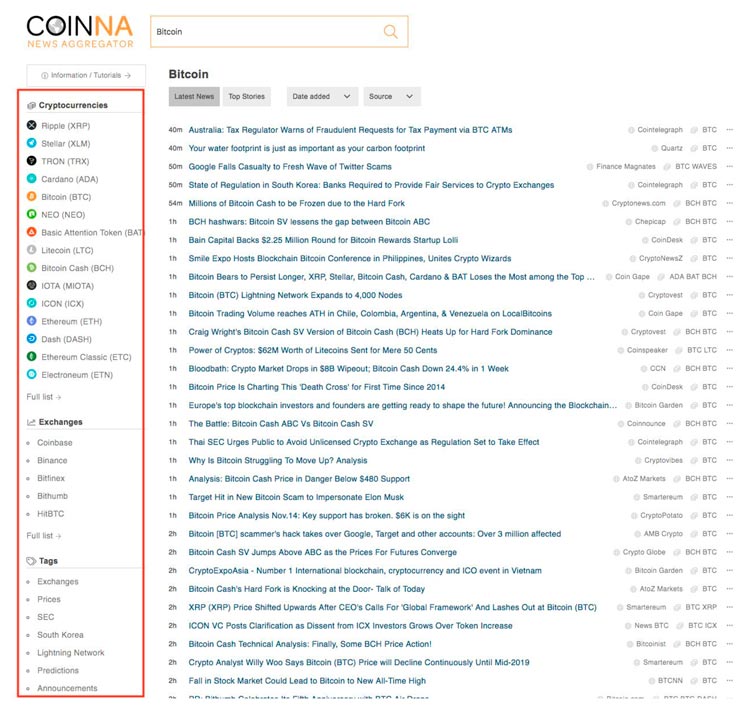 Learn about cryptocurrencies
Because information is power, CoinNA offers tutorials of the most relevant sites at a single click for those who are just getting started in the exciting world of blockchain technology.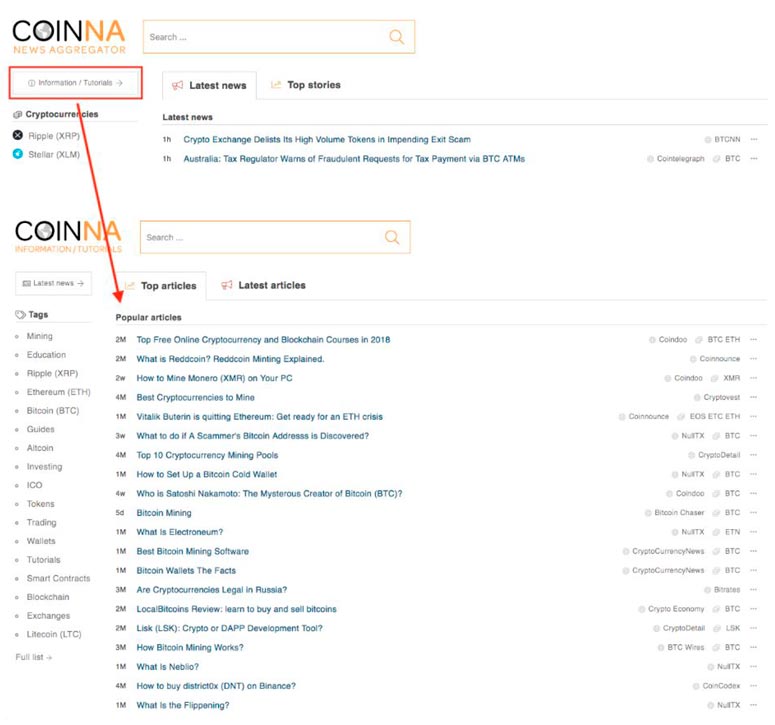 Customize your experience
In addition, CoinNA incorporates interface configuration options, such as night mode, that help improve the user experience and adapt to the needs of each moment.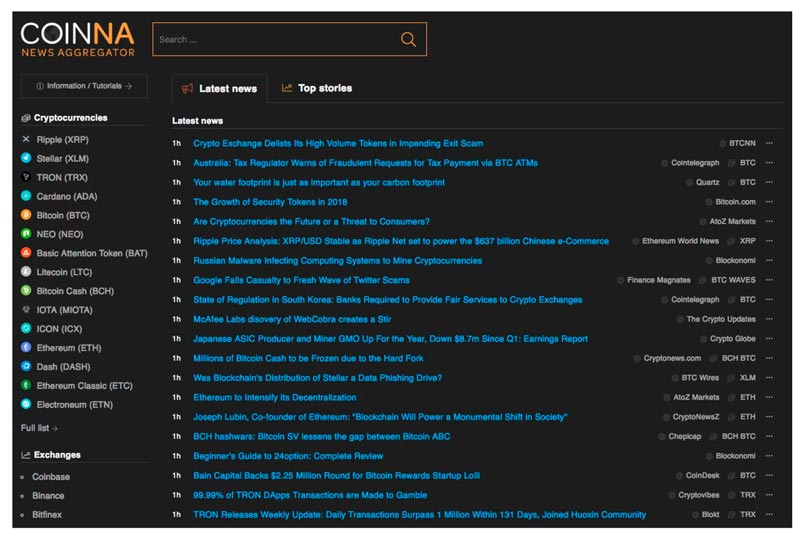 For all these reasons, CoinNA presents itself as an all-in-one solution in order to be at the cutting edge of the blockchain information sector. Since we live in an era in which time is our most valuable resource, having a portal that provides us with all the information we are interested in is something that is very important to keep in mind and without a doubt, CoinNA is the perfect ally that cannot be missing in our browser bookmarks.