The blockchain technology allows thanks to its versatility, to be applied an almost infinite diversity of possibilities. We have seen its applications in sectors as varied as commercial banking, health, government, social networks, virtual cities, and online games, where it stands out with important projects. On this occasion we will talk about a blockchain project that is unfolding in an area in which it will surely be a reference and influence factor, as is that of art collectibles and unique assets, which require a very unique treatment: Codex protocol.
The Codex people understand very well what they are dealing with. It is not about anything buying unique assets such as art, wines from select reserves, brand watches, jewelry in general, sports and musical memories, belongings of historical figures, etc. Many questions arise when it comes to acquiring this class of assets:
How to find what you want?
Are you paying the right price for that item ?
How to know that this article is authentic?
They are natural questions that it is necessary to clear with security and veracity. In most cases it is the auction houses that must investigate the origin and legitimacy of the articles before placing them at auction, the lenders must investigate the legitimacy and value of the items before assessing them as guarantees for the loans, Insurance companies need reports from specialist appraisers to determine the amount of their insurance premium, etc. These real aspects imply that doing business with special assets is slow and usually costly.
Codex is defined as the main decentralized registry of special assets of art and collectibles ("A&C"), which includes, among other items, art, fine wine, collectible automobiles, antiques, decorative arts, coins, watches, jewelry, etc. The Codex Protocol is open source, which allows third-party players to develop applications and use the title system available in Codex.
The CodexCoin is the native token that feeds the entire Codex ecosystem, in which two decentralized applications have already been launched in beta phase, on the one hand
Biddable, an application that provides access to unique assets, in which bidders can bid instantaneously and private at auctions by depositing cryptocurrency in an intelligent security deposit agreement.
Codex Viewer, to create and manage blockchain identities for their unique assets. For its part Codex Biddy application will allow the holders of cryptocurrencies to make their positions in auctions with the necessary privacy, and the access of all bidders through a system of custody of titles of unique pieces.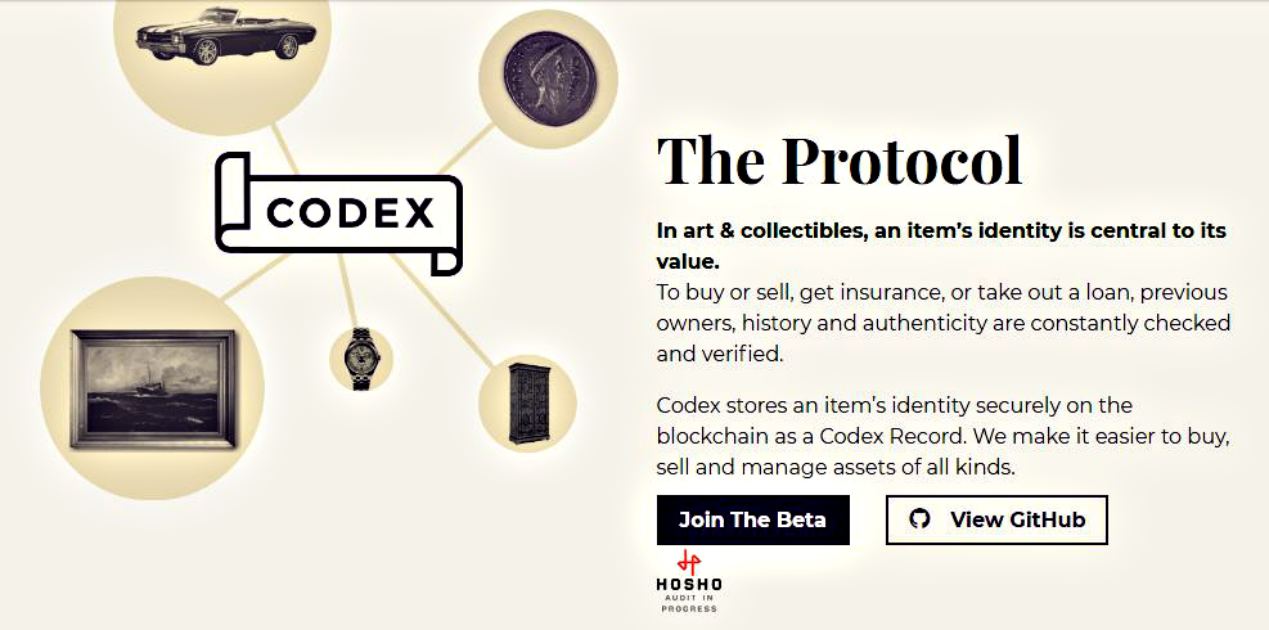 The assets entered in the Codex register via protocol are called Codex Registries. Each one is a unique ERC-721 token that can be created, marketed and selected in a decentralized manner.
The CodexCoin (CODX) in addition to its role as a native token of the Codex ecosystem will also be used to modify and verify the data stored in the registry. It is important to note that as the native currency of the ecosystem it is already having an important acceptance, having auction houses, lenders, appraisers and other entities that live in the environment of special assets that have announced their willingness to use CodexCoin.
To learn more about Codex, we recommend you check their white paper and also join  at their Telegram community.