In an impressive pump, Cardano [ADA] breached yet another significant resistance level after amassing weekly gains of more than 42%. The crypto-asset, which climbed to the sixth position on the cryptocurrency ladder, rose by 21.70% in the last 24-hours alone which pushed its value to $0.517, at press time.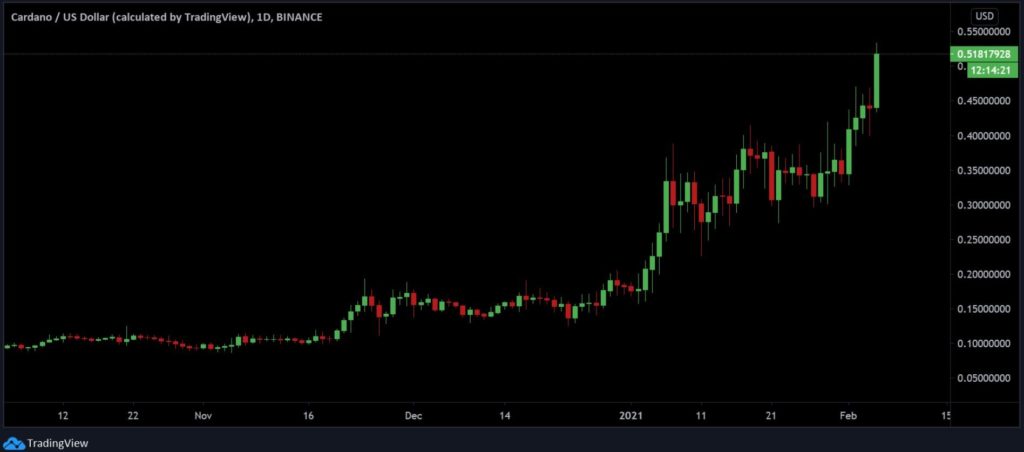 The last time Cardano was trading in this level was back in January 2018, thus breaching a three-year high. With respect to year to date [YTD] gains, ADA was up by nearly 180% and has gained an astonishing 2000% since March 2020. In line with this, the coin's trading volumes have been increasing at a rapid pace as new investors have jumped on the bandwagon.
ADA has been continued to sustain price growth since the beginning of the month which has helped it in breaking multi-year highs. But with the latest price action, the token went on to become the best performer among the top 10 cryptocurrencies. Even as the large market cap coins were flashing green, ADA was still ahead of its game.
So what propelled the massive uptrend? The Cardano ecosystem has been one of the most active space especially in terms of technological upgrades on its network.
#Cardano less than 100% away from $1, it's inevitable at this point

— Lark Davis (@TheCryptoLark) February 5, 2021
Technical Fundamentals Have A Role To Play
IOHK's Tim Harrison had recently disclosed that the organization had delegated 3.2 million ADA to 100 Cardano community stake pools, based on mission, impact & network contribution. Next quarter, the platform plans to delegate to a new cohort. The figures essentially indicated that nearly 70% of the ADA tokens were already staked essentially making it the most decentralized cryptocurrency in the market.
The rally came hours after the much-awaited 'Mary' update. Notably, Cardano recently deployed the Mary hard fork on the public testnet in a bid to bring the ecosystem a step closer to becoming a "multi-asset smart contract" platform. Hence, the deployment of Goguen 'Mary' marks a significant stage in ADA's journey.
In addition to that, the latest rally can also be attributed to the Africa deal. IOHK and Cardano founder Charles Hoskinson had previously stated that the Fortune 500 companies were looking to expand more into developing economies such as Africa and are in need of an efficient payment rail for local transactions. Hoskinson revealed that IOHK would "aggressively pursue" the Fortune 500 to sell them on the Cardano network and its native token ADA as the solution.
Last night Hoskinson had also teased yet another crucial revamp of Cardano's consensus algorithm, Ouroboros which includes the convergence of all the milestones in Cardano's lifetime.
A potential Grayscale listing also looms around the corner which could have catalyzed the double-digit surge. The world's largest asset manager had previously added six new trusts including Cardano [ADA] on the 24th of Jan.
---
If you found this article interesting, here you can find more Cardano News