Cardano is one of the top-performing assets, looking at the daily chart on April 17. ADA is up 15% in the last week of trading and an impressive 50% from mid-March 2023.
ADA broke above February highs and completely reversed losses occasioned by the FTX collapse in November 2022. Despite the contraction on April 17, the uptrend remains.
Despite the current correction, the coin has support at $0.42, flashing with the highs of April 13. Therefore, provided traders maintain prices above this line, the bullish breakout pattern will be valid in the sessions ahead.
Crypto Revival, Release of Lace, and Integration of Charlie3
The revival from late last week, following Ethereum's Shanghai upgrade, appeared to have provided the necessary impulse.
Note that ADA, like the coins of most smart contracting platforms, including Solana, is firm. To illustrate, ADA is up 15%, Ethereum is up 13%, while Solana has soared 25% in the last week of trading and is back to 10th.
The revival of ADA and Cardano is amid the launch of Lace, a non-custodial wallet native to the smart contracting platform.
Like MetaMask, it allows users to interact with the Cardano ecosystem, enabling quick and secure access to various dApps. Besides supporting fungible tokens like ADA, users can securely store non-fungible tokens (NFTs).
This news is days after Cardano integrated Charli3, an oracle that functions like Chainlink.
🎉INTEGRATION🎉@liqwidfinance is Charli3's, and Cardano's, first Oracle integrator! championing the way to full #decentralization for the #CardanoCommunity
SHEN/USD and ADA/USD. more feeds to follow for Liqwid markets.https://t.co/Zb1jm8X6CB

— Charli3 Oracles 📍live FREE ADA/USD feeds (@Oraclecharli3) April 6, 2023
Liqwid, a decentralized money market on Cardano, was the first to integrate the oracle.
Cardano Price Analysis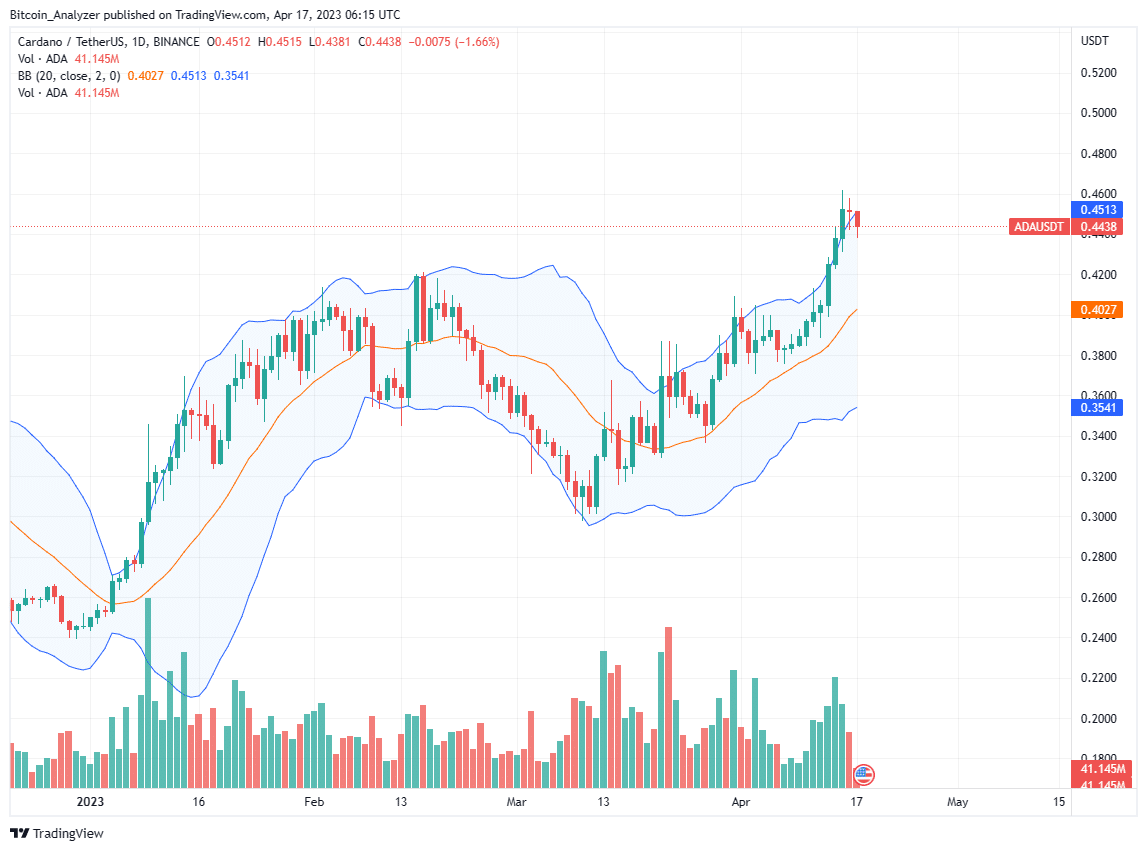 ADA is within a bullish breakout formation, reading from the candlestick arrangement in the daily chart.
Even with the rejection of higher prices today, the uptrend firm and bull bars align with the upper BB. As such, traders can look for opportunities to buy on dips above support. Support lies at $0.42, coinciding with February highs and April 13 bull bar.
Notice that with bars along the upper BB and the divergence from the middle BB, ADA volatility is high. Moreover, trading volumes are expanding, meaning participation is also high, a net positive for buyers.
Therefore, aggressive traders can look to buy, targeting September and August 2022 highs of $0.52 and $0.58, respectively.
This preview is valid as long as prices are above $0.42. Any sharp drop below this level, at the back of expanding volumes, will cancel this outlook.
Technical charts courtesy of Trading View
Disclaimer: The opinions expressed do not constitute investment advice. If you wish to make a purchase or investment we recommend that you always conduct your research.
---