The Cappasity project is the first to leverage blockchain infrastructure to create, rent and sell 3D content. With the blockchain providing copyright, storage and decentralized content exchange, artists who create 3D images can monetize their content and share it across their tokenized ecosystem.
Cappasity has worked closely with Intel since 2014, developing 3D scanning software for Intel® RealSense ™ 3D cameras. After successfully raising more than $ 1.8 million angel investors since 2014, the technology company launched its 3D digitization platform and software in January 2017. Now the company is launching an upcoming crowdsale  of ART Tokens to build a decentralized market for AR, VR and 3D content.
Cappasity AR / VR Ecosystem will be managed by intelligent contracts in the block chain with the DPOS consensus, so artists can monetize their content and share it with others. They can automatically receive ARTs for the sale or rental of their 3D content.
By tracking the demand for 3D content, you can price the ARTs more effectively. Creators can set their prices directly by cutting middlemen. In addition, the blockchain allows micro-measurement or micro-monetization, so that 3D content can be rented as well as sold to others. Finally, the block chain establishes a reputation system that may lead to greater collaboration between 3D content producers and consumers.
For all parties, regardless of content creators, application developers, companies and end users, all copyrights are respected with Cappasity Ecosystem. Cappasity have already released tools that make real-world 3D digitization available to everyone and their SDK is open to developers to build their own platform-based applications. They have also identified a relevant use case for cryptocurrencies in the emerging AR and VR industries; these industries are projected at a value of $ 80 billion by 2025.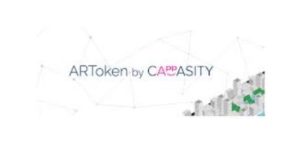 The crowdsale ARToken will begin Sept. 27 and you can participate with several Cryptocurrencies including BTC, ETH, BCH, LTC as well as USDT. The proceeds will be used to create an AR / VR Innovation Fund to encourage developers to create realistic and useful AR / VR applications and the Rewards Fund to reward content creators and active members of the community.
We invite you to follow the daily world of blockchain, bitcoin and cryptocurrencies in our portal Crypto-economy.