A five percent drop in the last day was enough to nullify our previous Bitcoin (BTC) bullish stance that traders expected. At the moment, BTC/USD is trading below $7,000 as bears drift towards $6,000 and probably $5,800. 
This is despite announcement of Liquid, a Bitcoin side chain. Anyway, it seems like sellers are returning back to the trend, but how BTC reacts at $6,000 is important for the coin's short term trajectory.
Latest Bitcoin Price Analysis – BTC/USD
There is this misconception about whales and the overblown half-truths that they may be the source of market volatility when they liquidate some of their holdings.
It's even made worse by the media who regurgitate this narrative causing needless panic amongst retail and even high net worth individuals with net holding of crypto.
To debunk this myth, Chainalysis went a level deeper and analyzed about one million Bitcoins or about $6.2 billion worth of Bitcoins to find the truth. And they did find some interesting truth.
What stuck out is the fact that most of these coins are held off in cold wallets and when traded, coin owners prefer trading in the OTC markets which are properly equipped to facilitate their big volume and demand.
Another finding showed that Bitcoin whales are professional traders and are actually net sellers fading the herd mentality. Furthermore, though they came in later than rich miners, they are actively involved in stabilizing the market doing more good than harm in the process.
Together with miner stash, the total Bitcoins under this "inactive" group is 332,000 BTCs. Now, the most active trading group that regularly trade the market control 332,000 coins in nine different wallets. They are new arrivals joining the market in last year and are active contributors of volatility.
Further down the line, the report revealed that as much as 212,000 coins in five wallets are technically lost while 125,000 coins in three wallets were involved in criminal activities.
Bitcoin Price Analysis – BTC/USD
Weekly Chart – Bitcoin (BTC) price prediction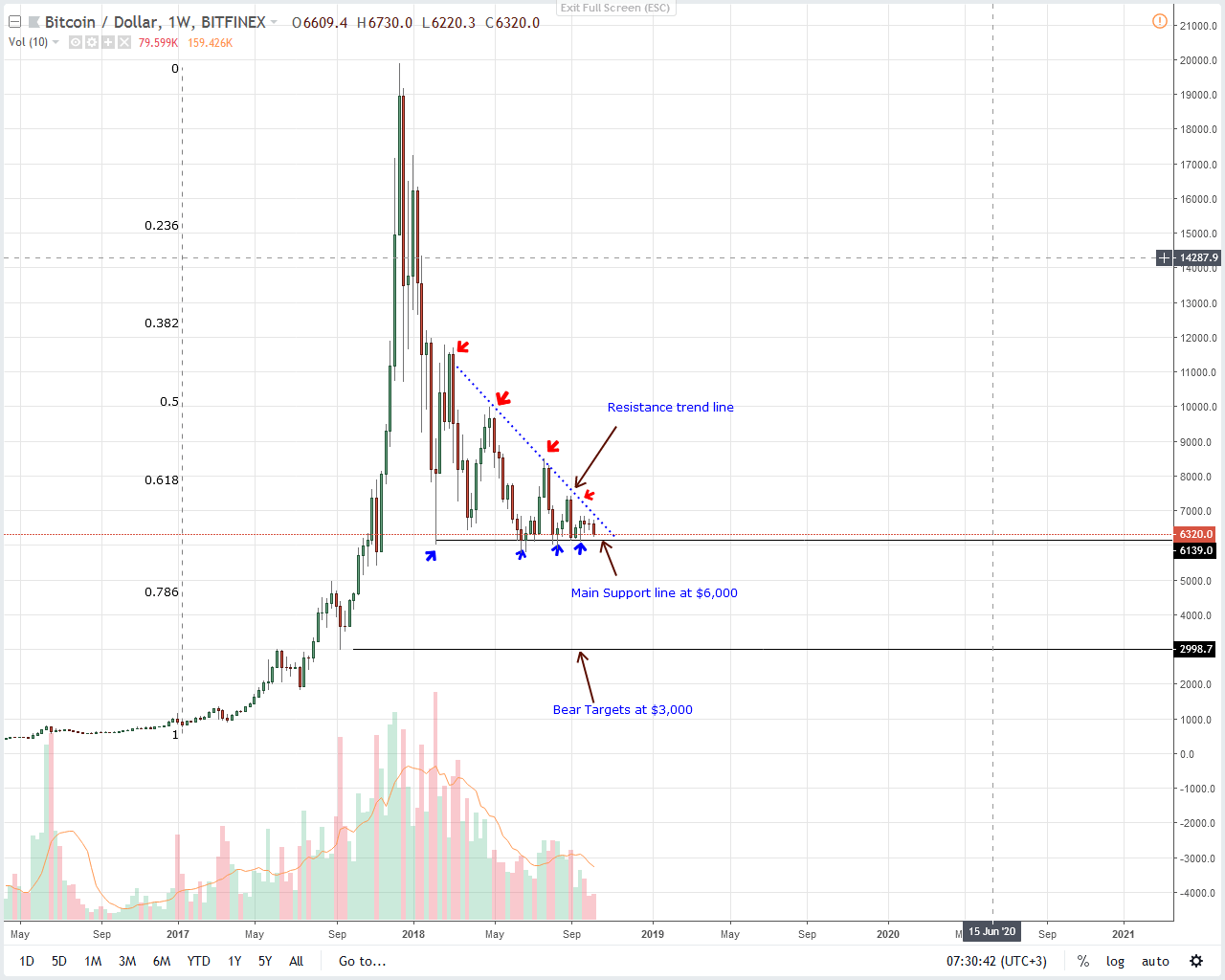 The back and forth movement of Bitcoin prices is yet to dismiss our trade plan. Despite massive losses, BTC prices are still trading inside our wedge with clear supports at $6,000 and the resistance trend line on the upside. From our previous Bitcoin price analysis, we were optimistic thanks to the events of week ending September 23rd.
During this time, buyers did manage to pump prices but even in the midst of all this optimism, the failure to reverse week ending Sep 9 bears had an overbearing effect on price. As far as price action and effort versus result scenario was concerned, this was bearish.
The current six percent clip of bullish attempts points to underlying fragility of Bitcoin bulls amplifying the likelihood of potential breakdown below $5,800–$6,000 main support line. In any case, this decline points to bears stepping up and therefore, the best trading plan is to trade with the chart.
Considering all these developments, we recommend risk-on traders to take a neutral stand until after there is a clear breach of main support. Thereafter, BTC short sellers can unload on every pull back.
Daily Chart – Bitcoin (BTC) price prediction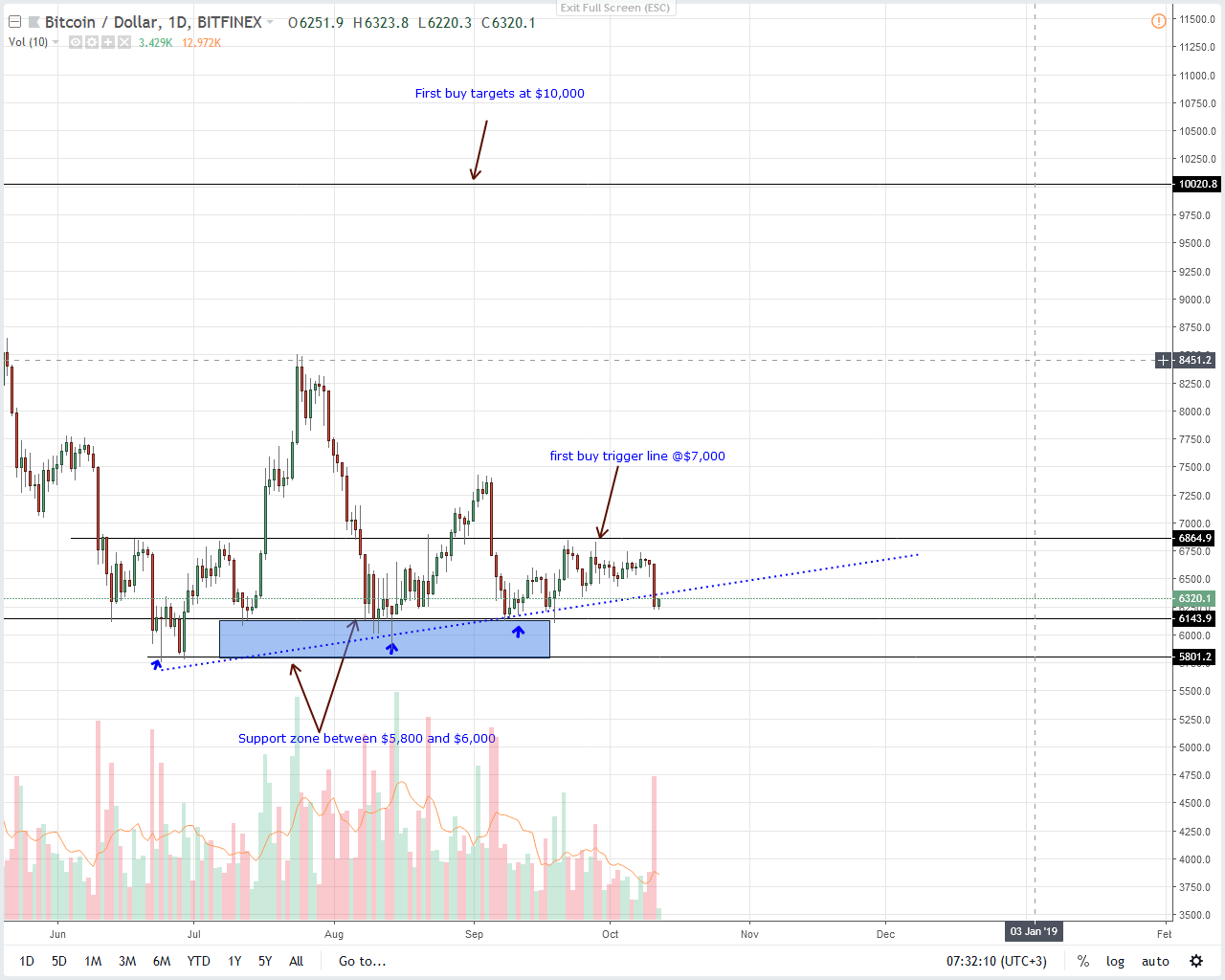 A single bearish engulfing bar was enough to smash stops at $6,400 and break below our minor support trend line effectively cancelling our bullish position.
Even though we needed to see surges above $7,200, bears did have an upper hand nullifying our stand and potentially inviting sellers aiming for $5,800 and later $3,000. That's likely to pan out in coming days more so if yesterday's bear spill over fuelling further sells.
Because of the wide trade range and volumes, risk-off or aggressive traders can begin unloading on pull-backs—since BTC/USD prices might stagnate for a while as this mispricing is recalibrated. First target will be at $5,800, the lower limit of our support zone.
Disclaimer: Views and opinions expressed are those of the author and aren't investment advice. Trading of any form involves risk and so do your due diligence before making a trading decision.