BNB prices, like the rest of the crypto market, including Bitcoin, are tracking higher. Trading above $300 and within a bullish formation, the path of least resistance is northwards.
The resurgence of the past few weeks has seen BNB hold firm, trading above the 20-day moving average. Yesterday, January 29, the coin broke higher following one week of higher highs within tight ranges.
Still, it is until BNB edges past $320 and registers new Q1 2023 highs that buyers can have more confidence. In that case, they would expect more surges, perhaps above November 2022 highs, as the coin turns the corner after the losses of last year.
Binance Reviews 48 Deals and Projects
On January 29, Changpeng Zhao, the CEO of Binance, said they have evaluated 48 deals and projects in the last week. However, while this is a welcomed development, it is not immediately clear if this is part of Binance's part of fulfilling its promise.
Last year, following the industry-wide distress following the fallout of FTX, Changpeng Zhao said it had set up a $1 billion crypto industry fund denominated in BUSD, a stablecoin. Funds were meant to accelerate recovery and to help genuinely distressed crypto firms.
By mid this year, there were concerns that Binance wasn't, after all, walking the talk. There was minimal movement from the $1 billion kitty reading from on-chain data.
BNB Price Analysis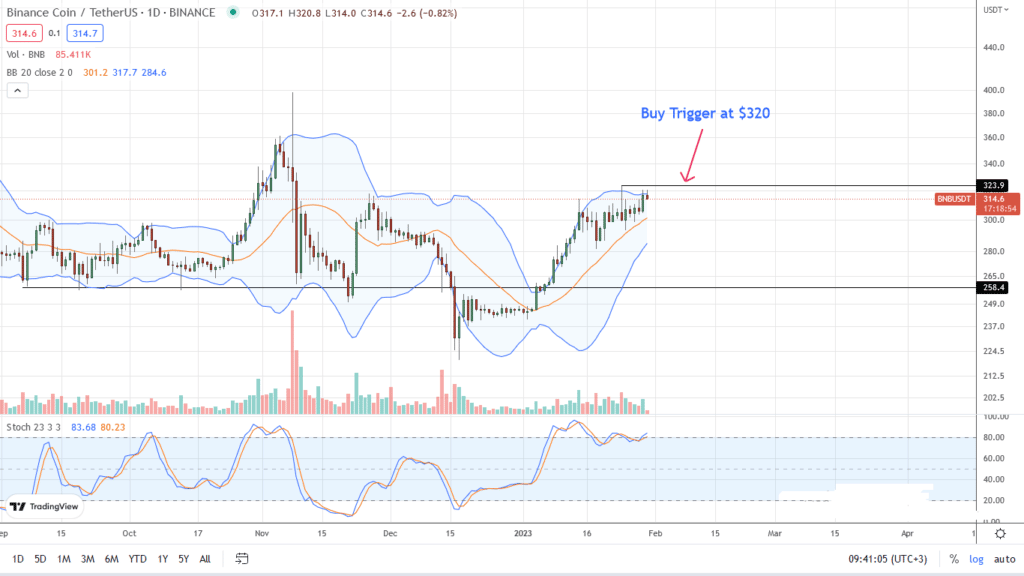 BNB has added 45 percent from December lows in slightly over six weeks. The undervaluation mid-last month was corrected as prices edged higher, lifting valuations.
BNB remains within a bullish breakout formation, firm above $250 and $285. The immediate support line is the 20-day moving average. On the upper end, resistance is at $320.
Ideally, confirmation of yesterday's gains requires the coin to close above $320, preferably at the back of rising volumes. In that case, BNB may find the momentum for the leg up toward $350 or November highs.
If there is a correction toward the lows of the recent consolidation, bulls must keep prices above $285. Any dip above this line may allow traders to accumulate expectations of sharp gains in the days ahead.
Sustained losses will invalidate this bullish preview, allowing BNB to retest $250.
Technical charts courtesy of Trading View.
Disclaimer: Opinions expressed are not investment advice. Do your research.
---
If you found this article interesting, here you can find more BNB news.