The blockchain community is trying hard to continue holding events amid coronavirus pandemic as a way to grow the ecosystem. Virtual conferences held around the world, covering various topics and aspects of the blockchain industry. Many physical events also postponed to unknown dates to hold after the COVID-19 challenge.
The BlockDown 2020 event is the first virtual 3D conference that claims to be the most important event of the year 2020. The claim is not that meaningless, because of the famous names that will attend the conference and speak on it. The event introduces itself,
"BlockDown is the new lockdown – and you're invited. This digital spectacular promises to be the leading virtual blockchain event of the year. Join us and take part in the new global digital revolution.
#BlockDown2020 – We stand together".
Some of the major actors of the blockchain community will speak during the BlockDown event that will hold on April 16-17, 9 am-9 pm CET. Akon, chairman & co-founder of Akoin, Changpeng Zhao, Founder & CEO at Binance, Roger Ver, Executive Chairman at Bitcoin.com, and Da Hongfei, Founder of Neo, are some of the speakers of BlockDown 2020.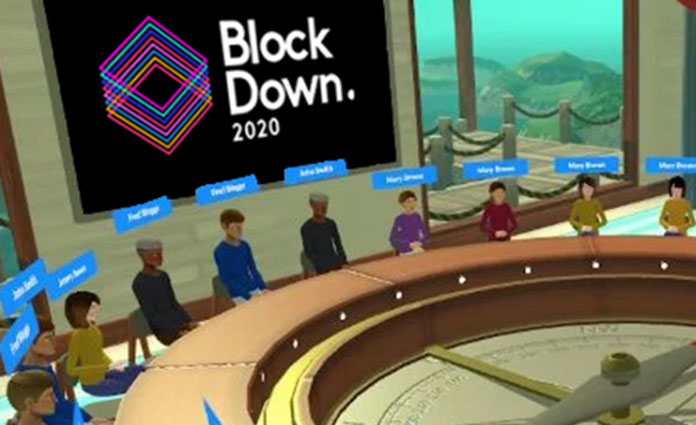 The BlockDown 2020 event covers various topics in the blockchain industry. Investment, Social Impact, Gaming, Trading, Defi, Security, Privacy, and Enterprise are the main topics. Besides, there will be digital virtual conversations and roundtables about the topics that hold on a 3D virtual space. BlockDown 2020 organizers point on the virtual 3D aspect of the conference a lot.
"This is why we're offering the most cutting edge way to take part in roundtable discussions and panels in a virtual 3D environment. You'll be able to tell who someone is, where they're from and what their business is just from a virtual glance at their personalized avatar!" according to the event's official website.
Zoom will be used as the primary conferencing tool for the event that features lots of tools like simultaneous speaking and showing presentation slides. Interested customers can sign-up for the upcoming event for £20 for each person.