After years of centralization accusations, Block.one the company behind EOS is slowly distancing itself away from the cryptocurrency. In the latest development, the blockchain software company has announced the transfer 45 million EOS tokens or roughly $209 milllion to Helios.
According to the offical blog post, Block.one had been brainstorming on how to utilize its token holdings to drive the network's growth. The company said that the latest transfer is part of a series of transactions in a bid to amass new market players and explore more opportunities for EOS network. It further detailed,
"We are now looking at a series of transactions that we hope will empower the EOS network to bring new participants and opportunities into the ecosystem, bootstrap new and exciting decentralized governance initiatives, and increase the liquidity of EOS-based projects."
For the uninitiated, Helios is led by Brock Pierce. According to Block.one, Helios is reportedly has many ambitious roadmaps which includes creating an EOS Venture Capital fund, enabling the creation of institutional-grade EOS financial products, supporting the infrastructure development, tooling and documentation for developers, and coordinating community events with regards to education, networking, and use case development.

EOS community vs Block.one
The ideological differences between the members of EOS ecosystem and the Block.one isn't new. The centralization claims have been going on for a very long time. More recently, the EOS members have expressed their dissaproval over Block.one's decisions which led to the formation of their own organization. The members even went on to elect new leadership in an attempt to scale the network.
This comes after EOS Nation CEO, Yves La Rose stepped down from his role earlier this year. The exec had stated that the company has failed to support or aid in EOS's growth in a meaningful way. He also believes that Block.one is turning tail from contributing to the network's growth. La Rose even went on to claim that "EOS is more of a liability than it is an asset" for the company.
Is EOS a "terrible investment"?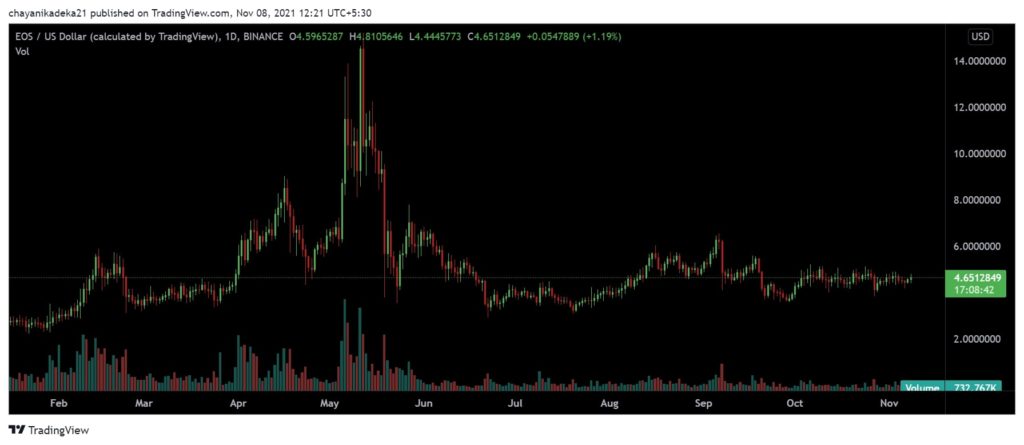 The latest rally that has catapulted the cryptocurrency market near a whopping $3 trillion market cap was mostly fueled by altcoins. But EOS hasn't really left a market this quarter. In fact, the once top 10 spot holder has slid to the 44th rank by market value and eas currently exchanging hands at $4.65. Talking aboute dull price action, La Rose had earlier stated,
"There's no sugar-coating it, EOS, as it stands, is a failure. The last three years or so have been nothing but dwindling in terms of market cap and in terms of token value. When we look at EOS compared to the rest of other cryptos, especially in satoshi levels, EOS has been a terrible investment."