BitTorrent Inc., the parent company of BitTorrent peer-to-peer (P2P) file transfer protocol, has announced the acquisition of live streaming platform DLive. The newly acquired platform will be a part of a new conglomerate of decentralized protocols called BitTorrent X, powered by BitTorrent Token (BTT).
According to an announcement on Thursday, October 22nd, the new BitTorrent X ecosystem will consist of BitTorrent File System (BTFS), distribution BitTorrent, and the newly acquired decentralized live streaming platform. The entirety of BitTorrent X's utilities and services will be powered by the BTT cryptocurrency. Tron Foundation will provide in-depth details of BitTorrent X in a live event in November.
According to Tron Foundation, this merger of DLive with BitTorrent will bring blockchain and cryptocurrency to mass adoption. The move has come a year after DLive first formed a strategic alliance with BitTorrent with the aim of furthering decentralization. After this partnership, DLive also launched the BTT Staking feature on the TRON blockchain for its users.
BitTorrent is a popular peer-to-peer (P2P) file-sharing protocol used not long by over 2 billion users but also by some tech giants such as Facebook, Twitter, and Blizzard. The addition of DLive to the BitTorrent ecosystem will help the protocol to gain mass adoption given seven million active users and more than 200,000 active content creators. But the details about these three protocols will work together will be released in November.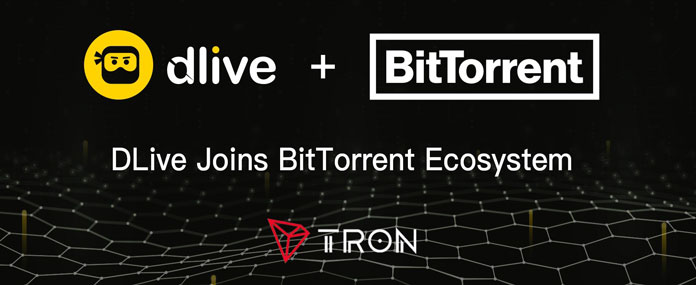 DLive will also leverage BitTorrent to bring amazing new capabilities to its platform. Charles Wayn, CEO of DLive, commented:
"The acquisition marks a new start for DLive.tv. We are more than excited to join the BitTorrent ecosystem as the collaboration will provide us with more innovative solutions to empower content creators and reward communities. Together with the BitTorrent team, we look forward to bringing disruptive innovations to the digital media space, and furthermore create value for our global community."
TRC20-based BTT token will be at the heart of BitTorrent X. BTT has been on an uptrend for more than a month now, potentially due to the rapid growth of BTFS. According to CoinMarketCap, BTT is ranked at 47 by a market cap of $334 million.
Justin Sun, sharing his thoughts, said:
"BitTorrent X is the next step in establishing a truly decentralized internet. In one big step, the BitTorrent X ecosystem may drive blockchain-related tools to billions of devices. Hundreds of millions of users will have access to the next era of tools to share, store, and stream their content directly to anyone across the web."
---
If you found this article interesting, here you can find more Blockchain and cryptocurrency news