Bitcoin [BTC] is losing grip over the cryptocurrency market for quite some time now. It has been dominance has witnessed a noticeable decline since the last week of March and dwindled to 48.7% at the time of writing. What could be the possible impact on the broader market?
Off late, the price of Ethereum [ETH] has also broken away from the world's largest crypto-asset. As per the latest chart by Coin Metrics, the BTC-ETH correlation has sunk to 0.67.
As Ethereum went on to decouple with Bitcoin, the altcoin soared to yet another all-time high near $3K as the week wrapped. Bitcoin, on the other hand, steadied a little above $57K and has been struggling to form a strong support near $55K.

After getting accustomed to being the most dominant cryptocurrency in the market, Bitcoin's correlation to the top ten tokens in the leaderboard has dropped below 0.3. It is important to note that, it had a correlation of 0.9 and above to the top altcoins, nearly a year ago.
Ethereum Forges Ahead; Bitcoin Lags
Both the top cryptocurrencies had a profitable quarter. However, the two assets are vastly different when it comes to social sentiment as well as the network effects from the technology point of view.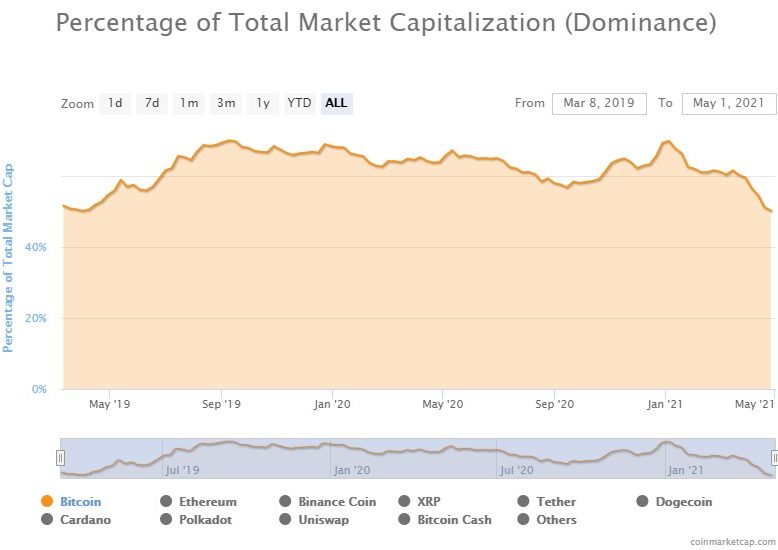 While Bitcoin's network effects have not hit any milestone this quarter, the same cannot be said for Ethereum. The second-largest crypto-asset by market cap has driven altcoin rallies in the past, and a dull price action or even a drop in Bitcoin's performance is generally expected to benefit the former's rally.
In addition, the increase in decentralized finance [DeFi] projects, on top of the rising spot volume of ETH trades has further pushed its market capitalization to nearly $330 billion.
Ethereum-Bitcoin Correlation and Its Impact
Here are two scenarios that are likely to unfold due to the correction of BTC-ETH taking a hit:
Firstly, the ongoing trend could briefly lead to a phase of an expansionary bull market. This could mean that the cryptocurrency market, more specifically the altcoin cohort, could see further upside in the coming months.
Secondly, the reduction in correlations could potentially demonstrate a fundamental shift in the industry. This could mean that other tokens in the market could finally get the much-needed traction and attention from investors looks to diverge their portfolios beyond Bitcoin.
Ethereum has already proved its value propositions to the market players. Though controversial, Dogecoin [DOGE] has also seen mainstream adoption, along with high-profile promotion and a massive fan following.
---
If you found this article interesting, here you can find more Bitcoin news