Just as El Salvador adopted Bitcoin [BTC] as legal tender to pave the way for financial freedom, the bold move was hit by a massive correction. As the crypto-market turned south, at least 12% of the market cap was wiped with several tokens slicing through critical support points.
The price of the world's largest cryptocurrency dropped by $10,000 on September 7. On Binance, Bitcoin took a plunge from $53,000 to as low as $42,800 in a matter of hours before recovering and settling above $47,000. On the other hand, Huobi recorded the crypto-asset's price falling to a low of $40,000. 
Altcoins such as Ethereum [ETH], Cardano [ADA] and Binance Coin [BNB] slashed 11.75%, 15.21%, and 14.14% respectively.
The over-confident Bitcoin market
The abrupt correction in the market naturally shook the crypto derivative traders as a result a clear spike in liquidations of "long" positions of all cryptocurrencies was observed. According to Messari's Ryan Watkins, the liquidations across exchanges totalled a whopping $2.3 billion. a level last seen on May 19 crash. Most of the liquidations occurred on crypto platform Bybit while the largest single liquidation order took place on Huobi.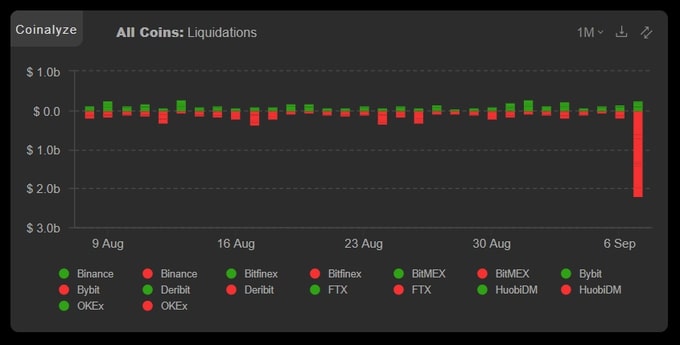 El Salvador's president Nayib Bukele took to Twitter during the price drop and tweeted that he is "buying the dip," and amassed an additional 150 BTC. He had previously bought 400 BTC. But the shake-up didn't hurt less after the tweet.
Buying the dip 😉

150 new coins added.#BitcoinDay #BTC🇸🇻

— Nayib Bukele (@nayibbukele) September 7, 2021
Ray of Hope?
The entire market is flashing red. Bitcoin has reversed its weekly gains after an unexpected turn of events. But here's a promising sign. The ultra bullish indicator that is slowly taking shape- Golden Cross.
The daily price chart for Bitcoin depicted the decreasing gauge between the 200 DMA [Yellow] and the upsloping 50 DMA [Pink] both of which were closely approaching the red dropping price candle. Just days before the previous Golden cross, which took place on May 20, 2020, Bitcoin lost more than 20% in less than a week.

A fall was inevitable, especially with the formation of the rising wedge pattern. The volume has been pretty low as well which has failed to support the uptrend and the subsequent consolidation. The volatility in the market also took a hit which further damaged Bitcoin's tryst above $50K.
To top that, the daily Relative Strength Index [RSI] fell through the 50-median line. Does this mean Bitcoin's run-up to a new ATH is over? September has usually been a bearish month for Bitcoin. The chances of a trend reversal are very much in the card because the price has hit a demand zone. If it manages to remain resilient and is hold strong between the $46,500-49,500 range, upward price action is highly likely.